Sammy's Girl Stella
Hilltop Great Danes
LZ, Mom Dozer, Dad Zion
Multi-Champion Lines

Puppies and Stud Service

We are Mike and Maggie McKinley owners of Hilltop Great Danes and Hilltop Resort Farms. We are located in the beautiful Mohican River Valley in North Central Ohio. We raise Great Danes on our 70 acre farm. All the dogs are our pets. All are AKC with Champion Lines and are color pure. We specialize in Brindles and Reverse Brindles but also have outstanding Fawns.

We have four multi-championed lined brindle males at stud, our Reverse Brindle LZ who is 4 years, 37 1/2 inches and 229 pounds with 23 Champions in his five generation pedigree. His son Chippy who is 16 months and 36 1/2 inches.

Sammy our 1/2 Euro male who is 3 years and 38 1/2 inches and 175 pounds with at least 22 Champions in his five generation pedigree. And his son Samson who is 16 months 37 inches and has 15 champions in his four generation pedigree. We also have Turbo a striking 1/4 Euro Fawn who is also Champion lined, LZ's nephew, who will be standing at stud this fall. All are at Stud to breed your female for $1150.

Now taking contact info for our fall-winter 2013 and winter-spring 2014 litters. DJ and LZ, and Omega and Chippy will have pups this fall ready to go home before Christmas. Deli and Turbo will be having an all fawn litter the first of the year. We will also be having two reverse litters and another all fawn litter by the summer of 2014. These puppies will be show and breeding quality.

All are AKC. Males are $1050 limited, $1550 for full AKC and females are $950 limited and $1250 for full AKC. Reverse Brindles are $150 more. I have 12 Danes on site for your review. Parents of all litters are always here for your review. Give us a call,

419-938-7211

.
Turbo and Deli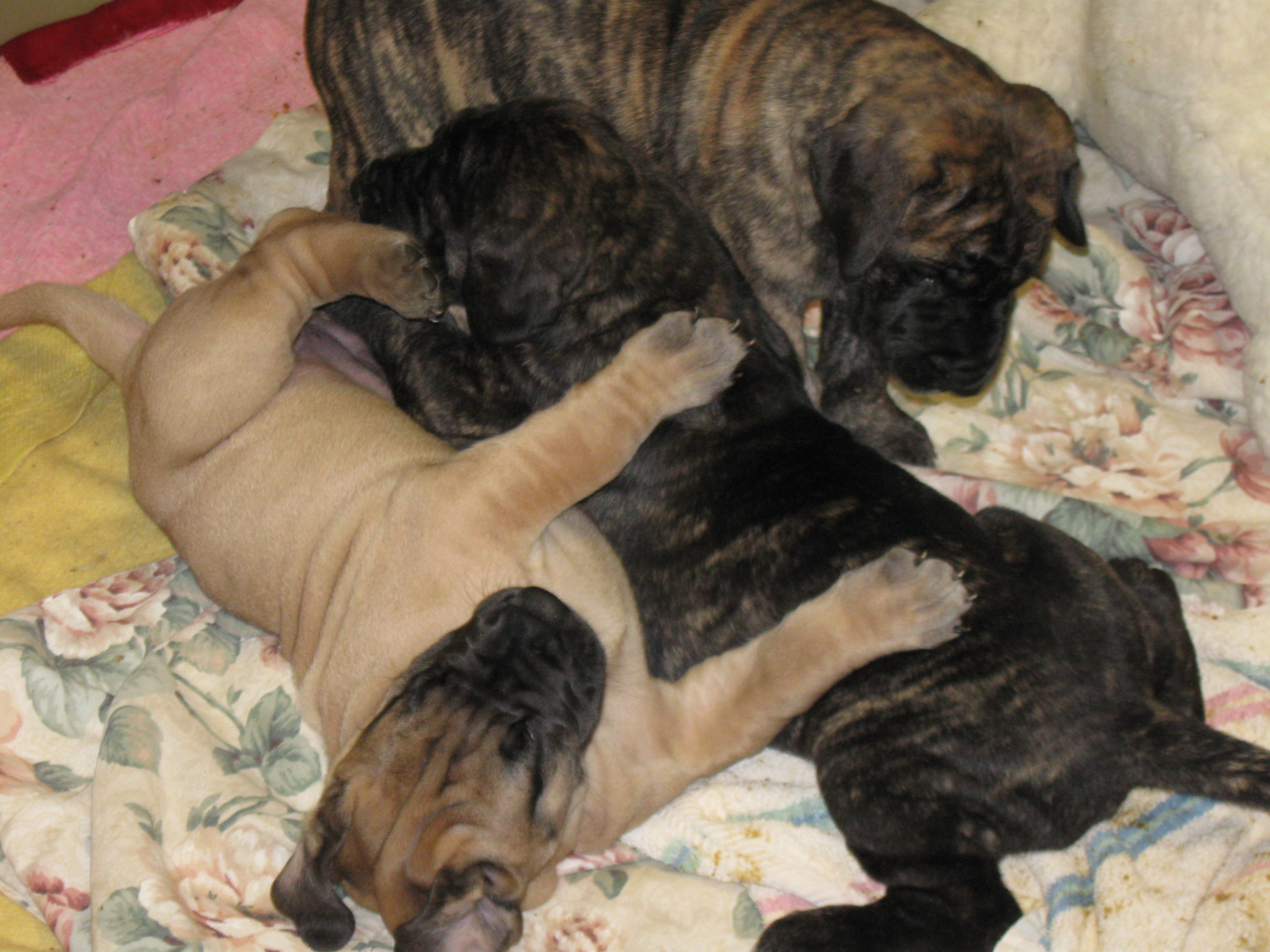 Zion's (LZ's Dad) Pedigree
LZ our Big Boy
Questions or comments? You can send me e-mail at:
Our Big Boys, Sammy and LZ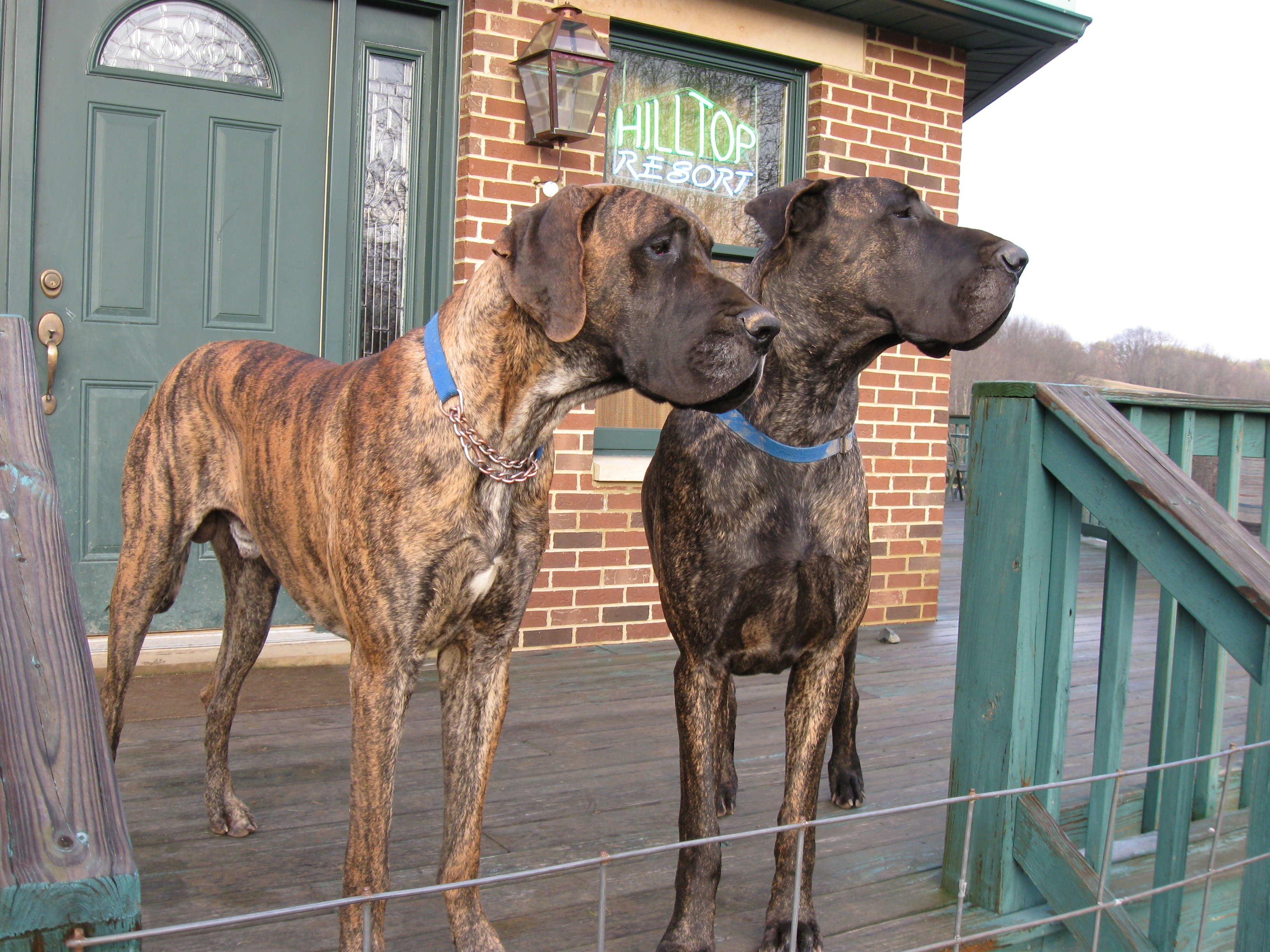 Get on the contact list for our fall-winter and winter-spring litters coming in 2013 and 2014. All pups are Multi-Champion. Brindles, Reverse Brindles and Fawns. When born they are about 2 pounds, but by six weeks they are 20 pounds! These are the Biggest Danes you will find. They also have excellent temperament. Outstanding show quality at a pet price. Great for home security.
Chippy and Omega

Chippy, LZ's son at 4 months and 75 pounds

Looking Sharp
Fawn, Brindle, and Reverse Brindle
Two Onyx (Reverse Brindle) Pups
Dozer's Pedigree (LZ's Mom)
LZ and DJ
Or call 419-938-7211
Check out Facebook, Maggie McKinley