The Portland Area N-Trak club is a group of N Scale model railroaders who are building and opperating the Dairyville Pacific model railroad. The Railroad is built on N-Trak modules. We are located in the Dairyville Village in Alpenrose Dairy at 6149 SW Shattuck Rd, Portland, OR. We are now a proud member of the National Model Railroad Association.
We also have a travaling layout that we bring to shows and conventions. We are making the traveling layout larger by adding some new modules. Watch this space for information about our show schedule.
Meeting times:We have changed our meeting times(again). We now meet each Tuesday night at 7:30 to work on the layout or run trains. New comers and prospective members are welcome to drop by.
Christmas Open House: The public is invited to come visit us during this Christmas Season. We will be open from 1:00pm to 5:00pm Sundays, December 6th, 12th and 19th.
Work in Progress: Althought the main part of the layout is fully operational (see pictures, left) we continue to make improvments and upgrades. We have built a large extension to the layout. But, there is some work still to be done. We have added DCC capability to one loop (the red line).
Contact information and club officers:
Club President: Adam Robins
President@PDXareaNtrak.org

Vice President: Allen Kotlan
vicepresident@PDXareaNtrak.org

Secretary: Brian Hester
Secretary@PDXareaNtrak.org

Treasurer: Brian Hester
Treasurer@PDXareaNtrak.org

Membership info:
To get more information, or to join the club; send an email to: Membership@PDXareaNtrak.org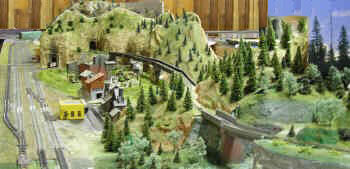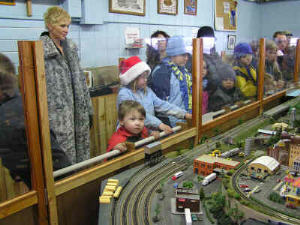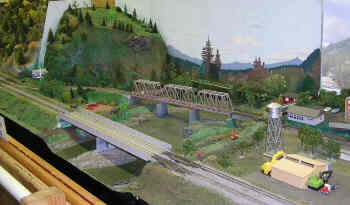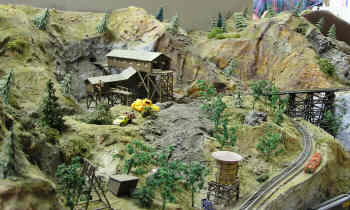 Pictures by Gordon Reeder.
For problems or issues with this site contact: webmaster@pdxareantrak.org