The Hiroshima Flame visits Hanford
I spent Wednesday, January 30, 2002, with the peace walkers on the Hiroshima Flame Interfaith Pilgrimage – a five-month trek across the United States that ended in May at the United Nations in New York.
When the peace pilgrims arrived in Richland, they began walking from the south end of Jadwin Avenue to the Shalom United Church of Christ on McMurray Street. The pace was brisk, and the Buddhists in the group continually beat their drums and chanted while they walked.
Upon arriving at Shalom Church, there was a service with the Hiroshima Flame that concluded with the Prayer of St. Francis.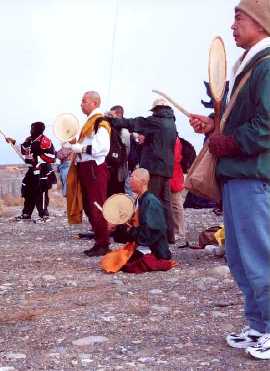 The main walk of the day was from the church to the Columbia River, north to the Hanford 300 Area gate, where there was another period of drumming, chanting and praying (see photo), and back – a distance of 12 miles.
In the evening, there was a potluck dinner and another service for peace with the Hiroshima Flame at the Community Unitarian Universalist Church in Kennewick.
The peace walk was led by Jun Yasuda, a Japanese Buddhist nun, and Tom Dostou, a Native American peace activist from Massachusetts. Tom had been on a Hiroshima Flame peace walk from Tokyo to Hiroshima in 2000 and wanted to do one in the United States that focused on nuclear weapon sites and on Native American lands and peoples affected by them.
Major peace walks like this one have no budget. The peace pilgrims may not be Christian, but they follow the rule Jesus gave to his disciples. They go from town to town, relying on the generosity of local people for food, housing and transportation.
After I got acquainted with Tom Dostou, I said to him, "You're the first Native American I ever met with a Boston accent." He smiled. I mentioned that our first pastor at Christ the King Catholic Church, who came to Richland during World War II and said Mass at Hanford in a circus tent, was Fr. William Sweeney from Worcester, west of Boston. Tom said the Sweeney's are a large family in the Boston area.
The two Buddhist nuns and one monk on the walk belong to Nipponzan Myohoji, an order dedicated to peace ministry. Building peace pagodas and walking for peace is what they do. Their order built a dojo (temple) on Bainbridge Island, Washington, in 1983 as a peace witness near the Trident nuclear submarine base at Bangor, which is across the water only 20 miles west of Seattle.
The importance of their walking for peace was forcefully brought home by a story related to me. An old monk who could no longer walk immolated himself by setting himself on fire. He left a note which said: "My knees are gone. I have no reason to live. I will see you in the next life."
The old monk was not referring to an afterlife with God, because in the Buddhist faith there is no deity. He meant the next life of reincarnation.
I felt sad when I heard the story, but then I was comforted by my Christian belief in resurrection. I believe that all people, who live the best life they can, after death are gathered into the arms of a loving God.
On Thursday we drove the peace pilgrims to Portland. On the way, we stopped at the Umatilla Chemical Weapons Depot in Oregon where another prayer circle was held. The Buddhists did their drumming and chanting in Japanese. A Black man, Gregory Dean Smith (aka "Smitty from the City") sang a prayer in an African dialect. Tom Dostou began a Native American chant that turned into "Amazing Grace," complete with gourd rattle.
What came to my mind was the prayer circle at meetings of a prayer group I belong to, when we sing in various tongues. What I sing during that time is the Latin chant:
Ubi caritas et amor, Deus ibi est.
Where charity and love are, there God is.
Amen.
~ Jim Stoffels, 2 February 2002

© Copyright 2002 by Jim Stoffels