"The Quilt"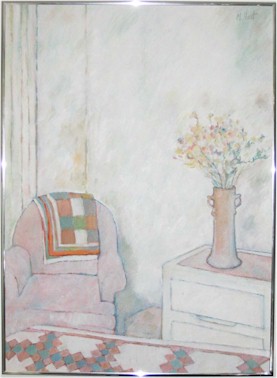 Marian Hart, 1980
Oil on canvas, 38" W x 52" H
I first saw "The Quilt" at an art show after Molly (Marian) Hart painted it in 1980. I liked it immediately, but indulging myself was out of the question. Georgia and I had three girls and a new baby boy. Squeezing our budget for "The Quilt" would have been a selfish extravagance. Besides, it's a large painting. Where would we put it? The main wall in our living room was already occupied by Georgia's all-time favorite — an Impressionist print of colorful flowers by an unknown artist.
On January 1, 1982, Georgia and I separated. I went from living with a wife and four cherished children to living alone. Now my constant companion was aching loneliness, and sleep was my only escape.
There were years of emotional trauma for all of us. It was hell on Earth.
When my birthday approached in 1984, I decided to splurge and buy a present for myself. I had not forgotten "The Quilt," so I called Molly to inquire, and she still had it rolled up in her studio.
I asked Molly the price. I remembered what it was and hoped it hadn't gone up. Molly said she would give it to me for half of that plus the cost of framing. She may not have used the word "give," but it was surely a gift — not only a gift of celebration but also, I believe, a gift of compassion.
When it was ready, I hung "The Quilt" in my apartment living room, directly across from the sofa.
Quilts are also called "comforters." "The Quilt" was truly a comforter for me. I often sat on my sofa gazing at "The Quilt," wrapped in feelings of peacefulness and security, comfort and beauty.
It was not home. I didn't recognize the room depicted or any of the individual objects. But it became a familiar refuge, a quiet retreat from the sorrows and pressures of the real world at a difficult time in my life.
Now, some 15 years later, I am in a different apartment. "The Quilt" hangs in my dining room where I can enjoy it every time I take my meals. Five more of Molly's paintings surround it and a seventh is in the kitchen.
I no longer need to escape into the peaceful refuge of "The Quilt," but I remember fondly the time when I often wrapped myself in its warmth and protection.
~ Jim Stoffels
17 November 1999

Copyright 2006 by Jim Stoffels