3/3/11
I've decided to move this blog once again. Please change your bookmarks; the new blog site is:
http://www.illoominatedyarns.com/KarensBlog
2/18/11
I'm happy to be a part of the Evolving Blog tours, and present a conversation with Laurel Coombs of Lobug Designs.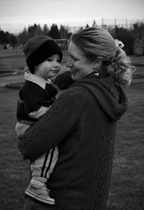 KB: Of course, you are a knitter. What is your most favorite knit and why?
LC: My favorite knit is whatever I havenít done yet.


I really donít have a favorite item or pattern or anything like that. I love to knit. But I donít really like knitting the same thing over and over. Once is good; then I need to knit something new. As Monty Python put it: ďAnd now for something completely different.Ē I have terrible Second Sock Syndrome. I have even worse Second Sleeve Syndrome.

KB: I understand you also design your own patterns. Can you list them and give a brief synopsis of them?

LC: Oh wow, Iíve never tried. The easiest way to see all my designs is to go to my Ravelry page- here http://www.ravelry.com/designers/lobug-designs

As to a synopsis of each- each one has a brief description of my inspiration or of the pattern itself in the notes of the pattern on Ravelry. Just click on the picture of the design you are interested in.
Iíll give just a quick list here: I have designed 15 (so far) sock patterns based on The Lord of the Rings Trilogy by JRR Tolkien. Thatís the books, not the movies- because the books have so much more. Iíve done designs for an Alice in Wonderland sock club- not all of those are released yet.

Iíve done menís sweaters, womenís sweaters, dishcloths, baby outfits, cowls, coats, bags, pillows, vests....even a skirt- but that one isnít available yet. Hopefully soon.

KB: What knitting technique would be your favorite .... cables? lace? entrelac? aran?

LC: Thatís a tough one. I will try anything in knitting, and have yet to try all the techniques that are out there- so I donít know; maybe my favorite technique is one I havenít tried yet!
Although, I keep coming back to color work. I never seem to get tired of it. I get tired of other techniques temporarily. I can only do so many cables or lace before I want to do something else. Entrelac?? Iíve done enough of that to last my lifetime. Iíve tried it- Iíll try any knitting technique at least once; but with entrelac, once was enough, thanks.
I did an entrelac beanie http://www.ravelry.com/patterns/library/entrelac-beanie for a friend, then made Eunny Jangís socks http://www.interweavestore.com/Knitting/Patterns/Entrelac-Socks.html to match. Maybe I overdid it. I canít really say that about cables, lace, texture, or color work- those Iíll do over and over- just maybe not 2 or 3 in a row.

KB: I also believe you are writing a book? Can you tell us a bit about that?

LC: I am! Iím so excited about it!

Actually, Iím working on 2 books for Charing Cross Publishers. One is exclusively socks; and I am getting very close to being done with the initial design work for it. The other will have a great variety of patterns, and I have a long way to go!

But I am loving it. I'm playing with all the things Iíve been wanting to learn and turning them into designs I love. Iím having a great time with my test knitters and photographer. I can easily see becoming addicted to this!

KB: Where would your book be available? and When?

LC: The sock book will be available sometime next year. Itís still a ways out, so we havenít nailed down the exact date. A lot depends on how quickly I can get all the patterns churned out, tested and photographed.
The other book wonít be available until sometime in 2013. Itís a huge project- itís just me doing the designing; and I have to work around home schooling my kids and taking care of my family, so itís not something I can put together in 6 months, you know?
Both books will be available anywhere we can sell them! We are planning to put them together as both e-books and print.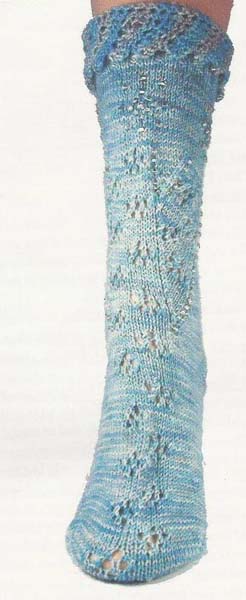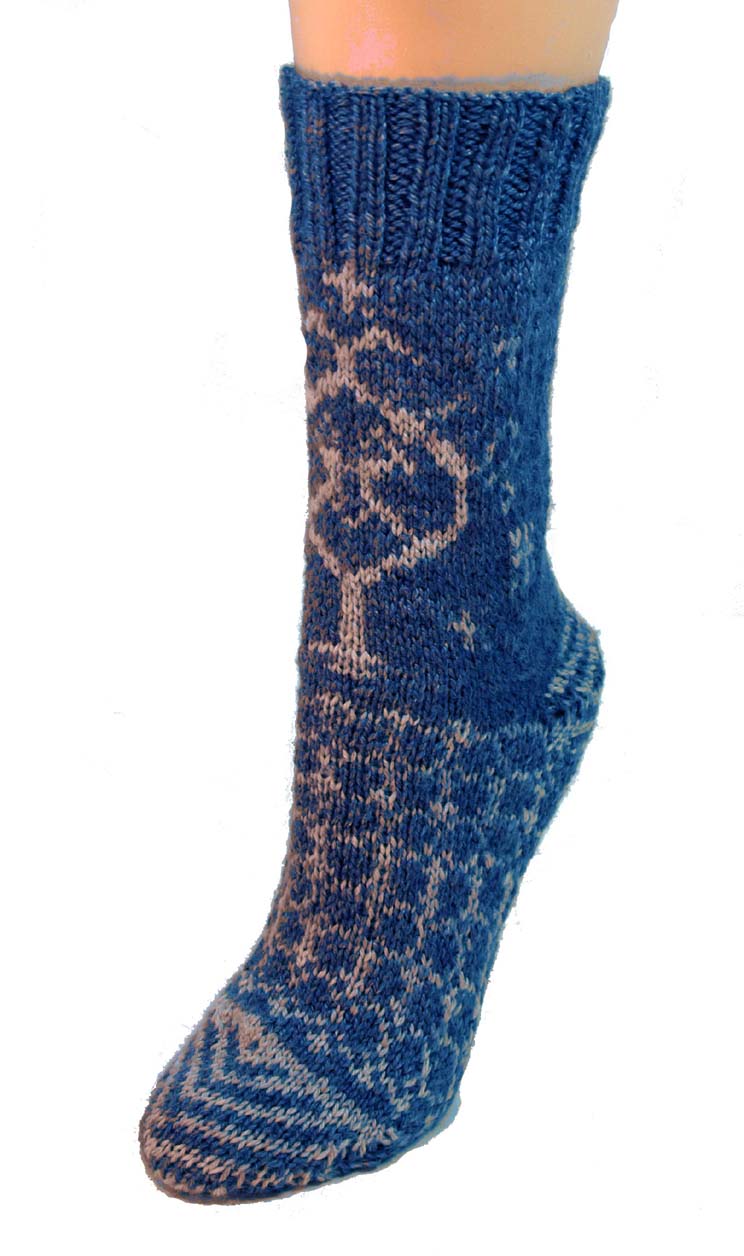 KB: I know that I will be looking forward to your sock book. I always love collecting new sock patterns. Oh, are you going to be at any major fiber festivals this year?

LC: I will be teaching at Sock Summit 2011 http://www.socksummit.com ! Iím so stoked they hold it here in Portland!

Unfortunately, I am not able to get to any other fiber festivals at this point. I hope that will change in future years, but right now, I have so many other things to deal with and pay for that Iím a bit limited. But SS11 is guaranteed to be a fabulous time! Iím totally looking forward to it.

KB: I'm excited about Sock Summit too -- I'm pleased to announce here that my yarn company, ilLOOMinated yarns, has been selected to be a vendor at Sock Summit, so I will be traveling to Portland the end of July. I do hope we get a chance to meet in person and perhaps have lunch together. It's been a pleasure talking with you today and I wish you the best of luck!
*********************************
As part of the blog tour, Laurel has authorized me to give away one free pattern, it is the Cheshire Cats Sock Pattern. (Oh man, I want that one. I suppose I can't enter my own give-a-way.) Anyway, email me here to enter to win the pattern. I will select the winner on Wednesday night, 2/23/11, using a random number generator and email the pattern to you. Good luck!

2/17/11
Yesterday my friend Teresa and I took off for Minneapolis. A month ago I had consigned some rugs to a gallery, and 2 weeks later received a notice that the gallery was closing.
Argh.
So I went to pick them up before they closed their doors.
And we did a bit of shopping too -- Fleet Farm, Whole Foods Market, Trader Joes (love that place!), PetSmart, and Cub. And we went out to lunch at Olive Garden. I had the Pear and Gorgonzola Ravioli with Shrimp, oh, that was SO yummy.
Today it's back to work. Earlier this week I dyed some yarn with the dehydrated lobster mushrooms. I didn't get quite as vibrant a red as last fall, but it's still pretty. My newest dyeing experiment is using birch bark. I've soaked it for a week and now have it simmering on the stove. Stay tuned.
Oh, and check back tomorrow -- I'm a stop on the blog tour for Laurel Coombs of Lobug Designs, check out her answers to the questions that I asked, and enter a drawing for a chance to win a free pattern!
2/11/11
I still don't have the capability of having comments. I can't find any good (free) software that I can use and, as far as I know, I can't use Wordpress or any other type of blogging software as I suspect Frontier doesn't support it. If you know of any good (free) commenting software, email me please.
As I mentioned, I've been dyeing yarn. I've been using different types of natural dyes, until the white stuff outside melts I won't be attempting any commercial dye usage because I want to be able to dip dye, as I learned last summer, and do multiple skeins at once. But -- here is what I've done using natural dyes.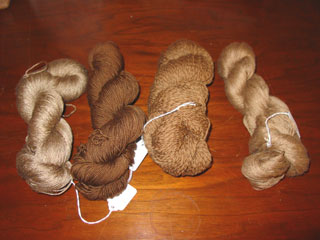 These 4 different skeins are dyed from walnut. I think I got the picture as close as possible to what the skeins actually look like, colorwise. They are different yarn bases and they each took color differently.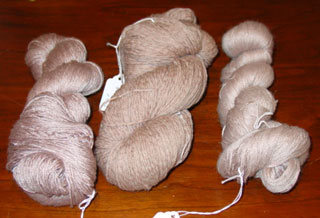 These three are dyed from hollyhock blossoms that I froze from last fall. Once of my fellow guild members suggested that a glug of lime juice would help bring out a purplish color, and she was right. Not as deep as I would have liked but I didn't have a whole lot of blossoms.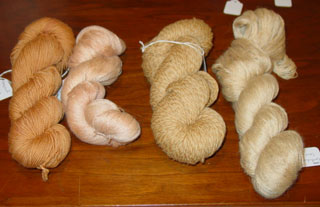 The two skeins on the left are dyed from brazilwood chips, the two on the right from coolebah burl (that's wood from Australia; when John turned the wood he saved the chips for me.)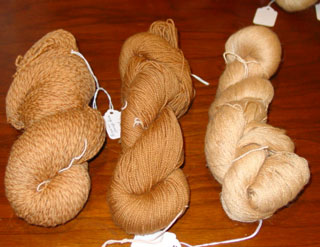 And, lastly, these three are dyed from Peruvian Orange Agate. I think the color is more orange in the photo than what it is in real life, but without proper light and a good photography station, I had to do the best that I could.
I have birch bark soaking now in the dyepot, according to my book Wild Color, it needs to soak for several days, or even a couple of weeks, before you can use it.
2/9/11
Knock knock.
I'm going to try and resurrect ye olde blogge again. It's been 10 months; I can't believe I ignored it this long. But once summer hit last year, I was doing three farmers markets a week, plus weaving and canning, and I just could not make myself sit down and type. And then it became habit not too.
I hope to change that, and post again. Stay tuned, in the near future I will be participating in Knit-A-While's blog tour, both as an interviewer and as an interviewee.
And I will have blog content again. :) I've been dyeing yarn (sheesh, I was doing that last post) and I'll have photos soonish.
4/20/10
Where does time go? At any rate, I've been spending my time, most of it, dyeing yarn to sell at Shepherd's Harvest Mother's Day Weekend.
Some Samples:
I've kept the dyepots hummin'.
4/1/10
Once again, time has flown away. I need to find new comment software (free), and I've added my Etsy store inventory to the right. I have stuff to show you, which I will next week. Promise.
2/24/10
Scenes from my childhood. This photo is from Easter 1963. Our mothers, I think, conspired to dress all of the girl cousins in pink dresses.
I'm third from the left in the front row.
2/17/10
I haven't quilted for over a year. This time last year we started the big crunch to get stuff done at the house, then we moved back, then it was garden/market/show season, then these past few months I've been knitting.
However.
I received my latest Fons & Porter Love of Quilting Magazine yesterday. This stared at me --
photo taken from their website, here.
Why yes, I did order the fabric yesterday to make it. It's chickens! They have a place in my heart behind John and the cats!
2/14/10
The Irish Moss Toque is finished. And, I don't have to block it! From the needles to DH's head.
Six days, a nice satisfying knit, and DH has a new winter hat.
2/8/10
I really didn't mean to wait almost a month before I posted again. I haven't finished knitting anything. I've started participating in a Knit A Long, a shawl entitled The Enchanted Woods put out by The Unique Sheep, but I'm only on chart 2 (two weeks behind at this point) and it's in a temporary time out again. When I was working on it last night I realized that I had, yet again, made a goof about two rows back and I wasn't in the mood to figure out how or what I needed to do to fix it, if it could even be fixed without ripping back two rows.
So. I cleaned out my closet this morning and found a skein of yarn, a 10 ply aran weight, that I was given for a holiday gift exchange present a couple of years ago, so I wound it up and have started a cast on for a hat for John, pattern is Irish Moss Toque. We'll see how it goes.
Home remodeling has kicked into high gear. Kitchen is mostly done, except for a wee bit of wainscoting near the door to the studio. Cabinets are finished, backsplash is tiled, and now I keep moving stuff in between cabinets until I figure out which cabinet will be the final resting place. Drives us nuts sometimes, because I can't remember where I did put something, or I"ll move it on John when he thinks it someplace and it goes somewhere else.
Anyway, this week's project has been putting in the wood floor in my studio. Between the noise of the air pressured nail gunner, and the radio, my ears hurt and I've retreated to the bedroom for a bit of solace.
He's half done though, which is good. Our really wild hope is that, in a month or so, we can bring all the boxes and stuff from the truck container into the house and parcel it out to where it might finally go, and -- dare I say -- wave bye-bye to the container? Oh, I hope so.
It's snowing outside, again. We're supposed to get 10" of the fluffy stuff. I've made a marble bundt cake as a bribe dessert for John so he'll go take care of the outside critters today.
I also want you to meet the latest cat in the house. I really didn't want another one, really didn't, but *cue music* Spitty was sick and almost dead so she came into the house about a month ago, and is now a full fledged spoiled rotten house cat.
She's been supervising the floor installation, although at the moment she's perched on top of the computer watching me write this blog entry. Her nickname is Trouble, and she is that. Her biggest stunt, about a week ago, was climbing into an open cold air return vent and not wanting to come out. Our fear was that she would continue walking through the vents and maybe fall into the air exchanger unit for the furnace. We don't think she would have been killed but certainly could have been injured. She, of course, was thinking this cave she was in was the best thing on the planet. Luckily John was able to go downstairs and easily open up the part of the vent she was in and I managed to drag her out.
I've started trying to figure out what I want to order for the garden this year. Weather today notwithstanding, I could be planting early lettuces and radishes in a couple months or so. Farmers Markets start up in May. And so does show season. Eeek.
1/10/10
I have my first finished knitted item of 2010. Presenting, unblocked -- Aeolian!
I haven't measured it yet but it appears to be a good sized shawl. I won't get a chance to block it until my downstairs room gets all of the wood finishing apparatus out of it. But for all intents and purposes, other than blocking and the weaving in of thread ends, it's done!I sweated out the last few rows, because this is how much yarn I had leftover --
Not a lot.
I'll give you another glimpse at the shawl once it's blocked, but I'm considering it to be in the done pile.
1/1/10
Happy New Year everyone!
This post is going to be somewhat off the beaten track for me ... you see, I've become intrigued with two different food concepts although I suspect they may be somewhat interchangeable.
The first concept is Clean Eating, basically the food you consume is minimally processed -- nothing with ingredients you can't pronounce, the food would be considered man-made, not nature made. Here are a few websites that I've perused:
Although it may be mentioned as a diet, it may also be considered a lifestyle change. It's actually very close to the diet I"m supposed to be following, so I've gotten some of Tosca's books and am attempt to cook like that. We'll see how it goes.
The second concept is only consuming products grown or made within a certain mile limit around where you live, whether it be only the county, or a 100 mile limit, or a 250 mile limit, etc. The idea is that you can reduce your carbon footprint because you are purchasing produce that didn't require many gallons of fossil fuel to make, transport, etc., to where you, as the final consumer, is purchasing it. I do try to do this; for example, one of my fellow vendors at the Buffalo Farmers Market makes maple syrup, and I buy our year's supply every spring. We've got chickens; our own eggs, our own honey. I buy Minnesota produced flour and sugar. But I know I can do a better job.
My garden catalogs are starting to roll in, and I believe my focus this year will be to grow what we can eat, anything to be sold will be a secondary benefit. I would like to eat down my freezers so I can purchase a local cow and pig to butcher.
Can this be done? I don't know, but I'd like to try. Will you join me, however you can?
12/29/09
I got a very nasty early Christmas present. On Christmas Eve, a rogue security virus invaded my computer. Argh. No matter what I could try, it wouldn't let me remove it. So, my hard drive went for a visit on Saturday to the Geek Squad. We were happily reunited last night so now I can get busy on finishing up the web pages for the business before I delete my Cloudnet account.
I have another finished item, Leafprints by Anne Hanson. It's actually a neck warmer and finger less mitts, and I made it out of Great Northern Yarns Mink and Cashmere in natural. Oh, yum, was that wonderful to knit with. Oh oh, when I went to get the link, I saw they have five new pastel colors coming in the spring. Must guard the wallet.
Anyway, here's the photo of the finished items:
On a sad note, a friend of mine in Michigan has been diagnosed with Ovarian Cancer and has started chemotherapy today. I am casting on a pair of socks, one of her designs, today, to help support here. My friend Ida has blogged about it and has said it more eloquently than I ever could. Do you want to knit along too? Just purchase either Lisa's Sedona or Manhatten sock pattern and knit away.
12/21/09
It's been quiet here at the house. More remodeling has been getting completed but nothing photo-worthy.
I did manage to finish a couple more projects. First of all, socks for my MIL, and they were given to her a week ago --
Remember that second skein of Tuscan Grove hand-dyed yarn, Venice Style, in the cappuccino colorway, that I had to order to finish Damson? I used that to make these socks, and I'm very happy with the yarn handle, again.
I also finally blocked Rivolo that I made I don't know how long ago, but I needed it for tomorrow, it's a present for our vet.
This turned out more redder than it really is. I love the pattern, hated the yarn. I used Malabrigo sock yarn, and I detested it mightily. There were many splits and loose plys in the yarn so I had many many ends to sew in. I would not use that yarn again, no matter how drool worthy it is considered.
12/2/09
I left you at the end of the last blog entry with a teaser about house remodeling. While I was gone to ND, John was very busy in the kitchen. He got cabinet doors on and Monday we ordered the glass for the glass shelving in the one cabinet it's going in, and for the door for that cabinet.
For our wedding 15 years ago, we got seven glass bowls. Maybe more; crystal was certainly the gift of choice for us. They are all beautiful, and for the first time yesterday I was able to bring them out of storage, clean them up, and assign them a place in a cabinet.
And with the doors closed, and you can also see the glass shelves:
Happy doesn't begin to describe how I feel, as we inch closer to being finished. here.
11/30/09
It's Monday ... and I came back yesterday from a 5 day weekend in ND. I left last Wednesday to spend Thanksgiving and celebrate an early Christmas with my relatives up there.
First of all, I have another finished object, the shawlette Damson --
I made it out of Tuscan Grove hand-dyed yarn, Venice Style (whatever that is) in the cappuccino colorway. I think it turned out quite pretty, although I had to purchase another skein of yarn because I ran out of yarn during the bindoff, grrr.
Anyway, this was a Christmas present for my cousin's daughter --
I think it looks quite pretty on her, doesn't it?
I also gave Girasole away, to my cousin --
We had a cardtable plus full of goodies to eat, before and after the main course.
On Friday we sat around and recooperated. I played a bit of Wii with my cousin's daughter.
Saturday we had a baking day. You see, my cousin and I grew up on kuchen, which is a German dessert. Basically it's a yeast dough crust spread in a cake pan, with fruit placed on top, and then a custard is poured over it, and then it's baked. Our grandmother had made lots of it in her time, but we never had participated.
On my periodic trips back to ND these past few years, we had to settle for purchasing fresh kuchen at the local supermarket. However, when I was there in August, I found out that the lady who made the kuchen retired, and the grocery store now stocked horrid, frozen kuchen. We rebelled, and determined to try and make our own.
So, we did, using two different dough recipes and three different custard recipes, and various fruit combinations. We ended up with 14 kuchens!
And they are very yummy, and we learned a lot. We definitely plan on making those again.
Back at the house here, we have advancements in home remodel but I'll save that for another post.
11/19/09
Since the last time I blogged, I have made five trips to Minneapolis in the space of about ten days. Why, you ask?
Well, John and I both went on the 6th and 7th. We participated in the 50 Artists on 50th show, Friday was setup and Saturday was the show. I was determined to do my fair share of the unloading and packing up this time, normally John hauls his stuff and mine. I did pretty good too, except for the big wooden racks that hold my rugs. They are taller than me, by a lot, and heavy too. I would have done okay except for the door that we had to fit through, so I had to lower the two wheeler and rack to get them through the door. Difficult to get it back up again. John did have to help with those and a couple other artists helped too.
Then, on the 11th (my 51st birthday, by the way), I drove down again to take my things to Fiber Fair at the Weavers Guild, back down on the 13th to work my double shift (and supper out with my SIL), and again back down on the 15th to pick up what didn't sell. I'm very happy with the Fiber Fair sales, I've done a preliminary calculation and I figure this is the best I've done there. Heck, best I've done at any show.
Here are some of the rugs I gathered to take along to Fiber Fair.
On the home front, I've experimented making angel food cake (yum) and lemon curd (also yum). It's getting close to Christmas baking time and I've been perusing the recipes trying to figure out what I want to make this year, besides the standard cookies.
Pumpkin was enjoying the sunshine around here the other day.
Last night we had a box war here. John's been using one of my canning jar boxes to bring his work upstairs to steel wool. The cats love to sleep in it. Liggy was in there last night and got up for something; Spooky promptly settled in it then. Liggy came back, found out the box was occupied, then laid down next to it staring at Spooky with a "get out of my box" glare. We found another box for Liggy, who laid down in it, except it was a wee bit small.
With that, I need to close and get busy.
11/4/09
Let's see ... what's new around here.
I finished knitting Girasole, by Jarod Flood.
I need to block it yet but the ends are sewn in. John just needs to rig me up some plywood and leftover styrofoam so I can pin it out. I really liked knitting this but the last section, where I was up to 640 stitches per round, got rather long. And the knitted on edging took about 3 days longer than I thought it would, but partially because I'd get bored and toss it aside to do anything else. I made it out of Knitpicks pallette yarn, and I really liked how it turned out.
We're still getting at least a dozen eggs per day, but I'm starting to dial back the light we have out there, so in a month or so they will be on natural light only for the months of January and February. I suspect our egg production will go down, but I'd like to give them a rest up leading in to next year.
We got three trick or treaters on Saturday, our neighbor kids. Aren't they cute?
Today I'm going to try dyeing some fiber again, just to see what I get. Fiber Fair, at the MN Weavers guild, is in a week so I'd like to have some of that ready for then.
10/13/09
No, Teresa, I have not gone into oblivion too. Heh. I have the best of intentions to blog but that seems to be the last thing I get to.
At that, this post will be a stream of consciousness post. What I type is what you get.
We are getting a new freezer delivered tomorrow from Home Depot. My last upright freezer bit the dust in the great basement flood last winter. It's being delivered between 7 am and 11 am. Hope it's not the 7 am time.
Not to be outdone, our washing machine died an agonizing death on Sunday afternoon. I heard the creaking and screeching and grinding and couldn't figure out, at first, what was going on. Then I realized the washing machine was going nuts, went downstairs and stopped it and unplugged it. Smoke was pouring from everywhere, including the inside! So, Sunday night I went to Home Depot and ordered this washing machine, it will be delivered on Friday.
I wonder if I'm on Home Depot's Christmas Card list?
In sad news, one of our cats, Waldo, was put to sleep last Friday. He had been ill since January, and developed a staph disease that would have been prohibitively expensive to treat, with no guarantee that the treatment would work.
In happier news, Georgia & Liggy are playing happily together. They even had a moment where they slept together in the same chair.
........
The garden is deader than the proverbial doornail. Last Friday was my last market, and it was cold. Brrr. I didn't go to Saturday's farmers market because we got snow overnight and it was something like 20 degrees in the morning, way to cold for me. So the truck has been unpacked for the season, and everything is mostly put away. I still need to unload the canopy and chair and weights.
Before the garden bit the dust last week, I gathered my courage and decided to try natural dyeing with my indigo. Here is my yarn pre-dyeing --
and after ..
I think this photo is a wee bit dark but you get the idea. It was so much fun to watch the yarn turn color when you took it out of the dye bath and I've got plans to dye lots of stuff next year, now that I know how it's done.
I have a bunch of knitting that I'm doing but nothing has crossed the finished gate lately.
Lastly, after our snow storm (again) of Sunday night into Monday morning, this is what our back yard looked like after the snow quit. It was starting to melt at this point and is mostly gone already. The temperature is supposed to approach 60 by the end of the weekend. Go figure.
9/20/09
I'm trying to figure out just where September has gone. Into oblivion, I think -- next weekend is the Alpaca Open House at Teresa's, where I go and spin on Saturday and Sunday. I really just can't believe that this wonderful event has rolled around again. I'm looking forward to it but I'm always so tired after that weekend.
Egg production has ramped up. We're getting 3 - 4 eggs per day now, which makes me happy. The garden is more or less done -- except for the massive amount of weeds I have yet to pull, one or two batches of beet pickles yet to make, and sweet potatoes to dig, along with the peppers and tomatillos still ripening. It is so dry. Apparently, according to the forecast, we are supposed to get some rain tomorrow and Tuesday, at which point I will attempt to weed with a vengeance; it's difficult just now -- hard to pull the weeds out of severely dry ground.
It's still quite warm around here, and from what I can tell the long range forecast doesn't portend a frost yet. I want it to wait as long as possible, I still have indigo in the garden and I'm madly spinning some yarn to make a shawl, that I want to dye with the indigo in the next week or so.
9/10/09
We got our first egg today!!!!!!!!!!!!!
9/2/09
It feels like we jumped from spring into fall, with a minor detour into summer. We ran our newly installed Central Air exactly twice, for a period of a couple weeks in June, and a few days in August. Not normal around here at all.
I have a minor finished project, a dishcloth. Free pattern from Crafts Direct, here.
I like it, and I used the Holiday Stripes Sugar and Cream yarn. Doesn't really remind me of holidays though; the colors are the same as what's in my bedroom quilt so I may use it as an accent in there instead.
Monday was John's birthday, so we went out to Red Lobster for supper, and also went to see the movie Harry Potter and the Half Blood Prince. If you're expecting it to be like the book, you'll be sorely disappointed. I was, disappointed that is, in the movie to a certain extent. It was good, but nothing like the book. Some of it was rather stupid, in fact. And no big final Hogwarts battle like the book. I suppose they are saving that for the 7th movie. Eh.
The Electrolux vacuum cleaner that I inherited from my mom died a death of doom on Sunday. I was rather giddy over the event, as I grew weary of lugging the canister around and I felt like it wasn't doing a good job any more. Enter my new vacuum cleaner --
It's a Hoover Pet Cyclonic, supposed to be very good with pet hair. So far, the little bit we've tested it, we like it. I think I'm going to invest in a steam vacuum cleaner too, our light carpet, while touted as being the best to clean and get dirt out of, still shows it to a certain extent. And it also shows the cat barf -- why they pick the carpeting and not the tile floor for their problems is beyond me.
The garden is dieing down. I picked another huge amount of tomatoes yesterday but that might be the last of the big harvests. I've started cleaning out the garden, getting rid of stuff that's past its prime, along with the ever present weeds.
Still on an egg watch in the coop.
8/25/09
Tomato, anyone?
and my pile is lots bigger since I took that photo.
8/21/09
Ah, I'm happy with lunch in my tummy -- a homemade potato leek soup -- and I've got a wee bit of time before I have to shower and leave for my afternoon market.
This morning we moved the girls and Homer the Rooster to their new digs.
They aren't quite sure what to do yet with all of the room but I assume with time -- and cracked corn for bribes -- they will be happier.
John used tree branches to construct their roosts. How clever!
Their nesting boxes for my future egg supply. Underneath the boxes are cabinets to store their food. Hopefully within the next two weeks to a month, we shall start getting eggs.
I also finished knitting a pair of socks, I know this yarn was the March offering from Knitting Purls sock club but I tossed my tag and I canNOT remember who the dyer was or the colorway. If you know, leave a note in the comments please.
And I also finished my second pair of the Serpentine Mitts, free pattern by Mim Felton.
I really like this pattern and the simple yet intricate cabling up the back of the hand.
8/13/09
To paraphrase one of our local weathermen, it's Hot, Hazy, and Humid. I managed to get some garden weeding done on Tuesday but it's just too nasty outside now. I get garden produce picked but that's about it. And that's why I haven't blogged -- between garden stuff and canning and our show last weekend I haven't been around much.
Georgia may have become a house cat. She's all better, no more cone, wound's healing fine, but she loves the house. Loves it. We hate to throw her back into the shop.
It's been a long time coming, but I have a finished object! It's from the book Ocean Breezes, and this one is titled Fish Net Scarf.
I made it from my own handspun Faroese wool. It's a gift for the lady who gave me the wool to spin. It's quite scratchy stuff and, if I had realized how scratchy it was, I think I would have made her a rug or something, certainly not a wearable. But it's done and I think she's coming up here tomorrow so I can give it to her.
7/26/09
Georgia is doing fine, and is making herself to home in the house. Probably too much to home.
She gets her staples out this coming Thursday and will be demoted back to shop cat. Sssh. I'm not mentioning that in her hearing yet.
Canning/garden update -- I have tried making two more savory jellies -- onion jelly and garlic jelly. I made the onion one from my Walla Walla onions, and it is quite good. Even if one normally thinks "eeewww" when it comes to onions and jelly. The garlic one is good, albeit it has a somewhat sharp garlic bite. I plan on trialing the jelly again with a milder garlic.
I want to try making some mustard, and dilly green beans, and a carrot/daikon radish relish too this week.
I am still picking raspberries and peas, and have added beans to the picking rotation. Hmm, I should check the zucchini too, I bet I have some big ones underneath the leaves. Haven't looked there in a few days. Eeek!
I'm still knitting, slowly -- I have a couple pair of socks on the go, and I started the Rivolo scarf pattern by Knitspot in a Malabrigo sock yarn, colorway Archangel.
We've lost many kittens this year, we suspect due to illness and the fact that the mommas have weaned them perhaps earlier than the kittens were ready to be weaned. But we gained one too; we have no idea where this little one came from. It's tame, just showed up, starving. It found the cat food buffet and hasn't left; it knows a good thing when it sees it.
We're guessing it came from one of the neighbor's as the coloring on this kitten is so close to the coloring of our cats, so there's probably a shared gene pool somewhere.
7/17/09
One thing I haven't mentioned before is that, within the last month, our tomcat attacked 4 of our shop cats. The first three cats merely suffered abscesses, but last Saturday we had to make an emergency vet run for Georgia.
She suffered a severe tear along her back near her tail, resulting in lots and lots of staples. She also had a massive infection to go along with it. Of course, we didn't discover all this right away, until her symptoms manifested themselves for us to notice it. She is now in the house for a couple weeks so we can more easily nurse her. She is enjoying herself immensely, actually.
With the latest injury, we reluctantly decided to have our tomcat euthanized as we could not have him continue to torment our shop cats. This was done on Tuesday the 14th. As a result, this week has been somewhat difficult for me as I normally do not hold for euthanizing a cat, but we felt this time we really didn't have a choice. Sooner or later he might have actually killed one of our shop cats.
Zucchini bread is in the oven for market today, along with massive zucchinis to sell as they are. Still need to pick onions, lettuces, and kohlrabi. No shortage of garden produce today!
7/13/09
I bring you a bright sunflower this morning. We have volunteers in front of the house, where we originally planted them this year. They are bright and cheery, and I love them.
The garden is producing in leaps and bounds, and I'm alternating harvesting raspberries, peas, zucchini, green beans, kohlrabi, etc.
Believe it or not, I have a lot of finished items to show you today.
Serpentine Mitts, the yarn is from Knitting Purls' sock club, the dyer is Tempted Hand Painted Good Grrl, in the colorway First Spring Iris.
Arizona Socks, my own pattern, the yarn is Capi's Arizona Rainbow.
Apple Orchard socks, my own pattern again, the yarn is Indie Dyer Apple Orchard. I'm so inventive, I know, naming my socks after the yarn color.
7/1/09
Cheese making has a steep learning curve. I figured that my first batch or two might not be keep able quality but I was willing to intentionally waste some of my milk in order to learn to make a final good product.
Attempt 1 -- yogurt. Utter failure. Dumped the milk down the drain.
Attempt 2 -- Feta cheese. Somewhat of a failure. I used the wrong culture.
Attempt 3 -- Success! We have cheese!
this photo shows the freshly drained curd. Out of 4 quarts of milk I got almost a pound of cheese. (this photo is also a bit more yellow than it should be.)
here the feta is on the cutting board, color wise looking more normal. I cut it up into chunks and it now ages in a brine for a week before we can attempt to taste it. But I'm looking forward to it.
Price-wise, I need to check the package size in the store and how much they charge for it, to see if I came out at all ahead. If nothing else, I know that my feta consists of farm fresh goats milk, feta culture, rennet, and the canning salt/water brine. No preservatives; no additives. That alone makes me very happy.
On Monday we poured the cement slab next to the house that John will use to stack his firewood on, so that it keeps drier than being on wet ground.
We also poured the slab for the chicken coop, and John is currently building that.
6/28/09
Holy Radish, Batman!
It's a Daikon Radish from our garden. That thing is a foot long. We'll taste it for supper tonight.
6/27/09
In case you all were wondering, out of 55 pounds of strawberries I can make the following --
25 -- 2 oz. bags of strawberry fruit leather
25 pint jars of strawberry lemonade fruit concentrate
13 half pint jars of strawberry pancake syrup
6 half pint jars of strawberry jelly
21 half pint jars of strawberry rhubarb jam
and enough for us to have a few meals of strawberry shortcake.
Yes. I am tired of strawberries. For now.
I've got three gallons of goats milk in the fridge. Cheese and yogurt making starts tomorrow.
My chicken coop will have its cement floor poured on Monday and it sounds like I'm feeding a crew of people. I must look up some good recipes to make for dinner on Monday, and we need to like it enough for perhaps many leftovers. Hmm, bbq sounds good. Hey Kathe! Can you wing your whiskey bbq pork recipe my way tomorrow? I also need to make some salads and a dessert.
Chicken photos --
Emmy (on left) and an Americana hen
My Americana rooster
And other photos ...
John and Pacman. I am afraid Pacman's going to become our latest shop cat.
the garden. I need to spent serious weeding time out there this week. Serious.
6/24/09
Seriously? I don't have much. I've been busy working in the garden but you've seen garden photos from last year so I suspect you don't want to see them again this year. Or do you? Let me know.
I dropped the Cokato Farmers Market (lack of customers and purchasing) and added the Kimball Farmers Market. I sold there for the first time last Friday and, even though inclement weather shortened the time we were there, I was favorable impressed.
The rest of the meat chickens went to their heavenly reward so now we just have the egg chickens. Only a couple of months or so before we start getting our own, fresh, homegrown eggs.
Just because I don't have enough to do, I am going to start making our own cheese. The lady next to me at Kimball has fresh goats milk, so I'm purchasing a couple of gallons from her this Friday. I have goat cheese making supplies on my way to me -- should arrive tomorrow -- and I will start out with feta cheese and brie cheese, which we like, and which looks fairly simple to do. Who knows, we might add dairy goats to our animal herd ... (no, Lil, not really, not yet.)
I got my fingerless gloves finish and they just need to have their photo shoot, along with a couple more pair of socks.
John and I went strawberry picking yesterday and got 10 pails of berries -- over 55 pounds. Guess what I'm doing the rest of today and probably tomorrow?
6/11/09
plus homemade jelly is a little slice of heaven.
6/7/09
It's been unseasonably chilly here. Extremely unseasonably chilly. Yesterday at market I needed to wear my long underwear and winter coat. Eh?
So, tossing every other knitting project aside, I started on the Serpentine Mitts so I could have those to wear too. Free pattern, uses stash sock yarn, what's not to love?
The cables do show up a bit better in person, but I suppose a plain sock yarn would have been better. Eh. I like them.
6/2/09
A radish bouquet freshly assembled from my garden. The first harvest of the year.
5/20/09
Did you all want to see more kittens? Of course you do. Batch #2.
5/18/09
This morning I found our first batch of kittens for this year. Three of them, and they are quite pretty.
And a couple chicken photos for you too. They are five weeks old today, and my, have they grown.
this one likes being petted.
aren't they big????
5/16/09
I survived Shepherd's Harvest. It actually went very well, and my leftover yarns/roving are now listed in my Etsy store, if you're interested.
This morning I was back to the Farmers Market. It was cold and windy, and canopies were flying.
this was the first time. there was a second incident of flying canopies but I wasn't quick enough to catch those.
Life is settling down again here at the house. Been puttering putting stuff back, and just enjoying.
5/5/09
Nothing like waiting until the last minute. Shepherd's Harvest is this weekend, and I"m finally getting a chance to dye some roving to sell.
First two skeins drying on the vine, so to speak.
5/3/09
It's good to be home. To our great surprise, even after being gone for six months Spooky remembered home and is very happy too. She's like a different cat.
High speed phone line was installed on Wednesday but, and we didn't figure this out until Friday, the technician goofed up our inbound landline phone, so if you are trying to call us all you will hear is that our phone has been disconnected. I tried calling Frontier on Friday but never ever got an answer. Finally emailed them and will try and call again tomorrow.
Yesterday was the first day of the Buffalo Farmers Market. I'm still bemused that it's time for it again, and that next weekend is Shepherd's Harvest. We did start planting the garden yesterday too, I put in onions, red onions, leeks, and potatoes. I need to get back out there this afternoon for more planting of the cool weather stuff.
Made three pies this morning, a dairy less banana cream, a regular banana cream, and a pecan. The latter two are going with me tomorrow for shearing day adventures at Hollyhock Farms.|