Amiga Programs
OHAC
Oh Heck, Another Calendar!
---
Version
PD Type
Download
(Shift-click)
Size
1.5
Public Domain
OHAC15.lzx
87,770
Updated Catalogs and Translations

File
Version
Last
Update
Author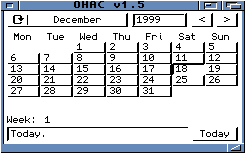 Oh Heck, Another Calendar! The name says it all. :-)
Features:
Font-sensitive, resizable, localized, GadTools GUI.
Select a date, and the number of days from/since today will be reported.
"Dates" menu with user-definable dates.
Calendar ranges from Jan. 1, 1978 to Dec. 31, 2113.
Can open on any public screen, and jump from screen to screen.
AmigaGuide docs that are more fun than a severe beating!
It's free! And the source code (in Amiga E) is included.
---
New in Version 1.5:
Week-number display.
Will fallback to Topaz/8 if the user-supplied font is too large.
Some changes to the font-loading routine.
New in Version 1.4:
Clipboard support.
Configurable output.
Display years, months, weeks (configurable), as well as days away/until.
New in Version 1.3a:
Bug fix: Didn't properly free the locale.
New in Version 1.3:
The Reset button was renamed to "Today".
The Today button now has three functions:

Today

Jumps to the current date.

SHIFT Today

The displayed date will become the current date.

ALT Today

Resets the current date.

"Set Today" and "Reset Today" menu items.
New startup option: SETTODAY.
The year increment/decrement gadgets can in/decrease the year by 1, 5 (SHIFT) or 10 (ALT).
"Today" is now displayed with a period ("Today.") in the days-since/until text gadget.
---
Future Plans: None at the moment, but like a bag of potato chips or a leaky can of industrial adhesive this has been a hard project to put down...
---