Amiga Programs
The Tag Thing
---
Version
Distribution
Download
(Shift-click)
Size
0.8
Public Domain
TTT08.lzx
59,574
---
New/Updated Plug-Ins

Name
(Shift-click to download)
Version
Description
Author
Size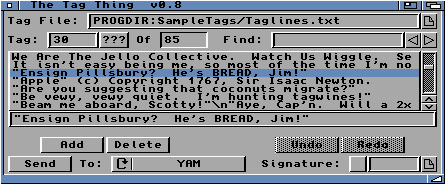 The Tag Thing is a sort of tagline-chooser. Although initially created with taglines in mind, it could also be used in non-trivial ways with AmigaGuide or HTML tags, or who knows what else. By relying on external plug-ins to handle tag insertion, The Tag Thing can support virtually any program, even those which don't yet exist. :-)
Features:
A compact, font-sensitive, resizable, style-guide compliant GadTools interface.
Use of external commands allows The Tag Thing to support many/any programs.
Includes ARexx scripts for:

Term
YAM
Digital Quill
XDME
Cygnus Ed
Edge
Ed
C-Net
The clipboard

Forwards/backwards searching. Supports AmigaDOS pattern-matching wildcards.
Multiple undos.
Random tagline selection.
Included tag files:

AmigaGuide tags.
HTML 3.2 tags.
Some silly taglines.

Public Domain - Includes source code.
New in Version 0.8:
Glyphs for file requester and search buttons.
Small internal improvements.
The Tag Thing is now public domain, and the source code is included.
New in Version 0.7:
Multiple undos.
Improved search options.
Future Plans: Short term: finishing the unfinished bits and fixing bugs.
Long term: I'm kinda surprised it's come this far, so who knows. :-)
---