Margot Finke's

of BOOKS for Children

FREE eBOOK
(pdf download)
Scroll down for the DOWNLOAD link


"Aussie Boab Tree Magic"
by
Margot Finke.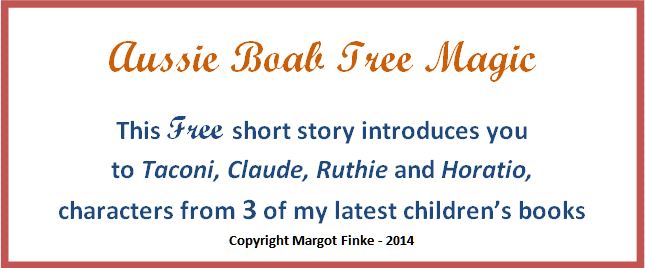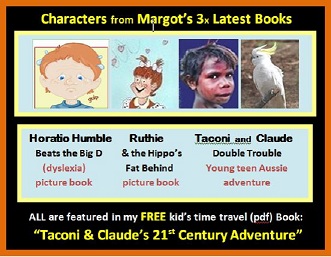 The magical Boab Tree traps Taconi and his chatty cockatoo Claude in the 21st Century.
Ruthie and Horatio (characters from 2 0f my other books) join forces
to help Taconi and Claude find their way back home - to the
Aussie outback of 1950 where they belong.

Short "Time Travel" adventure
for BOYS and TOMBOYS.
I had such fun taking Taconi, Ruthie and Horatio, and
writing them into this story. Together they make an awesome team!
DOWNLOAD FREE HERE

** It might take a minite or so - depending on your browser speed.
(Click the down arrow, TOP RIGHT, to SAVE the book to your computer)

If for some reason the link does not work
eMail (mfinke at frontier.com)
and I will send the pdf to you.
****
If your reluctant reader enjoys
this FREE BONUS Book,

try
A mid-grade adventure set in the Australian outback. A coming of age story that has Taconi helping his dad keep
his job, dealing with hs upcoming "man" ceremony fears, and wonderinghow he fits between the
white man and his tribe. A crazed emu makesTaconi a hero of sorts, and
powerful Dreamtime Spirits come togetherat a tribal gathering
and help Taconi choose his way. All helped
along by his chatty mate Claude,
a sulfur crested cockatoo
who knows a thing or
two about boys.
Hard copy . . . . . Kindle . . . Nook etc
View all Margot's books on
http://www.margotfinke.com