Gran's Kitchen Tools
. . .

. . . ..

.. . .
. . ..



<><><><><><><><><><><><><><>
Pa dreaming of Rattlesnake Pie.
( from "Rattlesnake Jam" )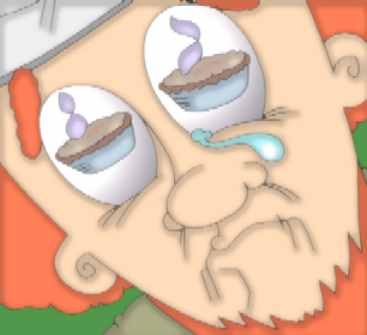 Invites you to check out the
YUMMY Recipes From
Gran's Kitchen.
Pa dug through gran's kitchen drawers and found
some lipsmacking recipes that will rattle
your taste buds, and slither
down your throat.
Please - No barfing allowed!!
<><><><><><><><><><><><><><>



Why Eat Rattlesnakes?
Good Question.


If you aren't a vegetarian, then all meat should be tried at least once - right?
And rattlers don't think twice about YOU. They'll bite you quick smart,
and cause you pain or death at the drop of a fang.

Pa wants you to stop eating beef for a bit, and wrap YOUR FANGS
around a chunk of rattler - for a change of taste.

<><><><><><><><><><><><><><>

e-MAIL ME
mfinke@frontier.com



I am happy to chat about eating snake ( which I have done),
or any other weird, wild critter.

<><><><><><><><><><><><><><>

Pa catching rattlers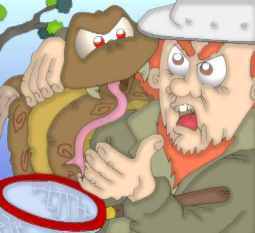 #1 on Pa's Menu:
Skewered Rattler
INGREDIENTS:

Rattlesnake: cut into chunky pieces
Red or green peppers, cut into sections
Red or vidalia onion, cut into chunks
Barbecue sauce for generous seasoning


COOKING METHOD:

Thread rattlesnake section onto a metal skewer. Add pepper and onion chunks
between each rattler piece.

Brush or slather ( your choice) rattler chunks with the barbecue sauce.

Place the skewers over an open flame - campfire or barbecue will do nicely.

After about 15 - 20 minutes (turn halfway every 3 - 5 minutes) your lipsmacking Skewered Rattler is ready to eat.

Dig in!!

<><><><><><><><><><><><><><>



NOTE: This rattler recipe has one chance in ten of getting past your mother.
Just mumble the word rattlesnake, and hope her thoughts are elsewhere.
Pa's #2 Choice
Spicy Pasta
(shush. . . with rattlesnake)
INGREDIENTS:
A large can of whole tomatoes
4 humongous cloves of garlic (chopped fine or minced)
3 tablespoons of cooking oil
*If you like it HOT, add finely chopped hot chilies to taste
Then, add more or less of the following 4 spices:
1 tbsp. oregano
2 tsp. dried basil
2 tsp. pepper
1 tsp. salt
Juice from a medium sized lime or lemon
Approx. 1/2 - 3/4 lb. rattlesnake meat.
** Notice the rattler isn't mentioned until near the end - good thinking, Pa.

Pasta of YOUR choice - 1lb.



COOKING METHOD:

Simmer rattlesnake in a covered pot, with just enough water to cover + the lemon juice, for about an 1 hour. Take the rattler from the pot and remove the bones.

Combine the now boneless meat with all the other ingredients (except pasta) in a big saucepan, and simmer some more - about a 1/2 hour. Test for tenderness.

Cook the pasta as usual, then pour your yummy rattler concoction over the hot pasta.

If that doesn't slither down your throat without a burp, then Pa will quit hunting rattlers - FOREVER!

<><><><><><><><><><><><><><>

Rattlesnake Chili
(Gran got this beauty from Aussie Susan Stephenson)

A 'hot" item for those who love their rattlers on a plate.

Ingredients :

1 six foot rattlesnake, skinned, boned and de-rattled, about 1 lb.
4 cups onion, finely chopped
3 cloves garlic, minced
½ lb bacon
2 tbsp corn meal
15 oz can tomatoes, undrained and chopped
4 tspn mild chili powder
5 Jalapeño peppers
1 tbsp cumin
1 tbsp oregano
1 tbsp smooth peanut butter
¼ bar semisweet chocolate
15 oz can kidney beans
15 oz can pinto beans
15 oz can black beans
½ cup tequila (optional)
Preparation and Cooking Instructions

Fry the bacon until crisp and set aside to cool.
In a large soup pot, sauté the onions and garlic in about 2 tbsp of the bacon drippings until transparent. Add the corn meal and chopped tomatoes with their juices, the chopped chilies, cumin powder, oregano and 1 cup water. Simmer for half an hour.
Meanwhile, seed and chop the Jalapeño peppers, (avoid touching the seeds and take care not to rub your eyes). Add the chopped pepper and ½ cup of the chili and purée in a blender with the peanut butter and chocolate (these ingredients mellow the acidity of the chilies and allow the flavors to come through, without imparting any of their own flavor). Return to the pot.
Using another tablespoon or so of the bacon drippings, sauté the diced rattlesnake until done. Chop the cooled bacon and add all the meat to the chili
Simmer for another ½ hour, or until the meat is tender. Add more water if necessary, and add more of the blended Jalapeño if the chili needs more kick. Salt to taste.
The tequila adds wonderful flavor to the chili……stir it in just before serving or let your guest add their own to taste. A little goes a long way! The chili can be served with grated cheddar cheese, freshly chopped onion, sour cream and tortillas or corn bread.


Pa suggests you keep the water "cold an coming" for this one, mates.

<><><><><><><><><><><><><><>

Notes from Gran's Kitchen
Sad to say, Pa is still looking for a recipe for
rattlesnake pie, rattlers over rice, and his all time favorite, rattlesnake fritters.
If Pa finds them, or any other yummy rattler recipes that won't freak
your mom too much, I will add them to this page.


Keep your eye on Gran's Recipe Page!
<><><><><><><><><><><><><><>
BUY Rattlesnake Jam
BACK TO