For a taste of the Outback read Taconi & Claude by Margot Finke. Experience the flavor of the wilderness through Finke's picturesque prose. Taconi, the young protagonist shares his fears and thoughts as he hunts and speaks to Claude, his cockatoo.
This bird has an attitude and spunky personality. His one-liners add a touch of comic relief as Taconi struggles to mentally prepare for his man ceremony. As I read the book Taconi took on an accent and persona. His image became indelible in my mind. Finke does a superb job of showing the inner most fears of the boy and his determination to overcome them.
All boys will relate to Taconi as they approach their own "coming of age" approaches.. The book is perfect for reluctant readers, boys especially. Tromping through the Outback with Taconi & Claude will provide hours of reading adventure. I highly recommend Taconi & Claude.
********************
Taconi & Claude - Double Trouble
Reviewed for: Blogcritics
by Nicole Weaver
Rating:
*****
Margot Finke has done it again! Her witty sense of humor, unbridled passion and talent to write stories for children and teens shine through like a beacon in the night.In Taconi and Claude: Double Trouble, Ms. Finke introduces the reader to the Australian outback. The two lovable characters, Taconi and his beloved best friend Claude, a cockatoo, will captivate you till the very end of the story. The story chronicles the coming of age of a boy from a tribe in the 1950s era of the Australian outback. Taconi leaves the hills to come with his father to serve an affluent family at a time when he is also to enter the manhood of his Tribe.
Taconi and the cockatoo experience daily challenges together in a fun and amusing way. Along the journey, the reader will learn much about Australian folk tales and primitive tribal living.The most memorable moment in this delightful tale is the author's ingenious way to show that in Australia it is not too farfetched to indulge in eating snakes and other unheard-of critters.
There are a great deal of lessons one can learn from reading Taconi & Claude. Here are a few that stand out:
1) Hard Work: Taconi learns from his dad that hard work pays off. The lesson to be learned is that nothing comes easy in life; one must be willing to work hard to achieve goals. In the end, Taconi is inspired by his dad's willingness to work hard and he helps his father keep his job as a cook and makes his father proud of the young man he has become.
2) Friendship: I love the strong friendship between Taconi and his mouthy cockatoo. Even though Claude's death defying curiosity led to Taconi being smothered by flesh-biting critters, Taconi managed to forgive Claude and they remained close buddies.
3) Self Discovery: Taconi searches for the power he thinks he needs to survive by diligently looking for the blue kingfisher feather. Taconi is convinced that the blue kingfisher feather has magical power that will help him obtain unlimited amount of courage. In the end, Taconi discovers the power he is looking for comes from within.
In conclusion, I highly recommend this book for both girls and boys. I believe, students can learn a lot about what it means to be loyal and the benefits one can reap from hard work. Lastly, the glossary of Aussie terms at the end of the book will introduce readers to an array of new vocabulary and expose them to a new culture.
******************
Taconi & Claude- Double Trouble
Reviewed for: Stories for Children
by Terri Forehand

Rating:
*****
I have the privilege of reviewing the newest book by award winning children's author, Margot Finke. Her new book titled Taconi & Claude, Double Trouble is a book I couldn't put down.The theme is a coming of age book for a boy from a tribe in the 1950's era of the Australian outback. Taconi leaves the hills to come with his father to serve an afluent family at a time when he is also to enter the manhood of his Tribe.
His best friend is a mouthy old bird named Claude. Claude shows remarkable wisdom throughout the story as Taconi searches for the power he thinks he needs to survive. Together they search for the blue kingfisher feather believing it has magical power for courage and survival. Through many predicaments and all kinds of trouble, Taconi discovers the power he is looking for comes from within. Through the trials and adventures, Taconi helps his father keep his job as a cookie and makes his father proud of the young man he has become.
This story weaves Aussie language and vivid details of the 1950's folk tales of Medicine men and primitive tribal living with an adventure that readers will not be able to put down. This story will interest both boys and girls with it's humor, adventure, and the actions of one awesome bird named Claude. Ms Finke includes a glossary of Aussie terms adding to the overall feel of an adventure in the Australian outback. Wonderful coming of age story with spirit and adventure that no child should miss. I would definitely recommend this for students, teachers, and librarians as a great book.

******************

Taconi & Claude: Double Trouble
Reviewed by Donna McDine
Rating:
****
The fear of the unknown sends Taconi's mind into the darkest corners of his imagination. Will his ever changing life continue to spiral out of control? Finding his one true place while saddling the life as an aboriginal in the Australian outback and then as a Jackaroo in the white man's world is a constant struggle.
With the anticipation of his man ceremony, Taconi fights his inner thoughts to be worthy of his aboriginal customs; all the while, striving to understand his father's need to become the head cook on the Coorparoo Cattle Station. The fight for balance becomes quite confusing for young Taconi in his determination not to forget his heritage and accepting the need to live in the white man's world.
Along the way he finds comfort and direction in an unlikely companion, the outspoken Claude the cockatoo. This unlikely and heartwarming friendship is wise beyond their years and will have the reader cheering for Taconi's one true quest, acceptance. Will Taconi be able to weave customs from both worlds into a comfortable fit? Author, M.E. Finke expertly brings forth her expertise of the Australian outback in this fast paced fictional story transporting the reader with the perfect blend of description and dialogue.
For a deeper understanding of the Australian, author M.E. Finke provides a glossary of Australian terms, which will surely bring out the love of reading to the most reluctant reader.

******************
More
REVIEWS
for
Taconi and Claude


on
The Home School Book Review
http://homeschoolblogger.com/homeschoolbookreview/786639/
Bless Their Hearts Book Review
http://blesstheirheartsmom.blogspot.com/2011/06/book-review-and-giveaway-taconi-and.html
Coloring Outside the Lines:
http://eliles-coloringoutsidethelines.blogspot.com/2011/06/book-review-taconi-and-claude-by-margot.html

Mymcbooks's Blog
http://mymcbooks.wordpress.com/2011/06/02/blog-tour-book-giveaway-taconi-claude-ruthie-the-hippo-and-horatio-humble/
*****************
NEW
The Revenge of Thelma Hill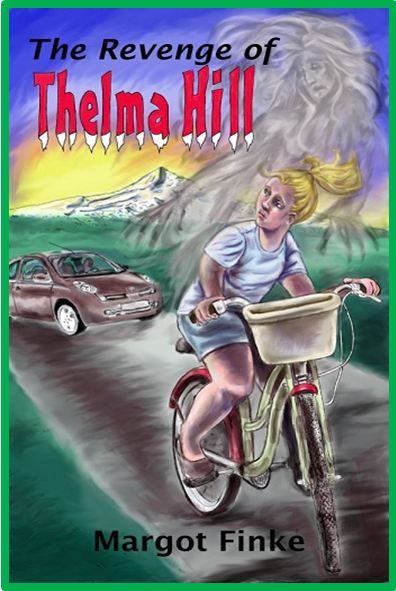 Powell's Books
NOOK
Reviewed by Donna McDine,
award willing author and reviewer.
http://www.donnamcdine.com/home.html
Title: The Revenge of Thelma Hill

Written by: Margot Finke
Published in: Kindle
Published: 2012
Pages: 87

Twelve-year old Frannie's life, in turmoil with the reality of abandonment by her mother, becomes even more frustrating with the announcement of her dad's work transfer. Moving from the comfort of Iowa to Oregon gets her thinking more and more of her mother and the what if's. Her dad makes it perfectly clear conversations about her mother are off limits. She would turn to her twin, Jeff, for support but they have never been close.

Upon their move to Oregon, Frannie is determined to make the best of summer vacation, even though the prospect of making friends before school begins appears nil. Miraculously a friendship develops in the most unexpected form. And when I say form, it's the ghostly form.
Frannie's ability to tap into spirits from the beyond is fine tuned and entwines her into an experience like no-other. The task at hand is unearthing the key evidence into a long forgotten death of a once wealthy newlywed.

Will Frannie trust her instincts and help the ghost of Thelma Hill be released into her final resting place? Or will she allow her negative relationship with her brother to consume her? Surely there is more than one way to develop a positive relationship with both the living and the dead?
Find out in this expertly written fast paced middle grade novel adventure written by the Aussie from down under, Margot Finke. The author's wholesome writing is sure to please her readers, from children to parents and educators.
Learn more about Margot Finke's illustrious writing career and critique services at http://www.margotfinke.com
**********************
REVIEWER
Janet Ann Collins -
writer, speaker, blogger.
The Revenge of Thelma Hill

Well Written - ***** Stars

I'm not much into ghost stories, but I enjoyed
The Revenge of Thelma Hill - a LOT.
It starts off with a scary first chapter, but eventually we learn the ghost of Thelma Hill isn't evil. She just wants Frannie James to help her. Thelma was murdered years ago by her husband, who buried her in the basement of the house where Frannie and her family now live. The ghost wants her bones buried in a consecrated cemetery so she can go to Heaven and for her murderer to get the punishment he deserves. She's certain Frannie is the only one who can make that happen - but how?
The real scary character in the book isn't the ghost, but her murderer.
The subplots include Frannie trying to find out what happened to her own mother, who had left the family when she was two years old, and dealing with her obnoxious twin brother. Since the family moved to their new town during Summer vacation her brother Jeff is the only kid she knows, but they can't get along and quarrel constantly. And, of course, if Frannie tells anyone she has been seeing a ghost they'll think she has gone crazy.
The author, Margot Finke, has done a wonderful job of writing an exciting, tension-filled story and portraying realistic characters and relationships.



**********************
REVIEWER
Catrina Barton "KittyB78" (Mo, USA) -
See all my reviews
The Revenge of Thelma Hill
Masterful !
November 21, 2012
**** Stars


This review is from: The Revenge of Thelma Hill (Kindle Edition)
In the spirit of fair disclosure, this honest review is solely my opinions, based on a copy supplied by the author. It has not been compensated for in any way. Anyone who reads my reviews can plainly see I say what I think straight up.
I loved the wordplay on the title chapters, and felt it added a touch of flair to the story. The characters are well fleshed out, and the plot was easy to follow. I enjoyed the easy pace, and great characters. Miss Finke, knows her stuff.
**********************
REVIEWER

Margaret C. Arvanitis
October 18, 2012
***** Stars
The Revenge of Thelma Hill

A hair-raising ghost story

Format:Kindle Edition|Amazon Verified Purchase

Author Margot Finke did a masterful job of bringing the characters into 12 year old personalities in this hair-raising ghost story and mystery. Who killed Thelma Hill? How can they find the killer and bring him to justice so that the 40 year old ghost can go on to her final resting place? Frannie spearheads the escapade, dragging her twin brother into it at the end. They solve the problem without adult help, facing a killer, and bringing terrible danger to themselves. A perfect book for a scary Halloween night read. I must send it to my 12 year old granddaughter. She will love it too.

********************
REVIEWER: Susan Berger
Reviewer and Blogger - October 2012


The Revenge of Thelma Hill
RATING: *****

This is the story of twelve year old Frannie James who moves to a new town and encounters a ghost thirsting for revenge. In her quest to find Thelma's killer, Frannie gets help from her eternally sulky twin brother Jeff. Frannie mends their friendship and comes up with a clever plan to expose a murderer. The trick is not to get killed while carrying it out.

I found this book to be an enjoyable read. Beyond the main story is the background story of being twelve and motherless and starting over in a new town, Frannie aches to know why her mother left them many years ago and what happened to her. I also loved the characters of her zit ridden techie brother Jeff and her harried dad.

Thelma is a very realistic ghost who happens to have a ghost familiar who's ten shades of scary.

A great gift for your tween reader.

*****************
The Revenge of Thelma Hill
***** Stars

By Margot Finke
Cover Art by Agy Wilson

Fall is the right time of year to read Margot Finke's spooky middle grade novel, The Revenge of Thelma Hill. It's a perfect harvest offering for lovers of ghost stories. Agy Wilson's scary cover immediately grabs you and pulls you in. Let's join in the hunt to capture a killer.
Frannie and twin brother Jeff have unhappily moved to Oregon due to Dad's promotion. Since it's summertime, they've no easy way to make friends, and have some time on their hands. What better way to fill it than tracking down a murderer? There are a few problems -- the chief witness and victim is a ghost, and the forty-year-old crime was presumed an accident. Such obstacles don't deter Frannie James.
Frannie is the only one who can see the ghost. She wants to bring Thelma's killer to justice, but can't do it alone. Jeff takes some convincing to believe in ghosts enough to help her. His computer "geek-ness" is truly put to the test. These kids are strong characters with courage and determination. We applaud their efforts though we fear for their safety.
The story is exciting and fast-paced with realistic scenes of sibling disharmony in everyday family dynamics. Can the twins set aside their bickering to concentrate on saving Thelma from a fate-worse-than-death? Have they undertaken an impossible task on their own? They can't involve their busy Dad -- he doesn't believe in ghosts -- but keeping him "out of it" complicates matters. Other problems Frannie and Jeff face keep the story interesting and enjoyable right up to the climax. In the end we finally get answers to Frannie's questions about their long-absent Mom. This is a most satisfying ghost story for 'tweens.

Available as a Kindle book from Amazon

Reviewed by:
Penelope Anne Cole - Author of "Magical Matthew."

*****************