School SET UP
for my latest soft cover books -
Taconi and Claude - Double Trouble
(mid-grade adventure set in the Aussie outback)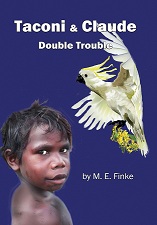 Picture Books
"Horatio Humble Beats the Big D" (dyslexia)
(parent-teacher guide included)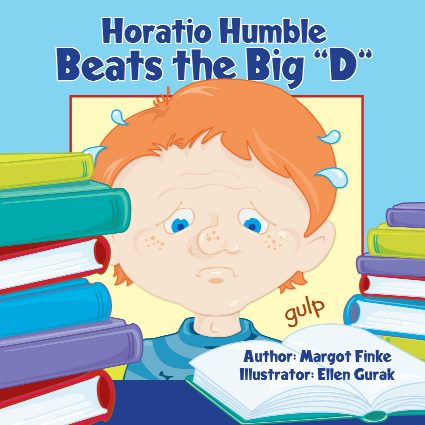 "Rattlesnake Jam" (for boys!)
and
"Ruthie and the Hippo's Fat Behind"
(parent-teacher guide included)
Both reluctant reader friendly.
Autographed copies from my BOOKS page.
Also through Amazon, B&N, Target and Guardian Angel Publishing

For Rattlesnake Jam, I arrive with a huge jar of Gran's rattlesnake jam, complete with barfy bits that defy description! Plus my own "pet" rattlesnake - cuddly and green striped!

I bring lots of bookmarks that include book illos, my e-mail, and my web address + fun coloring sheets for the lower grades.

I wear a sign around my neck that says my name, and that reads :
"I Write Books for Kids Like YOU!"


My laptop PowerPoint dispaly is for fun rhyming and writing lessons (see below), as well as book illustrations, and the sounds that different animals make.

Visit
Gran's Kitchen for genuine rattler recipes you CAN eat.

Gran in her kitchen Cooking up . . . You guessed it:
Ratlesnake Jam!.................

Fun with Gran, Pa, and the making of Gran's yucky green jam. But Pa wants rattler fritters or rattler pie. Will Gran ever make them for him?

Kids can check out my Wild US Critters for cool facts about rattlesnakes,
and the US critters in my other books.

See the
"Programs for Various Grades," below.

For

"Ruthie"

Big change, whether it be a move, a death, or a divorce, can affect children in many unpredictable ways. So, after reading the story to the children, I ask them questions from the Q & A in the attached parent-teacher guide. Chatting like this is very helpful, and helps children understand that BIG changes can be dealt with if you talk about them and share.

* Do you think Ruthy got away with too much bad stuff?

* Would your parents let you act like Ruthie.

* Do you think she should have asked her parents why they kmoved?

And more. . .

My

'Wild and Wonderful'
rhyming series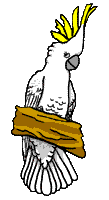 My 7 book series is published by
Writers Exchange - E-Publishing.
Autographed copies and downloads HERE

These rhyming stories, about US and Aussie animals,
are fun as well as eductional
*Don't Eat Platypus Stew includes 3 rhymes: Platypus Stew, Koala Capers & Kooky Kookaburra.
*Kangaroo Clues - one story
*Never Say BOO To a Frilly includes 2 other rhymes: Rainbow Birds & Tasmanian Devil Dance.
*Humdinger Hummers - one story
*Prairie Dog's Play Day includes 2 other rhymes: Bald Eagle Rules & The Stinker!
*Mama Grizzly Bear - one story
*Squirrels Can't Help Being Nuts - a posy posy of three rhymes:
Nutty Squirrel, Kitty Kat & Bumblebee Buzzers.
As an Aussie who has lived in Oregon for many years, I wanted to bring the critters I remember enjoying as a child to children here in the USA. I would like my school visits to be a time of fun learning for the kids in your classrooms. I offer a series of rhyming books that will teach your class about the weird and wonderful animals in Australia, as well as fascinating critters from America. All my books are beautifully illustrated, and each Australian animal story includes a glossary that explains the fun Aussie words.



Kids today are more computer savvy than many adults. They spend their time in front of a computer, rather than curled up with a book. Encouraging children to read fun, educational books on CD or Computer Download, is much better than letting them watch cartoon rubbish on TV.



My series of rhyming animal books is designed for fun and enjoyment - kids also learn from them, and that's a plus. They love animal tales: especially those about weird and wonderful animals from far-away places like Australia.


Classes can learn about Kangaroos, Koalas and Platypus etc, while on the computer at home, or at school. They can also enjoy critters from the USA - Bumblebees, Skunks and Hummingbirds, to name a few.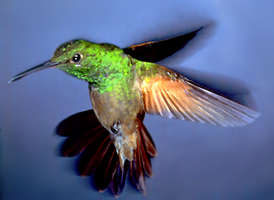 <*>

<*>

School SET UP
for my series of PBs about critters from the US and Australia.
Fun and educational.
I arrive in every class singing "Waltzing Matilda," wearing a swagman's (or hobo's) bobbing, cork trimmed hat, carrying my swag on a stick over my shoulder, and holding a billy for tea and a fryingpan for cooking. The reason for this get-up is explained, along with a bunch of fun Aussie words kids can try out on their friends and family.My interactive PowerPoint Presentation, complete with animal sounds, keeps children interested and learning about Australia and the animals in my books - from the US and Australia.

** The presentation screen shows all the books in FlipView mode: exactly like reading from a real book - children hear the pages as they turn! I also have "Rattlesnake Jam" downloaded to the big screen. The same fun lessons work for both my 6 book series on CD and download, and for the softcover book "Rattlesnake Jam." **
Programs for Various Grades:
K-through 3rd grade children:
As well as what is mentioned above, younger children are encouraged to dive into my rhymes and discover the secrets of many endearing American and Australian animal species, plus the Aussie words used. There is a Q & Q time, and I read from 2 of my books.

* K-1 is a half hour program.
* Grades 2 and 3 is three quarters of an hour.


4th & 5th Grades
Older grades enjoy all the fun mentioned above, plus a selection of neat writing hints, and encouragement to use fresh adjectives and active and powerful verbs in their stories. I also mention how I started writing, and how the illustrators for my books were chosen. I love interacting with children, and helping them discover the fun of writing rhyme. I also read 2 stories from my book selection. * 4th & 5th grades are one hour programs.
I enjoy answering questions about Aussie animals and the American critters in my books. My well worn Australian map also shows many of their unique animals.





My collection of aboriginal artifacts, map of Australia, and the Aussie words the children will have fun using, are always a big hit. I also bring a genuine coconut. I brought this back from a beach in far Northern Queensland, Australia.




I encourage children to visit the Down-Under Fun and Wild US Critters pages on my website. These two pages offer lots of extra fun stuff about the animals in my books. And there are links to other critter sites for kids who are interested in learning more.

My website offers "SAFE SURFING" for children!




<*> <*>




How I found the right artists to illustrate my books makes a great story. Two of the artists come from Turkey, and one speaks no English. WOW! Did that cause problems! The other artists are scattered throughout the US. The Internet, plus a wonderful on-line writer's list, played a big part in my success as a writer.
I am happy to answer questions about writing rhyme. Thank you for this opportunity to introduce myself and my books. . . Please E-MAIL ME ( mfinke at frontier dot com ) if you would like further details about my presentation.

I have done my best to make sure my fee is reasonable, and does not break your school's budget. My fees begin at $100. This is for a reading and lesson for one class. If you want me to work with several classes, and different grades, my fee will be higher, depending on the time involved and the number of classes. If long distances are involved, I will ask for travel and accomodation expenses.

I am always happy to chat with you about my presentation, and consider anything extra you would like to add. Everything is negotiable, including my fee -
I had the fun of doing two sessions at this neat school. The librarian and teachers were so supportive and interested in everything. I even got to sign the Author's Wall. The morning session was for kindergarten and grade one. The afternoon session was for kindergarten, grade one, and some grade twos. These kids were such fun, and asked great questions. The animal sounds I incorporated into my PowerPoint Presentation were a big hit.

Ewing Young 4th and 5th Grades.
Had a great time with these classes, reading my books, talking about Australia and fun Aussie words. Older classes like this love a more in-depth look at how my book series got to be published. They enjoyed hearing how I found the book illustrators through my online writing list, and that two of them came from far away Turkey. We also talked about the craft of writing great books, and I answered some neat questions. I hope to display some pictures of that day here soon.
December
Ewing Young Grade School
I visited Ewing Young's K through 3rd grades, and had a ton of fun with them. Such smart and attentive kids! Below are a couple of pictures.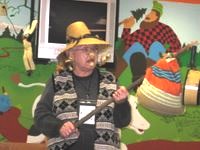 <*>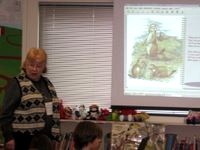 .....................................................................Me with hobo hat, and swag on a stick...Screen showing my Prairie Dog story
Read about another SCHOOL VISIT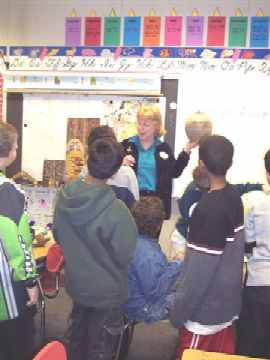 This is me visiting a 3rd grade writing class in Beaverton, Oregon. I'm holding up a coconut my husband and I found on a beach in far northern Queensland, Australia.

Propped against the whiteboard (top left) are aboriginal bark paintings, a fire stick, and a message stick. I made a personalized badge and bookmark for each child, and worked with them on a fun lesson about finding strong and active verbs, and great adjectives. The teacher requested some sort of helpful lesson, as well as me reading from my rhyming animal stories and talking about Australia.

The kids were really interested and they asked lots of questions. That made it great fun.



CLICK HERE If you would like to know more about my series of books, or purchase one or more of the books.

Return to TOP of page