JAMES COPE (1776-1874)
James Cope,born in 1776 in the state of North Carolina, was an early settler of Warren County, Tennessee. He was supposedly married twice, first to Lydia Payne, then in 1809 in Orange Co, North Carolina to Polly Merritt Crouch. Earlier research said he was a first cousin to the Cope brothers Andrew,William and James that settled in Hawkins and White Counties in Tennessee and to Wiley Cope who first settled in Clay County,Kentucky. But through DNA testing, this has been proved incorrect.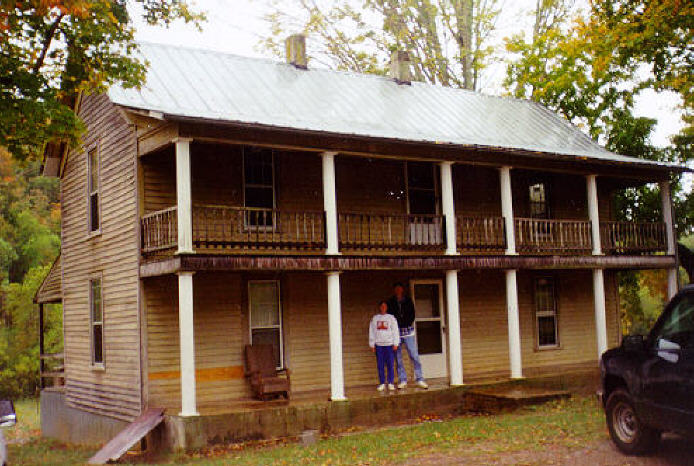 The above picture is of what is suppose to be the James Bradley Cope house,located in southern Warren County,Tennessee.Pictured on the porch is myself and Deb DeRouin.Photo taken by Joe DeRouin on Oct 8,1999.Although unoccupied at this time,the house is currently being resoterd by the current owner,a Levi Rogers/Sarah Cope descendent.
I now have a page dedicated to the Descendents of slaves of James B Cope.
JAMES COPE (1776-1874)
YEAR
STATE SETTLED
DESCENDENTS MIGRATE
DESCENDENCY
RESEARCHER
1776
North Carolina
Tennessee,Ohio,New York,Indiana
1-James,2-Stephan,3-John,4-James T.,...
7-Michael Fromholt
1776
North Carolina
Tennessee,Michigan
1-James,2-William,3-Harris Bradford B.,...
Richard Cope
1776
North Carolina
Tennessee,Georgia
1-James,2-William,3-Harris Bradford B.,4-William,...
7-Mary Sue Cope Holmes
1776
North Carolina
Tennessee,Missouri, Kansas
1-James,2-William,3-Louisa.,4-Cynthia,...
7-Phillip Sutton
1776
North Carolina
Tennessee
1-James,2-Stephan,3-Louisa.,..
7-Carolyn Armstrong
1776
North Carolina
Tennessee
1-James,2-Stephan,3-John R,..
7-Deborah DeRouin
1776
North Carolina
Tennessee
1-James,2-Stephan,3-Mary(Polly)
7-Tim Meeks
1776
North Carolina
Tennessee
1-James,2-Joseph,
Jeff Cope(deceased)
1776
North Carolina
Tennessee
1-James,2-Joseph,
Dorothy McCarns
1776
North Carolina
Tennessee
1-James,2-Stephen,3-James H B...
7-Andrea Ummel
1776
North Carolina
Tennessee,Alabama,Arkansas,Texas
1-James,2-Rhoda,3-James C Waits,...
6-Dick Waits
1776
North Carolina
Tennessee,Illinois
1-James,2-Stephen,3-Louisa...
7-J & J Johnson
1776
North Carolina
Tennessee
1-James,2-Stephen,3-Louisa...
7-Nadine McWain
1776
North Carolina
Tennessee
1-James,2-Stephen,3-Louisa...
7-Dolly Sanders Onkst
1776
North Carolina
Tennessee,Alabama,Georgia
1-James,2-Stephen,3-Effie...
7-Sherry Clark
COPE-ROGERS CONNECTION
The following is from some data sent to me from Richard Cope of Bloomfield Hills,Michigan.He did not supply an authors name.
"In the beginning the history of the Cope and Rogers families of Warren County,Tennessee,I must explain that I have obtained much of my information from decendents in several cities and states.Some of this has been proven by census records, wills,deeds and marriage records.Any errors we find,I hope,can be corrected at a later date so that some day we have a complete record of the family.
We will begin with James Cope,born ca. 1776 the son of William Cope.This information on the father of James was taken from a letter from Elizabeth Chupet,Losa Angelas,California,given to me by Mrs. John Parrish of Brentwood,Tennessee,the author of "Coping with Copes",the history of Andrew Cope of White County.Andrew was a first cousin of James.This letter contained a statement of James Cope Waits,son of Rhoda Cope, daughter of James Cope,and Alan Waits to his son William Tell Waits.William Tell wrote it down and it is as follows...

                  "A little sketch of my ancestors.William Cope,my mothers
                    grandfather,came to America from England about 1760.Her
                    father was born in Virginia and died in Warren County,Tenn.
                    He was a Hardshell Baptist Minister

All of the census records give James Cope being born in North Carolina,but the area has long seemed to be in question.It is reasonable to assume that James considerd himself born in North Carolina.
The 1830 census has a female between 70 and 80 years of age living with James Cope.The Blue Springs Church records has a notation that says "Sarah Cope,dead,Dec.,1830".These two items lead me to beleive that this was James' mother.I have no further proof.
The earliest I have found proof of James in Warren County is 1810.There are numerous records of land and slaves bought and sold by James.He was appointed justice of the peace in 1811 and sold 100 acres of land to Levi Rogers July 6,1814.The 1820 census shows James had 4 slaves,1840 -10,and 1850 -12.This is not something to be proud,but is simply added as a fact that occured in the early days.I have been interested enough that I have compiled the genealogy of many of them.
James seemed to have been married twice.From an early Northcutt family chart,I have found that his first wife was Lydia Payne.I have not been able to prove this but will assume it to be correct.I have been given three last names for his second wife but all I know for sure is that her name was Mary(Polly).I have found a marriage recoord in Orange County,North Carolina that says James Cope married Polly Merritt,Feb. 2,1809.This could be our James.
Legend has it that James gave his lands to his former slaves after the civil war.This has been proven by deeds dated Sept. 8,1868 and Oct. 12,1868.Also on Oct.12,1868 James made his will leaving everything not previously disposed of to his sons William Cope and Stephan Cope and his daughter Sally (Sarah) Northcutt.Elizabeth and Phoebe were left houdhold items.Elizabeth and Phoebe were black as proven by the 1870 census that lists them as black domestic servants in James' household.An estate sale of James Cope,deceased,was held March 13,1874. His will was presented in the March term of Court,1874.
James had several children but only three of them were mentioned in his will.After many years I have found that Rhoda moved to Alabama where her husband,Alan Waits,died and she later married and died in arkansas January of 1868.This was before James made his will.Elizabeth was in the 1850 census,but died prior to Nov. 6,1862 when her husband,George McDaniel, remarried.Since I can find no record of Joseph after 1850,Imust assume that he also died before James made his will.This brings us to Harris Bradford Cope.There are many records that lead to Harris Bradford as a son of James.The Paden letter lists a son Bradford and an entry in a book "History of Mt. Zion Methodist Episcopal Church",by Louisa Biles Hill,written in the early 1900's states that Harris Bradford's grandfather came from England tot he North Carolina and his father(H.B.'s) came to Warren County and lived to 1874. If her information was correct,it would seem that he was a son.Harris Bradford was not mentioned in James' will and out-lived James by several years.The fact that Harris Bradford was a member of the Methodist Episcoplal Church and that James was a Primitive Baptist preacher vould be the reason.There are lots of records that state that H.B. was the father of Jasper Cope but this is incorrect.When Harris Bradford and his wife married, Jasper was over three months old,and we have positive proof that Jasper was the son of Joseph.
Levi Rogers and his wife Sarah Cope emigrated to Warren County about 1803 settled northeast of Irving College on the COllins River across from the Methodist Episcopal Church of Shiloh.According to Paul Rogers of Birmingham, Ala.,the line to Levi begins:John Rogers,.1617 in Gravesend,England d. 1685 in Surry Co.,Va. His son William Rogers,b. 1657 in Surry Co.,Va. d. May 10,1727 in Surry Co.Va.William's son Joseph Rogers b. 1694 in Surry Co.,Va. d. Feb. 20,1758 in Bertie Co.,North Carolina.Joseph's son John Rogers b. 1714 in Surry Co.,Va. d. Sept. 8,1783 in Wake Co.,N.C. John's sonJosiah Rogers b. ca.1745,d. ca. 1813.His will was filed in Chatham Co.,N.C. in 1812.Josiah's son Levi is where we begin with the Warren County branch

    Levi's will dated Dec. 18,1849 is as follows:
            I,Levi Rogers,do make and publish--this my last Will and
            Testament hereby revoking and making void all other wills
            by me made--first,I direct that my funeral expenses and all
            my just debts be paid as soon after my death as possible
            out of any money that I may die possesed of or may first 
            come to the hand of my exector.Second,I give and bequeth
            to my daughter Cyrena Stubblefield,all my old tract of the 
            land where I now live,except about eighteen acres adjoining
            the land of my son Jacob Rogers.Also I give to her one
            hundred acres of a tract of land I purchased of Josiah Rogers,
            to be taken off the east end of said tract--also I give to her
            my negro women Dice,for the purpose of taking care of my sister
            Polly Rogers.Third,I give and bequeth to my son Jacob Rogers,
            the above named eighteen acres of land or that portion under
            fence adjoining his land as above stated.Fourth I give and
            bequeth to my daughter Jane Rogers,one hundred dollars.
            Fifth I give and bequeth to my son Elijah Rogers,four
            hundred dollars out of the price of five negros which I have
            sold him and one hundred and fifty dollars which he has recieved
            heretofore,making in all five hundred and fifty dollars--also
            I give to him the balance of the tract of land bought off
            Josiah Rogers,not willed to my daughter,Cyrena Stubblefield.
            Sixth,my wish and desire is that the balance of my property
            that I die possessed of be sold and out of the proceeds,I 
            give to my children,Polly Woodlee,Enoch Rogers,John Rogers.
            Reece Rogers,Levi Rogers and Cece Dodson,each five hundred
            fifty dollars,including what I have already given tham.(An
            account of which will be kept)so as to make them share equal
            to what I have given to my son Elijah.Seventh,I do hereby 
            nominate and appoint Elijah Rogers my exector."

I have recently been given updated information from Gilbert West, a descendent of Jasper Cope.Here is portion of the letter,concerning the parents of Jasper Cope.
   
   Although there was speculation several years ago that Jasper
    B. Cope was the son of Harris Bradford Cope and that speculation,
	 inadvertently, may have found its way into the Salt Lake City
	  archives, there is evidence to the contrary.  (Your site 
	  history lists Harris Bradford as Jasper's father.)   
	  Joseph's son by his second wife, Little Delawar Cope, moved
	   to, married, and lived in Arkansas.   Within the past 
	   decade, Little Delawar's descendants in Arkansas sent to 
	   my cousin a copy of a letter written to Little Delawar by
	    his half-brother who had remained in Tennessee.  In the 
		letter the half-brother mentioned his brother, Jasper,
		 who was still living in the general area at the time.
		   We have accepted this letter as the best documentation
		    available as to the parents of Jasper.