Chapter 13
Finishing the heel and neck
Page 1
---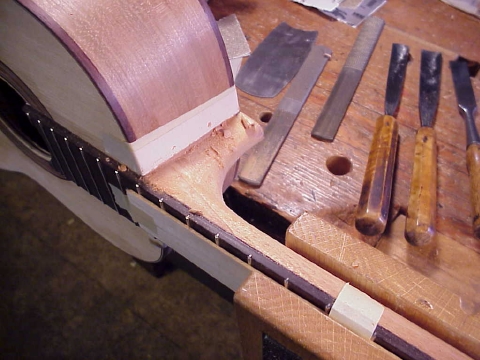 Finishing the heel and neck should be done with care to not mar the sides and fingerboard. The neck is left oversized in construction and now requires to be brought to final dimensions. Protect the sides with masking tape. The rasps you will use should have the ends smoothed and polished so they will not damage the sides. Use chisel and rasps to carve close to finish dimensions taking care not to rasp the fingerboard too deep. Next finish with cabinet scrapers and sandpaper. Drill the peg holes or fit the machine heads if you havenít already done this. Proceed with caution as you already have many hours of work invested in your instrument.

I would like to recommend some books about wood finishing that will help you. The first is - Staining and Polishing, edited by, Charles H Hayward, J.B.Lippincott Company, Philidelphia and New York,Printed in Great Britian. Next is Understanding Wood Finishing by Bob Flexener, Published by Rodale Press, Emmaus, Pennsylvania, Printed in the United States of America. These books have chapters describing the French Polishing process and other useful information. Staining and Polishing is a documentation of traditional English finishing processes. Understanding Wood Finishing broaches modern techniques also. The internet also has sites about French polishing and surface preperation study them.

A good wood filler was recently recommended to me by the well known American guitar maker Robert Ruck the filler is Elmers Carpenters Interior Wood Filler. Color can be added to this filler at your hardware store if they mix paint. Test all fillers on scrap wood before using on your guitar. Pumice and plaster of paris are also used as fillers.

At the end of the forgoing steps you will damp off the guitar to achieve a dead surface to apply the French polish. Damping off entails applying warm moisture with a soft rag dipped in hot water,wrung out and applied to the surface of the guitar in order to raise the grain. When the guitar is dry sand with fine sandpaper and damp off again. Repeat this until the grain no longer raises.