Ox Shop Charcoal forge Tuyre Replica.
---
Return to Silly Stuff Page
---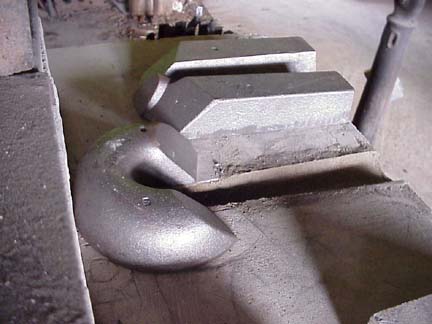 Movie of the charcoal tuyere forge in action.

(narration by Dick Grybush )



Ancient style charcoal forge in Chile.

To make the lower channel in the mortar, take seran sandwich wrap put in channel in rear tuyre casting and press in mortar ,next day remove casting, fill in wind director at narrow end. When all is dry fill wind channel area in forge where rear tuyre is to sit with fresh mortar see image and press casting seperated with sandwich wrap into mortar and let set a bit and remove. Next day when mortar is set take clay mix with water into a slurry and put slurry along the wind channel and under ducks nest circular part,set rear tuyre and line up wind channel front and rear, set ducks nest. Put brick or stone next to tuyres leave 3/4 " gap along rear tuyre and around ducks nest ,put loose damp clay and pack tightly makeing certian the tuyers stay in position. The forge in the image is 3' by 3' to fit brick dimensions for easy laying ,do not mortar bricks as this allows you to dissamble easily for modification if required, deeper or shallower hearth, into a barbacue grill, a tempering oven or bake some bread. I made the ducks nest and rear tuyre brick height for easy construction. The original tuyre was close to the same height but crudely made.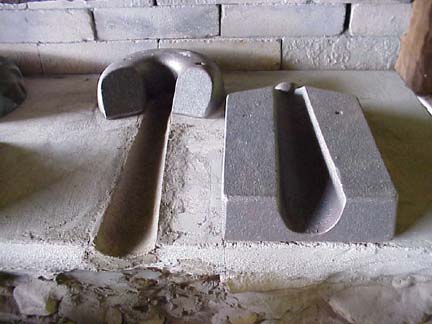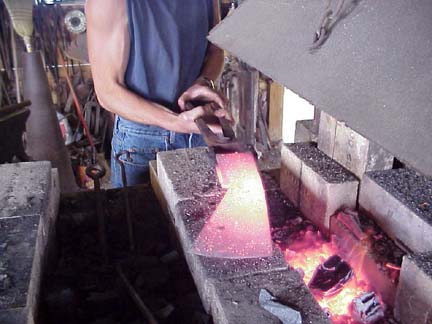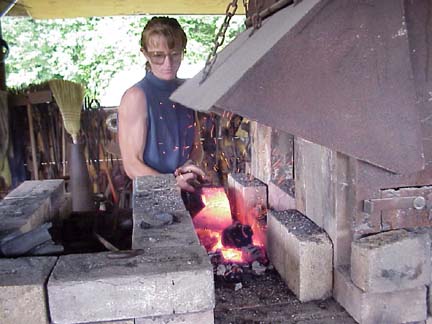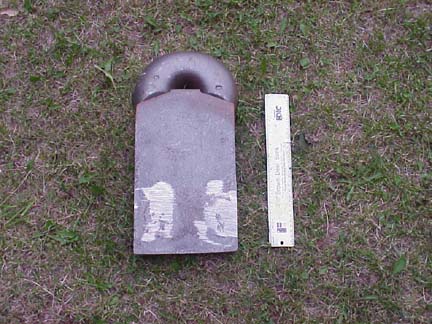 A view of the pieces in proper orientation as viewed from above.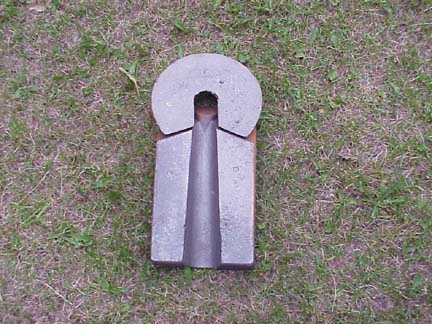 A view of the pieces in proper orientation as viewed from below.






A set of Ox shoes as would have been made on the original forge.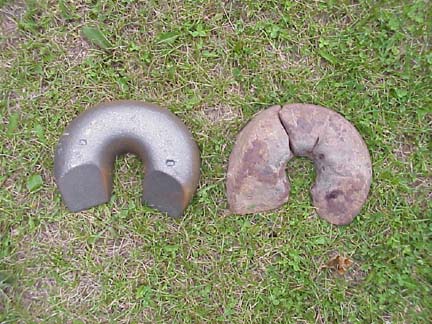 A view of the original "ducks Nest" with the modern reproduction. The original was a very crude casting, but very servicable.

This Charcoal Forge Tuyere is an ancient method and not my idea. I was doing archeology in the Upper Pennsula of Michigan,U.S.A. South West of Mass City,Michigan an area with many copper mines that started in the 1840's. Google Mass City Michigan,there are also images on Google. The forge tuyere was on the South West end of Caladonia bluff. the forge was high up near a large mine above the Flintsteel rive'rs source. This was in the 1960's. I was with Paul Koeppler and we found residue from a blacksmith shop,ox shoes some finished and some rough forged and other metal scrap. There was a pile of mine rock with a small tree growing out of it. I thought this might be the forge. I metal detected it and got a loud reading which was the tuyere of the forge. The tuyere is imaged on my site. The wind channel was heavy and we cached it. I took dimensions of the wind channel. About the year 2000 I carved patterns for casting replicas of the tuyere and wind channel. I made the wind channel a bit larger to fit with fire bricks for the forge base. I had the malliable iron castings made at a foundry in Eastern Wisconsin,U.S.A. where I live. The turere/ducks nest is the size of the original. Tom Lahatny an artist blacksmith near the Mississippi River in North Western,Wisconsin uses my replica Ox Shop charcoal forge tuyere as do many others.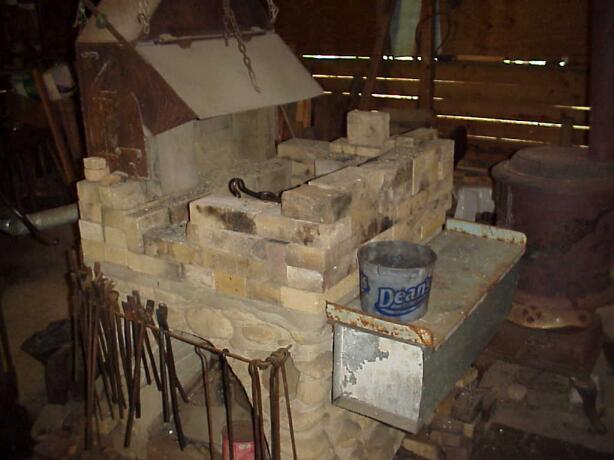 Charcoal forge angle view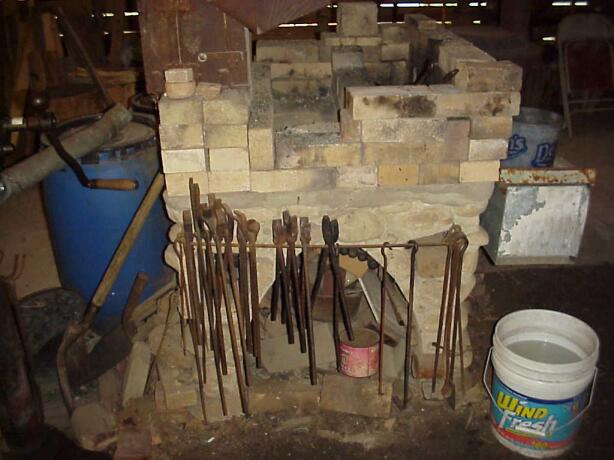 Charcoal forge side view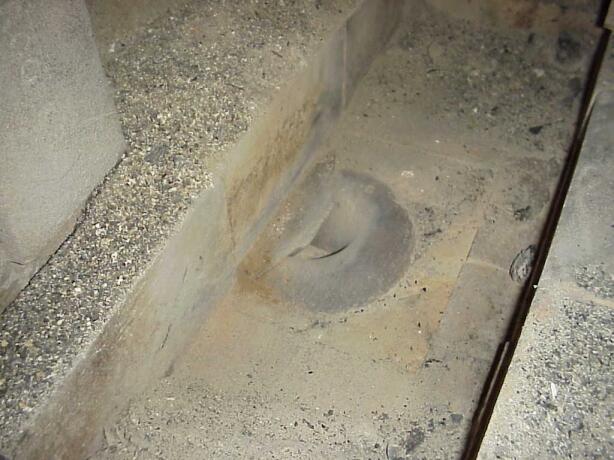 Ox Shop Charcoal Tuyere in brickwork of forge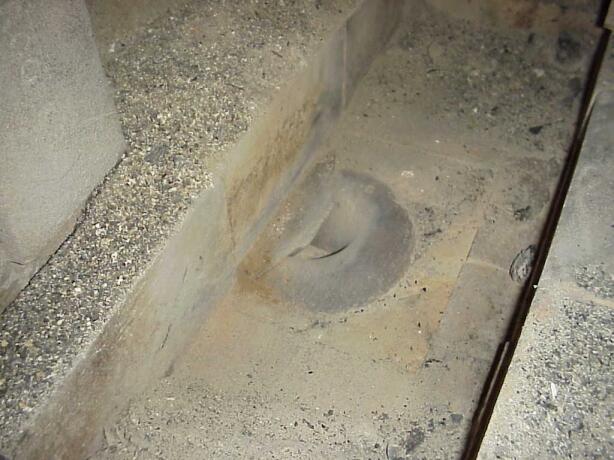 Wind channel and blower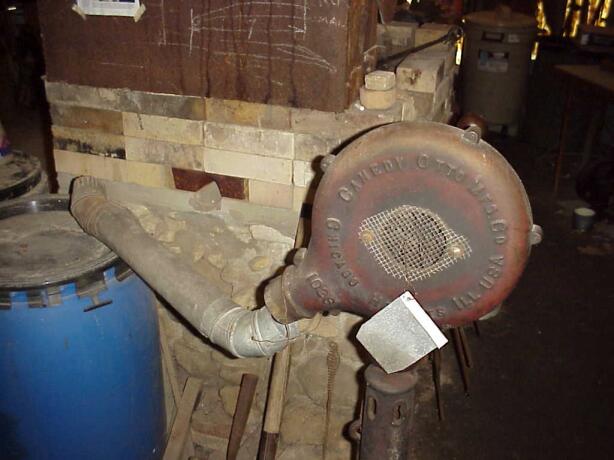 Wind channel and brick work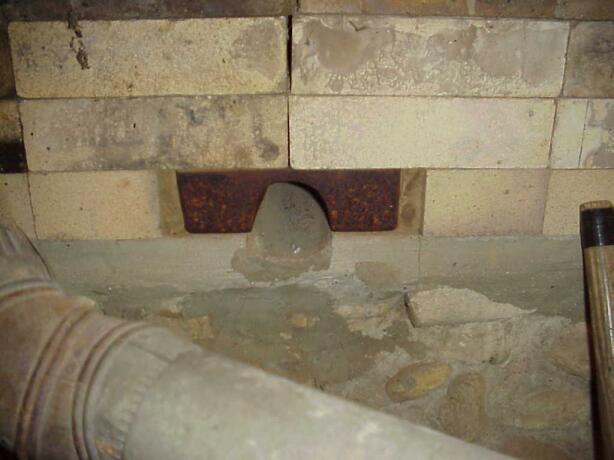 Ox Shop Charcoal Tuyere in brickwork of forge