Fantazsa Events,
Puppy Birthdays & Reunions!

Canadian Reunion
Surrey B.C. - October 2008
2 Generations of Fantazsa Puppies
Left to right: Quayba, Diva, Ailsa, Shadow, Tippet, Chenille & Chai

Holiday 2007

Birthday 2007
3 and 12 years old!

Holiday 2005
Top row, left to right: Diva, Chai & Mushi
Bottom row: Sporty, Tippet & Chenille



April 2005
Fantazsa Puppies 1st & 10th Birthday Party
L-R: Diva, Tippet, Mushi, Sporty, Chai, Mojo, Tanner,
Ailsa, Tasha, Chenille & Shadow

November 2004
Puppy Reunion @ 8 months old
Pups by Ch. Bon's Golden Boy K.O. JH
x
Fantazsa's Countrysport
L-R, front row: Chenille, Mushi, Tippet, Tasha,Tanner,
Gyro, Chai, Mojo & Diva
Back row: K.O. & Sporty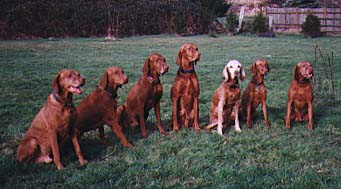 February 2000
(L-R) Koji, Sporty, Bozeman, Hasta, Kiva, Tippet, Mushi.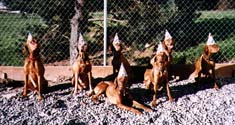 February 1997
(L-R) Hasta, Kiva, Bozeman, Tippet, Sporty, Koji & Shadow


February, 1996
7 of Kiva's 10 puppies from her last litter
celebrate their 1st birthday

(Pups by Ch. Surfstone Jaybren Csibesz JH
x
Ch. Fantazsa's Classic Kivancsi CGC)
(L-R) Kiva, Hasta, Sporty, Rita, Quayba, Tippet, Shadow & Bozeman


1991
X-C skiing with Magenta & Kiva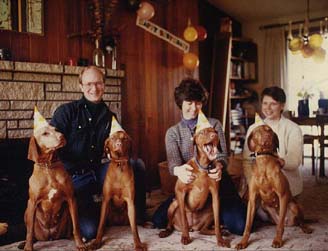 March 1987
Fang & 3 of her puppies Kiva, Uma & Magenta
celebrating Kiva & Uma's 1st birthday
Kiva & Uma
(Ch Vintage Magnum of Magnifico x Vot Zdorova Fantazija CD)

Magenta
(Ch Vizsta's Tazz V Exodus x Vot Zdorova Fantazija CD)