Buzzy's owner Karen Hooks brought him to the VCA National Specialty show in Illinois where I saw him as a promising 1 year old. He was another son of Rival, and one of a very impressive litter., which included Lu Hart's Pink & Diana Jones' Sneaker. Buzzy was the "fresh-chilled" sire of Kiva's first litter, which produced Mushi & Koji. This was Buzzy's only litter, and what an exceptional one! (I still have the insulated box the test tube came in - though the pups, born in 1992, are sadly now all gone.)
...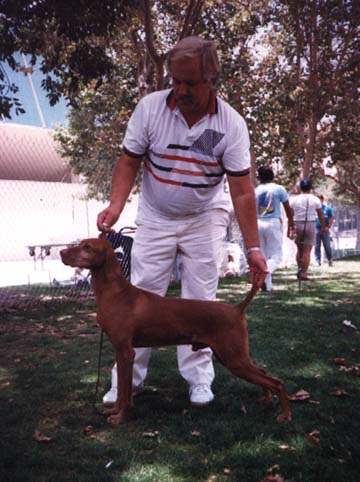 Ch. Rotkopf Russet Leather Rival
"Rival"
(By Ch. Sandor's Zach Von Kurtzmark CD x Ch. Totten's Stephania of Rotkopf)
Rival was the grandsire of 2 of my litters, and my litter from Buzzy was a line-breeding on Rival, breeding a Rival grand-daughter to a Rival son.
Bev & Ed Wanjon brought Rival along for the ride so I could see him at the Beverly Hills Kennel Club show in 1987, where I was showing his grandson Lazer. Rival produced many outstanding get with a number of different brood bitches.
...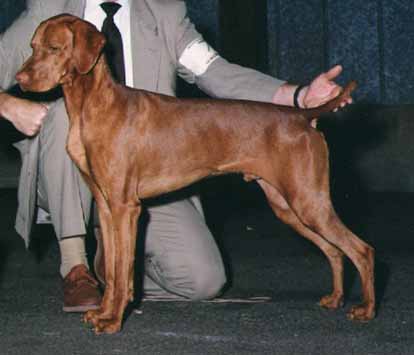 Ch. Surfstone Jaybren's Csibesz JH
"Cheesy"


(By Ch. Sandyacre Poquito Chile Bean UDX MX MH x Ch. Dorratz Surfstone Nikita)

Cheesy was the sire of Kiva's second litter of 10 pups.
Kiva & Cheesy produced beautiful pups with very sweet temperaments.

Photo courtesy of Jean Brennan

Ch. Bon's Golden Boy K.O. JH
"K.O."

(By Ch. Winsong's Janos Voros Vadasz JH x Ch. Diamond C's Isabella Boo)

K.O. stepped up to the plate to be the sire of Sporty's one and only litter of 11 puppies.
I had the benefit of seeing 2 of K.O.'s previous litters bred by Linda Collier.
K.O. put some piss & vinegar into my pups - They are among the most mischievious dogs I've had in awhile, but are also equally fun & loving.

Photo courtesy of Bonnie Kruger

K.O. and his winning get at McKenzie Dog Fanciers TEVCO Supported Entry
L-R: K.O with his breeder/owner Bonnie Kruger
Diva (BOS) & Chenille (1st Bred By) with breeder/owner Pam Hidaka
Tawny (WB) with breeder Linda Collier