Favorite Son or Daughter Awards
Being the oldest Medical Association in the State of Illinois, and dedicated to the furtherance of Post-Graduate Study for Physicians of Southern Illinois we hereby bestow SPECIAL RECOGNITION TO A NATIVE SON OR DAUGHTER for distinguished advancements toward the betterment of humankind:
1983
Vallee Willman, MD
Department of Surgery
St. Louis University Hospital
St. Louis, Missouri
1984
Robert E. Herman, MD
Department of General Surgery
Cleveland Clinic
Cleveland, Ohio
1985
Eli L. Borkon, MD
Memorial Hospital
Carbondale, Illinois
1986
Frank Glenn, MD (posthumously, 1901-1982)
Born in Marissa, Illinois
Chairman, Department of Surgery (1947-1967)
Cornell University Medical School
1987
Shervert Frazier, MD
Psychiatrist
McLean Hospital
Boston, Massachusetts
1988
Willard C. Scrivner, MD
Obstetrician and Gynecologist
Belleville, Illinois
1989
John A. Boswick, Jr., MD
Plastic Surgeon
Consultant: VA Hospital
Denver, Colorado
1990
Roger Louis Ladda, MD
Professor of Pediatrics
Chief, Division of Genetics
The Pennsylvania State University
College of Medicine
Hershey, Pennsylvania
1991
A. Watson Miller, MD (Posthumously, 1913-1984)
General Surgeon
Herrin, Illinois
1992
Leonard P. Rybak, MD, PhD
Professor
Departments of Surgery and Pharmacology
Southern Illinois University
School of Medicine
Springfield, Illinois
1993
Richard H. Moy, MD
Dean and Provost
Southern Illinois University
School of Medicine
Springfield, Illinois
1994
Louis Powell Dehner, MD
Professor of Pathology and Professor in Pediatrics
Washington University School of Medicine
Director of Anatomic Pathology and Surgical Pathology
Surgical Pathologist-in-Chief
Barnes Hospital, St. Louis, Missouri
Pathologist-in-Chief
St. Louis Children's Hospital, St. Louis, Missouri
1995
David M. Gershenson, MD
Florence Maude Thomas Cancer Research Professor
Professor and Deputy Chairman
Department of Gynecologic Oncology
MD Anderson Cancer Center
Houston, Texas
1996
C. Barber Mueller, MD
Professor of Surgery
McMaster University
Hamilton, Ontario, Canada
1997
Kenneth R. Smith, Jr., MD
Director, Division of Neurological Surgery
Professor of Surgery
St. Louis University Health Sciences Center
St. Louis, Missouri
1998
Edward A. Doisy, PhD (Posthumously, 1893-1986)
Biography
Born in Hume, Illinois
PhD in Biochemistry
Chairman, Department of Biochemistry
St. Louis University
St. Louis, Missouri
Received Nobel Laureate in Medicine/Physiology in 1943
1999
George T. Wilkins, Jr., MD
Retired Pediatrician from Granite City, Illinois
Trustee of Southern Illinois University
Outstanding work serving on committees of SIMA and ISMS
2000
Patricia L. Monteleone, MD
Professor of Pediatrics and Genetics
Dean of the School of Medicine
St. Louis University
St. Louis, MO
2001
Kent Wattleworth, MD
Retired ENT--Olney, IL
40 years on local and regional school boards
Board Chairman 28 years IECC Junior College District #529
2002
Louis A. Gilula, MD
Professor of Radiology, Orthopedics, and Plastic and Reconstructive Surgery
Washington University School of Medicine, St. Louis, MO
Editor Bone and Joint Journal
2003
Percival Bailey, MD, PhD (Posthumously 1892-1973)
Biography
Neurosurgeon, Neurologist, Neuropathologist, and Psychiatrist
Born Mt. Vernon, IL, raised near Springerton/Enfield, IL
Studied under Aldof Meyer, MD-Psychiatrist and Harvey Cushing, MD-Neurosurgeon
Classification of brain tumors
Established Dept. of Neurosurgery and Residency, University of Chicago
President of American Neurological Association
President of the Society of Neurological Surgeons 1947-1948
Director of Illinois State Psychopathic Institute
2004
Edwin Krebs, MD
Professor Emeritus of Pharmacology and Biochemistry
University of Washington, School of Medicine
Seattle, Washington
Raised in Newton & Greenville
Elucidation of the process of reversible protein
phosphorylation as it governs cellular regulation
Noble Laureate in Physiology/Medicine 1992
Autobiography
2005
Ronald A. Welch, MD
Neurologist, Belleville
Chariman of Insurance Services Board, Illinois State Medical Insurance Services, 1997-1998
Chairman of Illinois Delegates to American Medical Association
Chairman, Board of Trustees, Illinois State Medical Society, 1994-1996
Delegate of St. Clair County Medical Society to the ISMS
10th District Trustee, ISMS
Vice President ISMS
Secretary-Treasurer ISMS
2006
Michael D. Maves, MD, MBA
Executive Vice Preseident and CEO or the American Medical Asociation
from Collinsville
2006
Special recognition for years of service to SIMA:
Betty Burkhart, CMA
Betty Kronemeyer, CMA
2007
Dale H. Rosenberg, MD
Belleville, Swansea
Retired Reconstructive and Plastic Surgeon
Secretary-Treasurer for SIMA for 31 years (1975-2005)
2008
William S. Sly, MD
Alice A. Doisy Professor and Chairman
Departments of Biochemistry and Molecular Biology
St. Louis University School of Medicine
East St. Louis
2009
William Hays, MD
Family Practice
Herrin
Past President of SIMA
2010
J. Kevin Dorsey, MD
Dean and Provost
SIU School of Medicine
Springfield
2011
Morris Kugler, MD
Surgeon
S*M*A*S*H
Political action organization for Illinois physicians
Breast cancer center
Director, Southern Illinois Heath Care Association
Maryville
2012
Max D. Hammer, MD
Surgeon
Advances in laparoscopic and bariatric surgery
Springfield
2013
Robert F. Hamilton, MD
General and Vascular surgeon-retired
Godfrey
Medical Savings Accounts as a foundation for national health insurance reform
Past President Madison County Medical Society
Alternate ISMS Delegate to the AMA
Trustee, Illinois State Medical Society
2014
Gary A. Goforth, DO
Family Practice
Nashville
SIMA President 1995
ISMS Delegate
Nashville Lions Club Award for Dedication to Community Athletics 1979
Outstanding Team Physician Award from the Illinois State Medical Society
Lifetime Achievement Award for Dedication to Area Youth from Nashville Community High School 2014
Nashville Chamber of Commerce Volunteer Of The Year 2014
Served on the board of directors at Community Trust Bank
Medical Director at Friendship Manor Nursing Home
Medical Director at the Washington County Health Department
2015
Kathy D. Swafford, MD
Pediatrics
Anna
SIMA President 2005
SIMA Executive Secretary and Treasurer since 2007
IRHA Physician of Excellence 2015
Biography
2016
Senator David Luechtefeld
Educator, Coach, respected Legislator
Okawville
Biography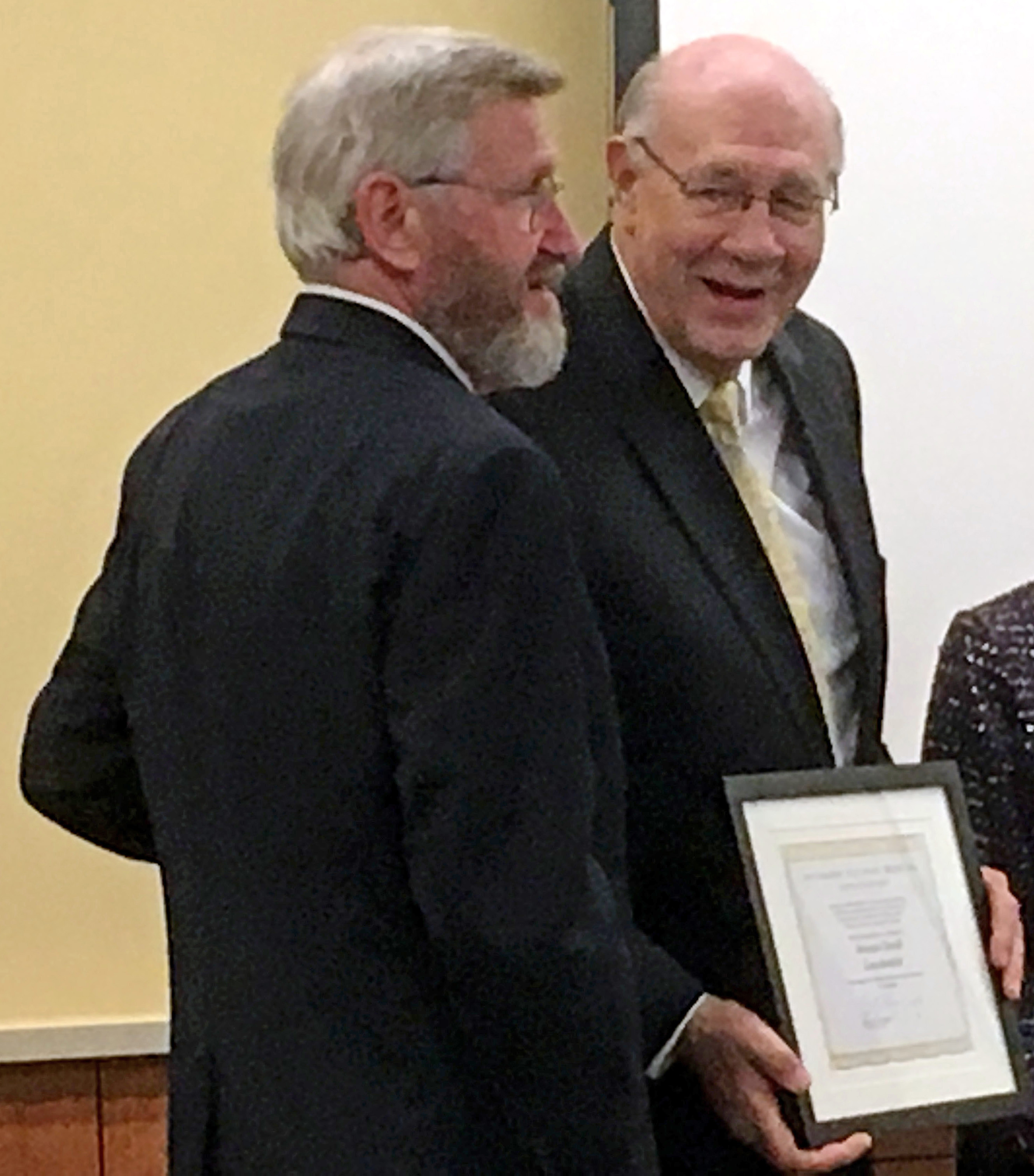 2016 SIMA President Max Hammer, MD (also 2012 Favorite Son Award recipient) presenting the 2016 Favorite Son Award to Senator Luechtefeld
2017
Stephen Hazelrigg, MD
Professor, Department of Surgery
Chairman, Division of Cardiovascular Surgery
SIU School of Medicine
From Jacksonville
Less Invasive Techniques for Thoracic Surgery
Anti-reflux Procedures, Endobronchial Valves
LVRS - Lung Volume Reduction Surgery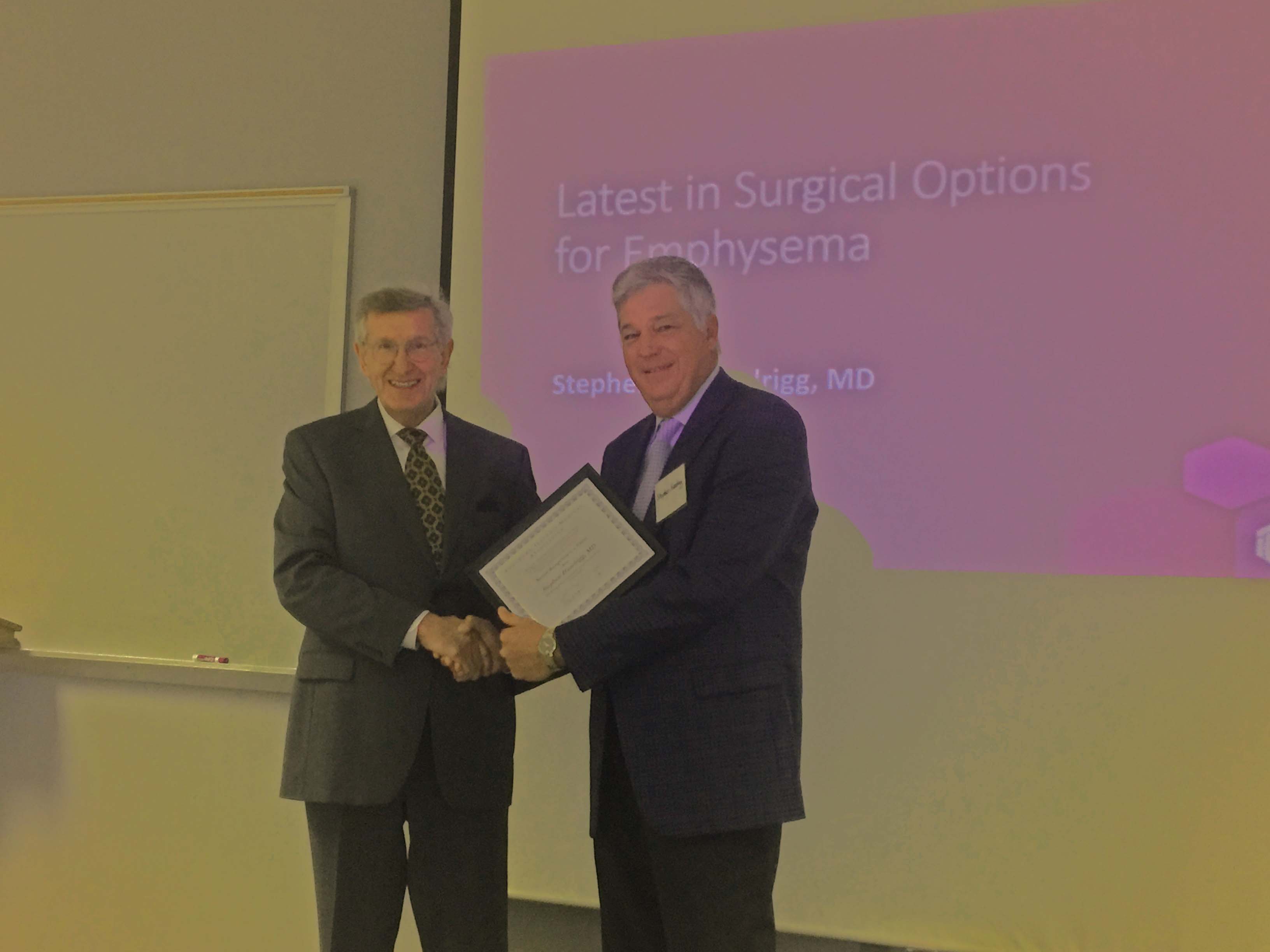 Max Hammer, MD presenting the 2017 Favorite Son Award to Stephen Hazelrigg, MD
2018
Michael R. Bishop, MD
Director, Hematopoietic Cellular Therapy Program
University of Chicago
From: Eldorado/Olney
Prior: Clinical Head, Experimental Transplantation and Immunology Branch
Center for Cancer Research/National Cancer Institute/National Institutes of Health/Bethesda, MD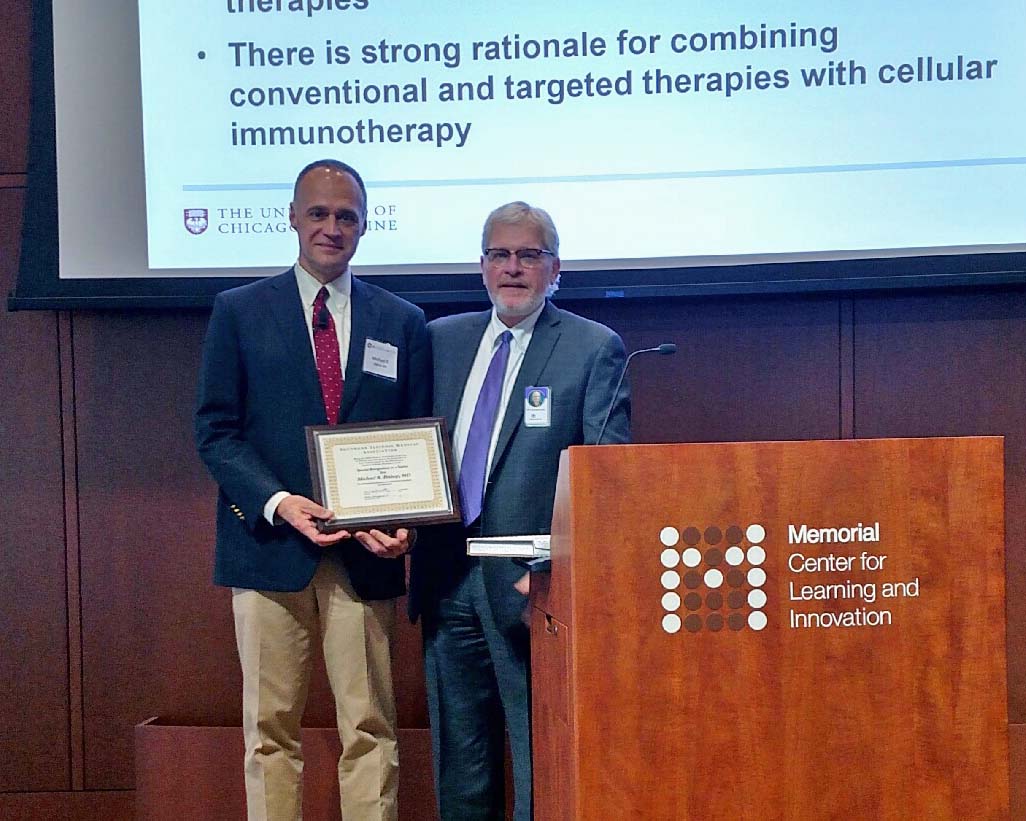 Eric Constance, MD presenting the 2018 Favorite Son Award to Michael R. Bishop, MD
2019
No award presented
2020
Meeting cancelled due to COVID-19 pandemic
No award presented
2020
Members, if you have an individual who you would like
the Executive Committee to consider for this award, then
before January 2021 notify SIMA with the appropriate
information by mailing to:

Southern Illinois Medical Association
Kathy D. Swafford, MD-Executive Secretary-Treasurer
115 N. Main St.
Anna, IL 62906

or send an E-mail message to:
SIMA Webmaster subject: SIMA Award.