18 Aug 2004
Larry & David Wells' Capri RS-2600
last updated 8/18/2004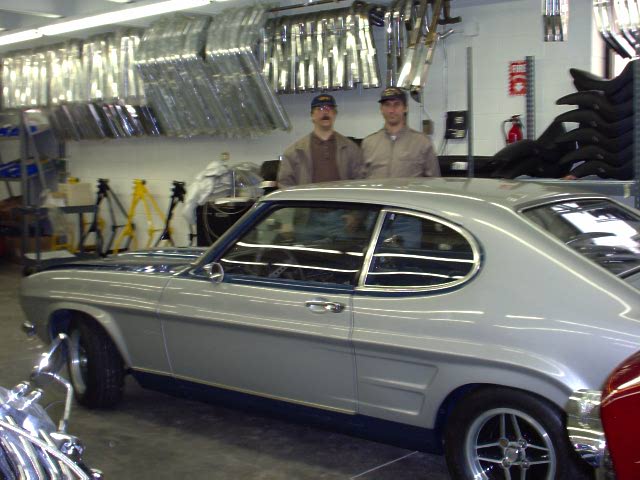 Larry & David with the RS-2600, April 2002
Our Capri RS-2600, GAECPL73009
How We Found It
In April of 1997, David got an e-mail from Peter Dixon, commenting on our Capri History file, saying he had proof that there was at least one RS-2600 in North America: He owned one, and he was selling it. He wanted to know if we knew of anyone who wanted it! We decided that we had to buy it ourselves. Larry lives closer to the Canadian border, so he went up to Ottawa, and had a look. It was in pretty rough shape, but still restorable. We negotiated for a while, and got some estimates of how much it would cost to bring it to the US for restoration, and we finally bought the car in August of 1997.
History of GAECLP73009
The chassis number is GAECLP73009, which indicates that it was built in Cologne, Germany in December of 1971. The car was originally owned by Gordon B. Dewar of Ottawa, Ontario, Canada. Mr. Dewar was a race driver, who raced Can-Am cars in 1970 and 1972. The RS-2600 was purchased in Cologne, Germany on 4 Feb. 1972, and it was shipped to Canada shortly thereafter. Legend has it that the car was part of a secret test program, and that Ford actually gave the car to Mr. Dewar. We have no conclusive proof of this, however. The car was later owned by Peter Dixon, also of Ottawa, Ontario Canada, who had fun racing it in Solo I and Solo II events, and just driving it around.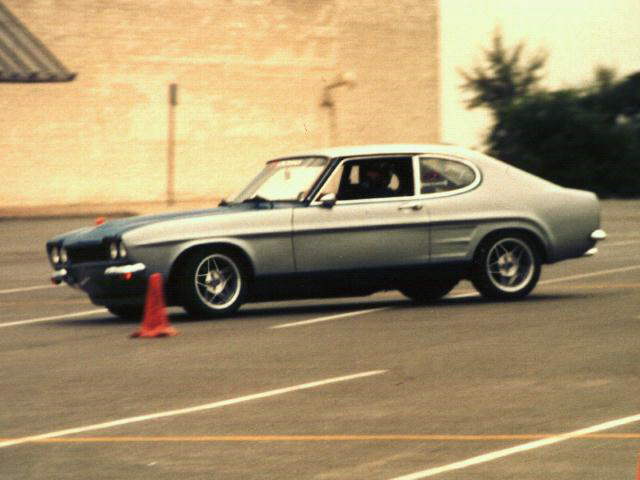 Peter Dixon racing the RS-2600 in the '80s.
Dixon said he was able to take on and beat big-block Chevys. (Yes, there is a substitute for cubic inches!) Apparently, the car was driven in the winter for a few years, and it got a partial restoration in 1986. Dixon stopped driving it in 1989, after a piston ring blew. (Really violently, as we found out later.)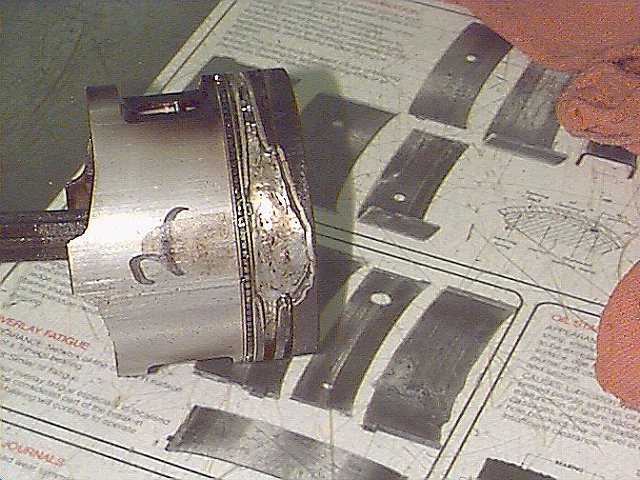 Bad piston, at Drake's Engine shop, Rochester NY
The RS-2600 then sat at a garage in Richmond, Ontario (near Ottawa) for 8 years. Peter Dixon sold it to us in August 1997.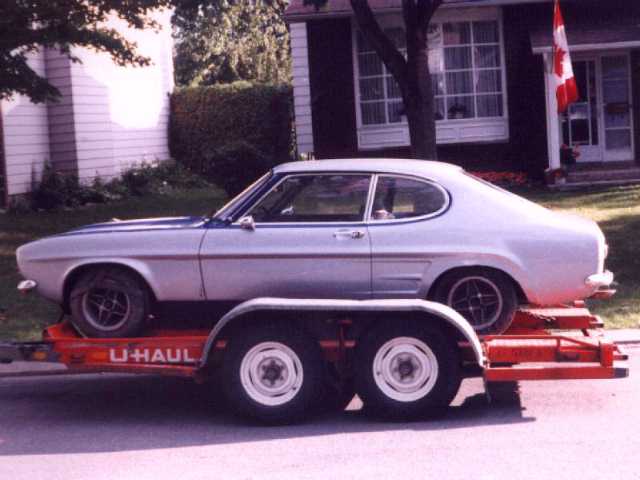 RS-2600 at the David Ailes' house, near Ottawa, Ontario August
1997, immediately after it was purchased by the Wells Brothers
We towed it back to the US......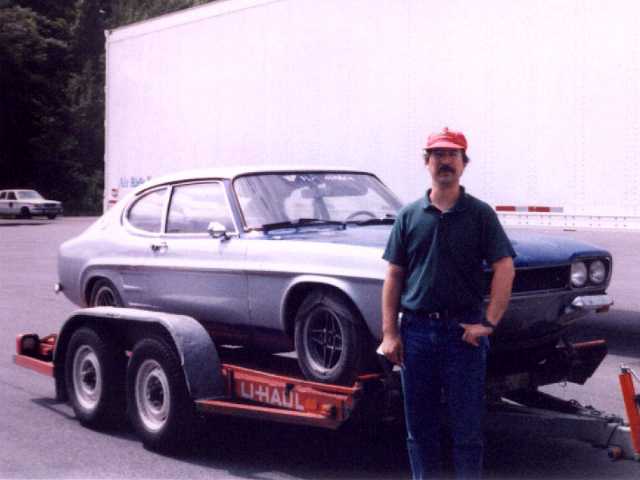 Larry with RS-2600 at the US/Canada border August 1997
......and took it directly to the restoration shop.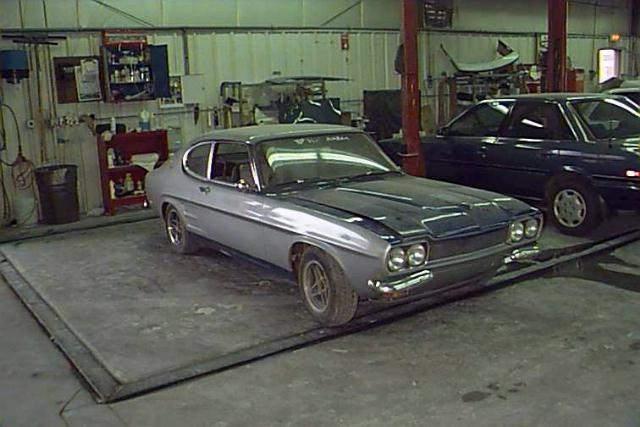 RS-2600 at Cristo West body shop, Rochester NY, August 1997
We've been restoring it ever since. We had to track down numerous parts for the car, including all the RS-2600 badges, and the "FORD" lettering on the hood and trunk. As of now (May 2000) the metalwork is all done,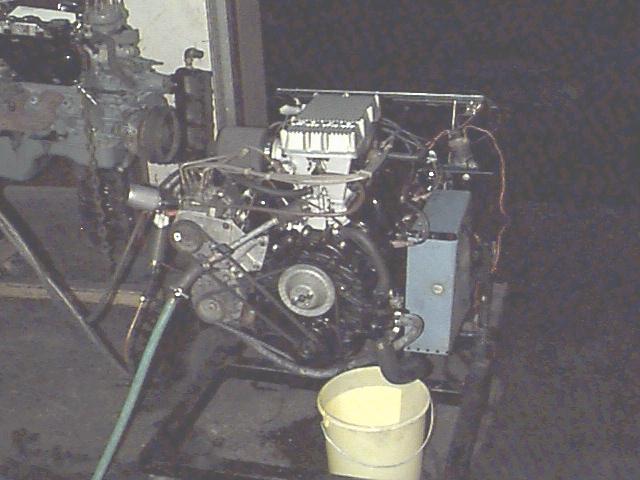 Freshly rebuilt fuel injected Cologne V-6, at Drake's engine shop, Rochester, NY, December 1998
the engine has been rebuilt and installed, and the body shell has been repainted. The orignial blue paint was quite unusual - it's Special Competition Blue, and it took quite a while to track down the correct formula. The results were well worth the effort.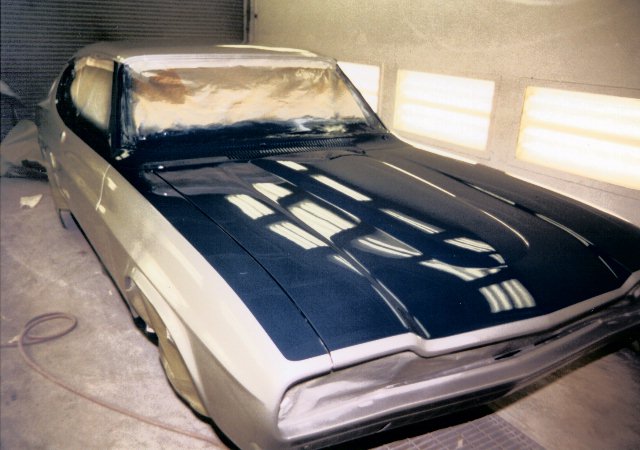 Freshly painted body shell at Cristo West, Rochester NY, spring of 1999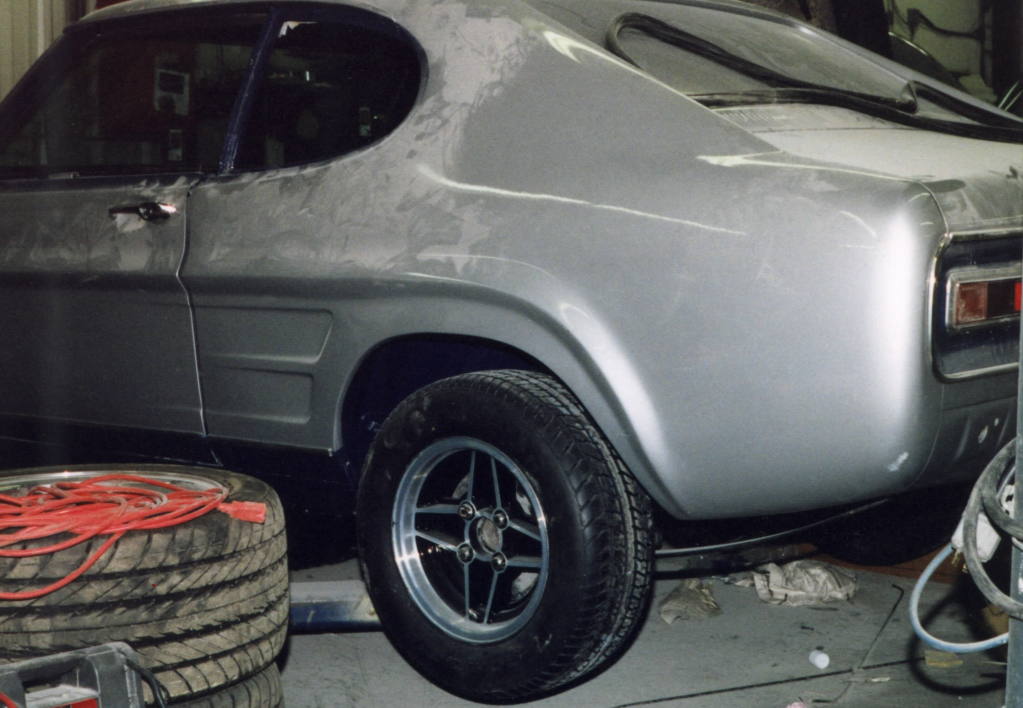 Glass installed, two wheels in place at Cristo West, Rochester NY, September 1999
Larry had the original FAVO 4-spoke wheels have been refurbished by his local wheel shop, Wilberts. (And they look GREAT!) The glass is finally back in place now. The seats have been re-upholstered using cloth from the original manufacturer. (Scheel, in the Netherlands) The engine was fired up in 2000 for the first time since it was tested at Drakes in late 1998.
Reinstalling the interior turned into a rather protracted project.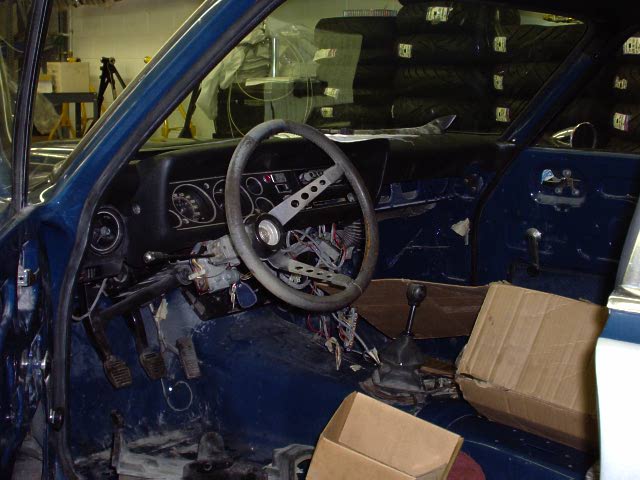 Interior, or lack thereof. April 2002
The interior was at last reinstalled during the summer of 2002.
Cristo West then enlisted the aid of Performance Auto, Webster, NY to complete the mechanical reassembly of the car. This work was largely completed by July 2003, and shakedown testing began. This revealed a number of minor problems which were soon corrected. By August 2003 the RS2600 was at long last roadworthy!
More Recent Pictures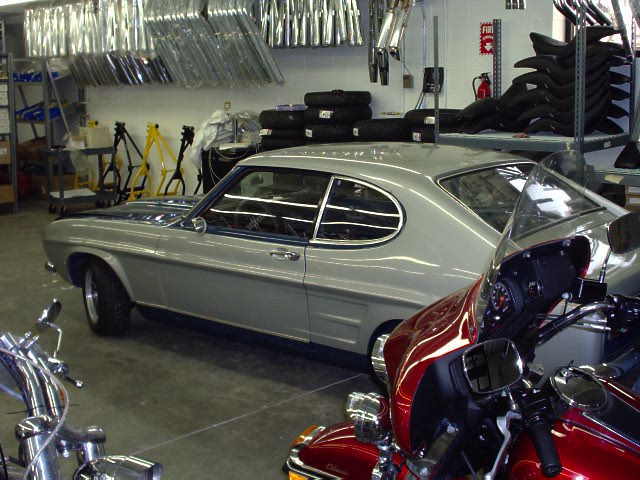 Side View, April 2002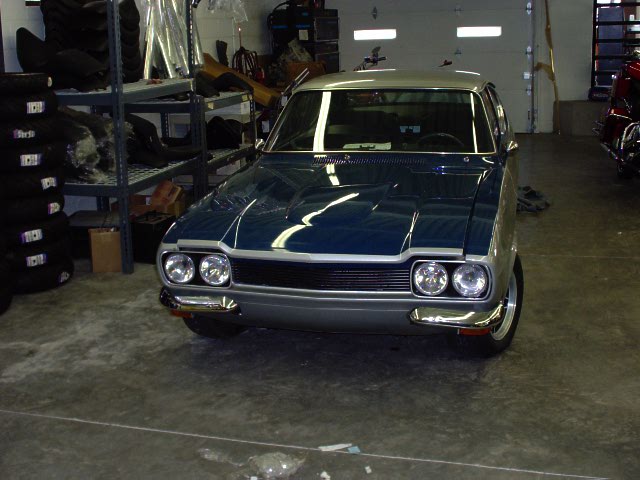 Front View. April 2002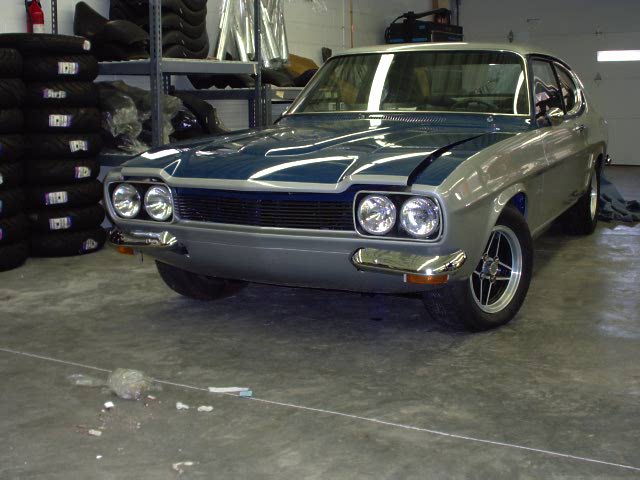 Front Quarter View. April 2002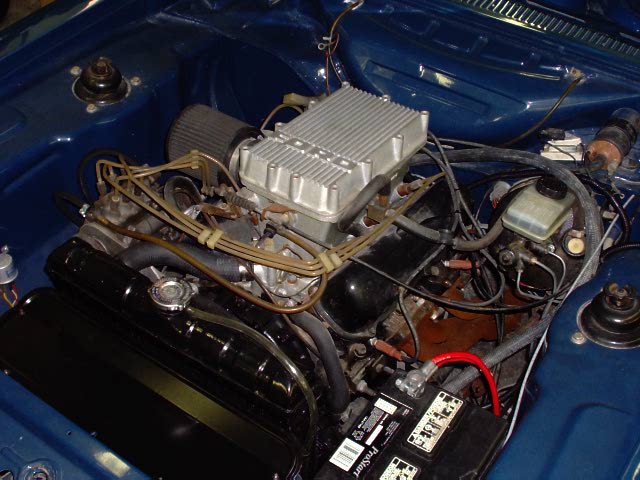 Engine, Driver's Side. April 2002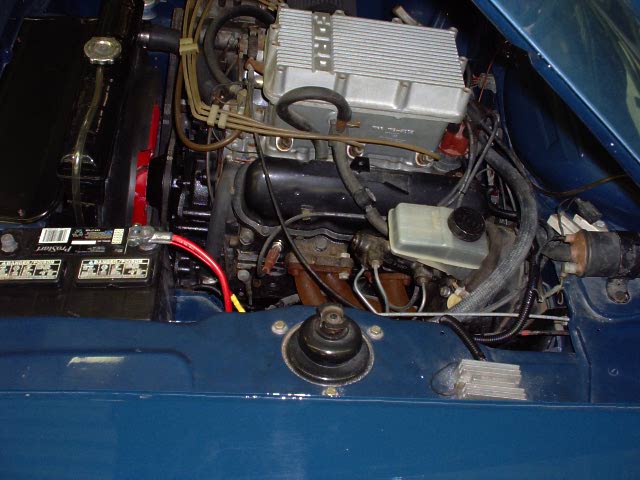 Engine, Driver's Side. April 2002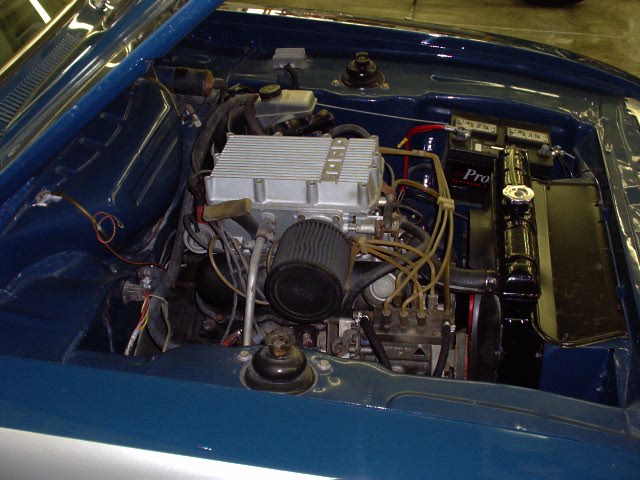 Engine, Passenger's Side. April 2002
Tires

We had a bit of a philosophical debate about tires. To be truly original, we would have had to find a set of 185/70 R13 Pirelli CN-36s. That would be fairly difficult, and would not have given us the best handling. Tires have come a long way since the early 1970s. We eventually decided that since the wheels would support 205/60 13s, we would use that size. We were arguing about what brand to use when we found a set of Goodrich Comp T/As at a good price, so we bought them.
Modifications

The car came with several interesting modifications, most of which we've decided to leave intact.
---
Click here to return to the Capri RS-2600 Index page
Click here to return to the Wells Brothers' Capri page
Click here to return to the Wells Brothers' home page