| | |
| --- | --- |
| | Pinehaven |
Pinehaven is life on the back road at the end of the Twentieth Century. It is joy of place even within a century-old farmhouse that has a few faults: leaky roof, frozen plumbing, quirky furnace, cracking walls, flooded basement, perhaps a ghost. But it's a perfect spot to begin anew: plant a garden, observe nature from a rural vantage point, turn over a few stones, gaze at a winter-clear sky, find where old fences are laid and new constraints might be torn down. Pinehaven has an edge that's often sharp. Living with the past, the author weaves his opinions, observations, and philosophies into a narrative that contains both poetic prose and nail-it-to-the-wall directness. There are past lives and future hopes in this book. At the edge of the millennium, Pinehaven speaks of old ideals rekindled and trust that the good of the world is still to be had.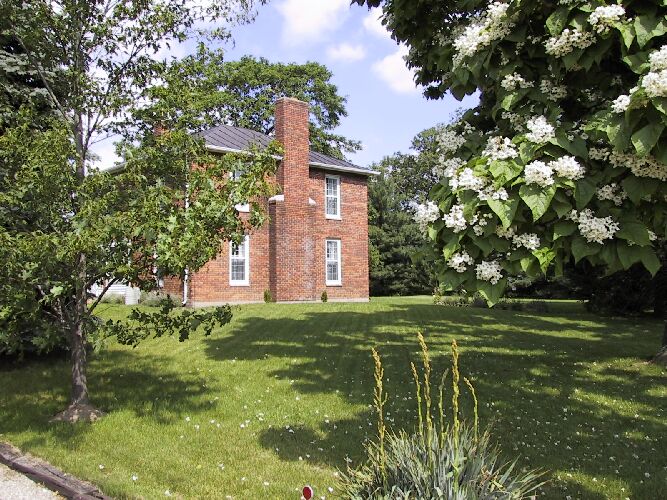 Pinehaven circa 1900

William & Susanna Sholly (pictured) built the house in about 1900. Here they are shown with their grandson, Orville Shell, who will come to own the house in 1929 on their death. Ownership of the land has been traced back to 1841. The house will change over the years; notably the front door will become a fireplace and the house will gain a brick exterior in the 1960's. But the old character will remain.

Pinehaven in 1990

An aerial picture, facing generally northwest, taken May 17, 1990 shows the house as it looks today. The "new" chimney and brick exterior can be seen. Now the original 88 acre plot of land has been reduced to but two. Situated in southwestern Ohio, Pinehaven describes life within these walls, at what the author calls, "this special place."

Author of Pinehaven

William G. Schmidt "retired" at age 45 determined that no more than half his life would be devoted to "getting a living", bought Pinehaven with his parents, and has been living the good life on a two acre plot of land in Farmersville, Ohio. A graduate of Miami University (Oxford, Ohio) with a degree in English Education, he does freelance work for the
Dayton Daily News.
---
---
See what's happening at Pinehaven now at the Pinehaven blog
Or have a live look out the north window!
Sources: Amazon.com | abebooks.com
Signed copies are available through the author. Send an e-mail to the link below.
Images and text are ©1999-2012 William G. Schmidt. All Rights Reserved