"A Walk in the Woods"
A 100 mile hike on the Appalachian Trail
August 22-29, 2010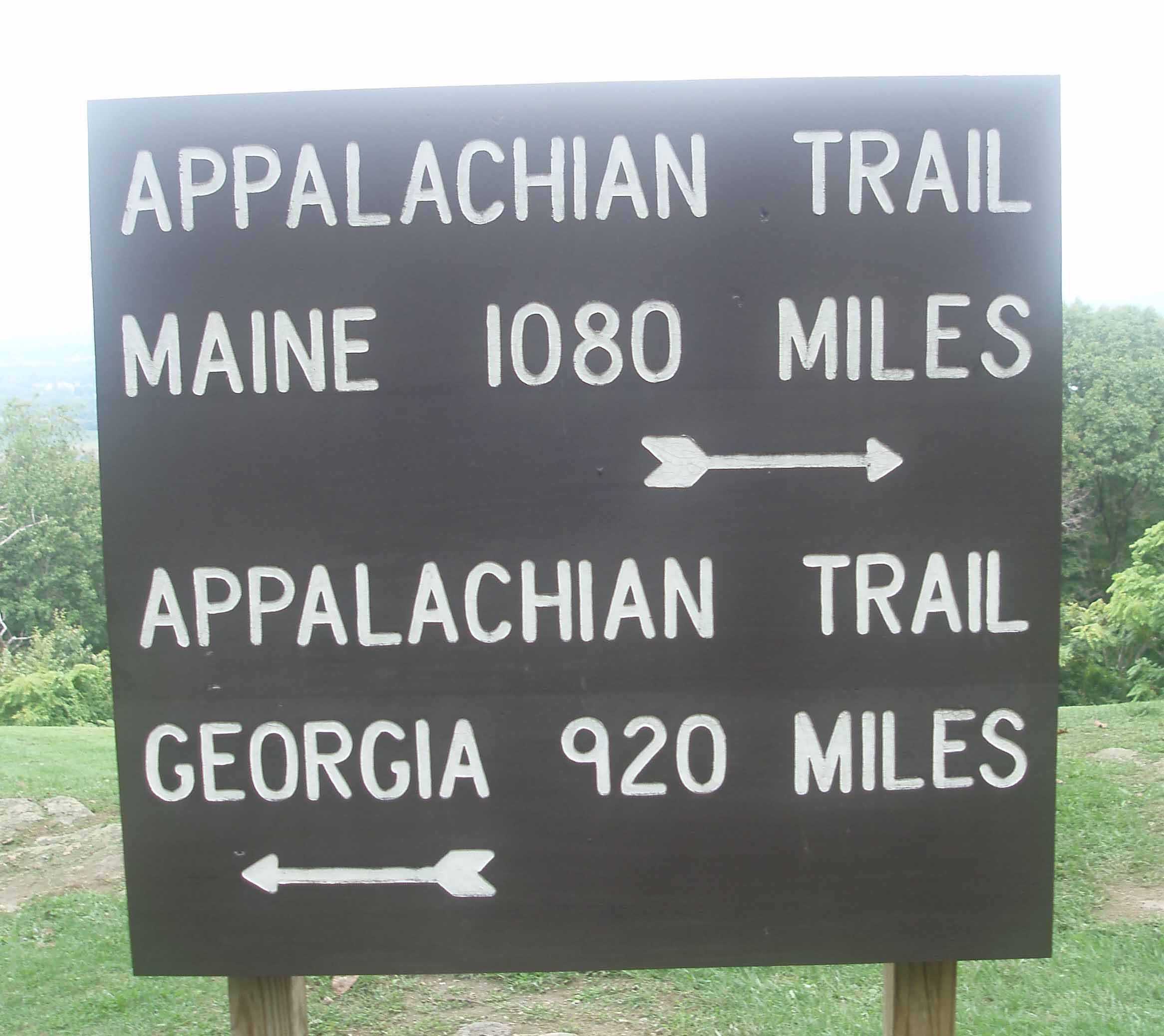 The first I remember hearing about the Appalachian Trail was sometime in the mid 80's. I learned that the trail stretched over some 2000 miles from Georgia to Maine. One of my son Bobby's wrestling coaches said that he had hiked a portion of it one summer. And from those conversations I thought it would be an adventure to hike the AT.
Fast forward to 2009. As I neared my retirement date of October 2, 2009 people would ask me what I planned to do when I retired. My standard answer was "whatever I want to do". Then I started to really think about what I was going to do when I retired and the memory of the Appalachian Trail came to mind. So my new answer was "I am going to do a 100 mile section hike on the AT". Setting the goal of doing a 100 mile hike would require me to do some serious training. So immediately after turning in the keys at the post office I began walking, and walking, and walking. I began by walking about 2 miles a day on the roads around home, and gradually increased the mileage to 8.5 miles. At some point I began hiking up the mountain and back, a 5 mile hike with some good elevation increase. My goal was to average about 20 miles per week, but family obligations reduced the number of days a week I could walk for several months. By about June I was hitting my goal of 20 miles per week. On August 6 I achieved my longest walk, 13.9 miles from Needmore to our home and did 35 miles for the week. I was ready!!!!
I finally set the date during the later part of July 2010 for my 100 mile hike….August 22-29, 2010. Now it was literally time to walk the walk. On August 12th I began packing the backpack hoping for 30-35 pounds. Put stuff in , take stuff out (Tina will tell you I have a habit of packing too heavy) On August 18th packing was complete….40 pounds, without water. I made my last walk up the mountain on August 19th and decided to rest my 56 year old legs.
Sunday, August 22, 2010 – Weather – Overcast in the morning, rain from 10:00 to 11:00 am, then sunny and warm.
Left home at 5:30 am and drove to Hagerstown for a nice breakfast at Denny's. We then drove to Harpers Ferry WV, arriving at 7:30. Did a little sight seeing and then made a quick trip to the restroom. Finally got the pack on at 8:10. Tina walked me across the bridge and set me off on the Appalachian Trail. The first 2.5 miles or so was on the C&O Canal Towpath. As I went under the US 340 bridge I could see Tina on the bridge above. She probably broke a law or two so that she could get one last look at me as I headed north. About 9:00 am the trail turned toward the mountain and I began an hour long climb. As I neared the top I met a group of "Overnighters" coming back down. They told me that I was near the top and that I was about a half hour to the Ed Garvy Shelter. The rain started about 10:00 and as I was already sweated wet I did not bother trying to find my poncho. I continued on till I came to the shelter at about 11:00.
I stopped in for a short rest and to post in the shelter log book. I did not have a trail name yet I signed my log as Bob – No Name Yet. The rain had stopped so I hiked on toward the Crampton Gap Shelter where I expected to spend the night. That would give me 11.1 miles for the day…not a bad start. About 12:30 I reached the Gathland State Park. The first thing I saw upon reaching the park as the familiar red and white of a Coke machine. However, the machine was sold out. Sure could have used a nice cold coke. I checked out the history of the park and then at about 1:30 I continued on toward the Crampton Gap Shelter, about .5 miles north. I saw the blue blaze for the spring and shelter and checked my trail book. It made no mention of the shelter being on a blue blaze so I continued on. A mile or so later I realized that I should have followed the blue blaze. I checked my trail book again and found that the Rocky Run Shelter was ONLY 5 miles further ahead. So I decided to continue on.
Shortly after my decision the trail took several turns for the worst….rocky, climbs, etc. I was probably about 3 miles from the next shelter when I took a bad step, rolled my left ankle over, heard it pop twice, and fell on my left side. I am not sure it was so much the bad step as it was that I was physically exhausted and the 45 pound pack was getting heavier every minute. I realized that there would be no bus coming along to pick me up so I had better try to get on my feet. The ankle was tender but I was not having any problems walking on it. My real concern would be Monday morning….would the ankle be swollen and too sore to walk on? I took extra care on each and every step and finally reached the Rocky Run Shelter at 6:30 pm. Just over 10 hours of hiking and 16.1 miles for the day. Washed off in the stream and cooked Ramon noodles with tuna for supper. I could only eat about half of it. Had cell phone service so I called Tina and sent her a picture of the shelter. Have to ration phone usage as I was not sure how often I will be able to charge the phone. Checked the trail book and found that I would only have to do 7.5 miles the next day. I was the only one at the shelter so I had my pick of sleeping spots. Shelter was new construction log with a porch and a loft inside. I decided on the loft….snakes would probably not be able to get up there. (Today I learned that parts of the trail are very rocky. The added weight of the 45 lb pack is increasing the risk of turning an ankle – must go slow tomorrow) No bear, No snakes.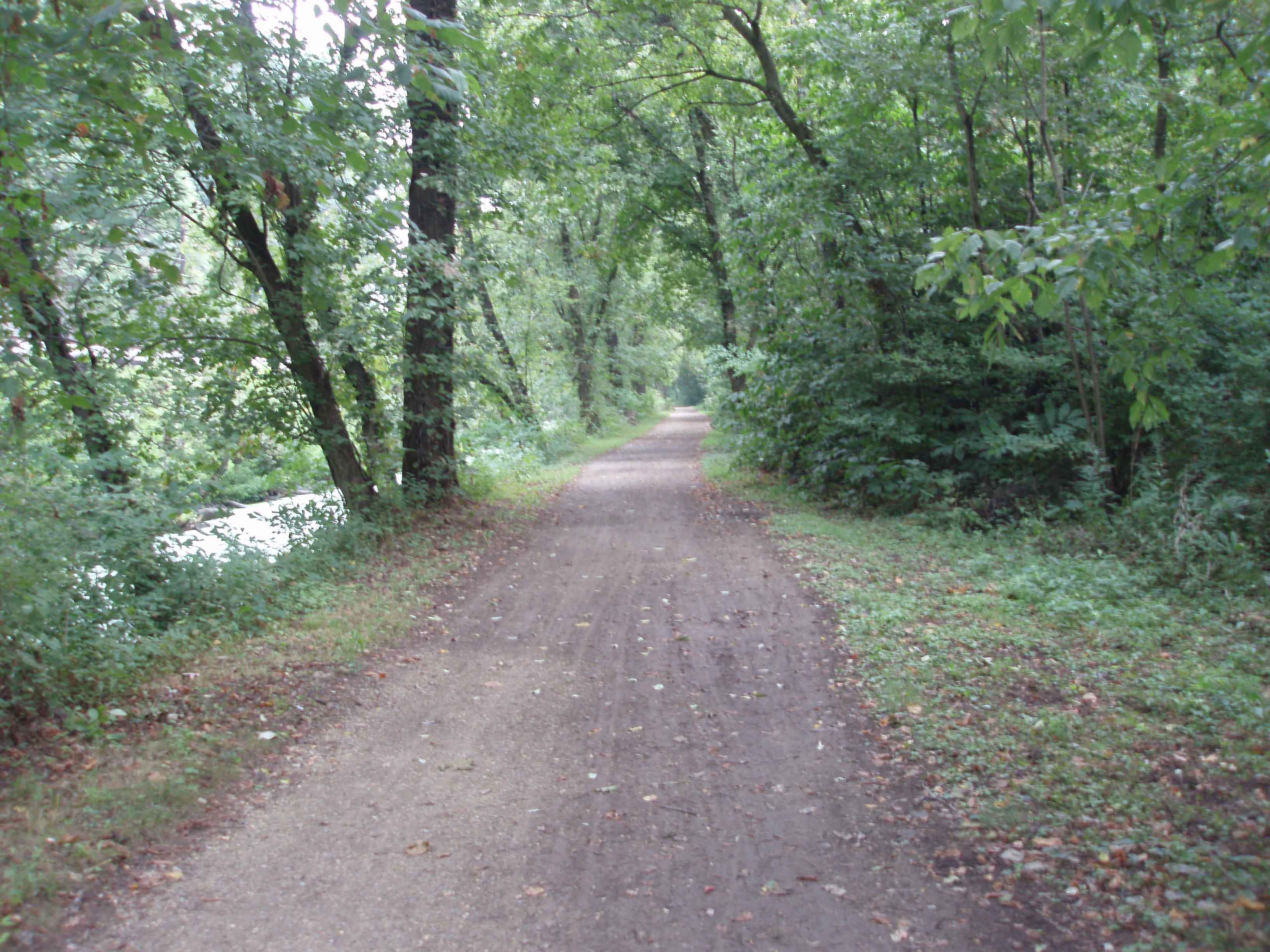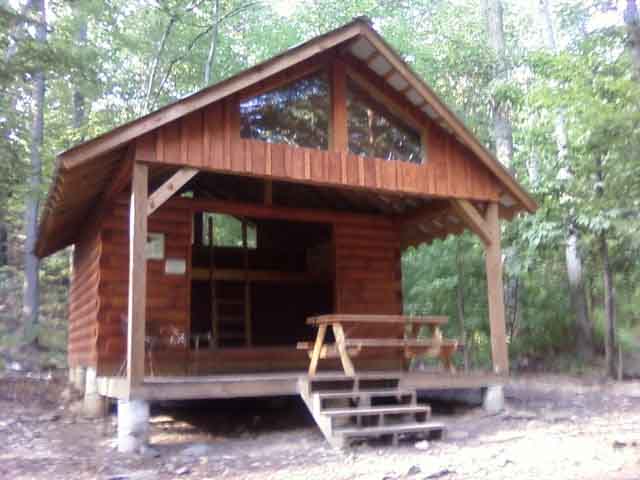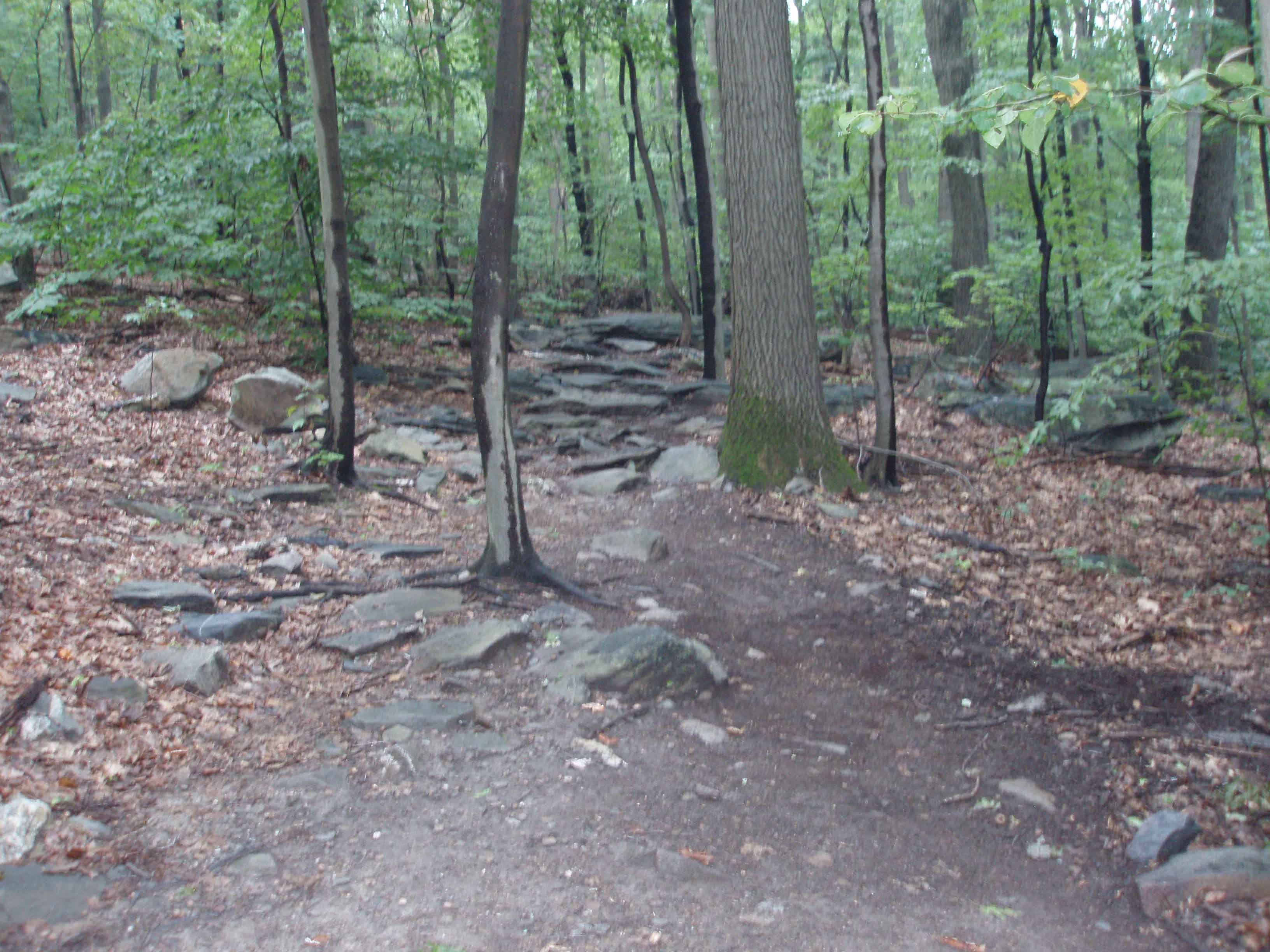 C&O Canal Towpath Rocky Run Shelter First Climb up a mountain
Monday – August 23, 2010 – Weather – Sunny and warm, rain in the evening.
Left Rocky Run Shelter at 8:30 am. Ankle was tender, but not giving me any issues walking. My legs were weak starting out, but came around. I passed by the Reno Monument. This monument marked the spot where two generals were killed in 1862 during the Civil War. It was an awesome feeling to be walking this ground knowing that all those soldiers got here the same way I did, by walking. I arrived at the Dahlgren Back Pack Campground at 9:30. Not much there except for free hot showers!!! I availed myself to the showers, put on some clean cloths, charged my cell phone, had a snack, and then headed on north toward the Pine Knob Shelter. Stopped at the Washington Monument State Park – NO Soda Machines!!! Hiked up to the monument - what a view!!! You could see all the way to the I-68 cut at Sidling Hill and Hagerstown as well. Took some pictures and headed north. As I approached I-70 I could hear the cars and trucks speeding by. As I stepped on the bridge to cross the smell of the exhaust was almost over whelming. I arrived at the Pine Knob Shelter about 2:00 pm. 3.5 hours of hiking and 7.5 miles covered. Again I was the first one at the shelter.
Pine Knob is an old CCC shelter constructed during the depression. It was still in pretty good shape but I knew from reading that mice are often a nuisance. Unpacked and decided to take a nap. Even though I only traveled 7.5 miles I was exhausted. Called Tina to let her know I made it to the shelter. Slept from about 2:30 till 5:00. Several hikers stopped by to sign the log and have a bite to eat, then moved on. Since Al (my brother-in-law) was supposed to meet me at the shelter with some supplies I text him and left him know that I was okay and he did not have to come up since it was raining. Text came back that he had a rain coat and would be there soon. I was not disappointed. About 6:15 Al came up the trial and into the shelter. He brought me some fresh fruit and snacks, bee sting meds, pain meds, band aids, tape, a Coke, 6-pack of beer, and a ham hoagie. We talked, ate the hoagies, and drank a couple beers. Earlier in the day I was beginning to doubt my ability to hike 100 miles. All of the above got my head back where it needed to be. Al left about 8:15 and I was back in the sleeping bag for a little reading.
Had a battle with a mouse, I stayed, he left. Fell asleep and was awaken about 5:15 am when 3 guys stopped at the shelter for a little sleep. I heard one say that he set his alarm for 7:45. Since I was now awake I decided to get up and move on. (rain during the night kept acorns dropping on the tin roof)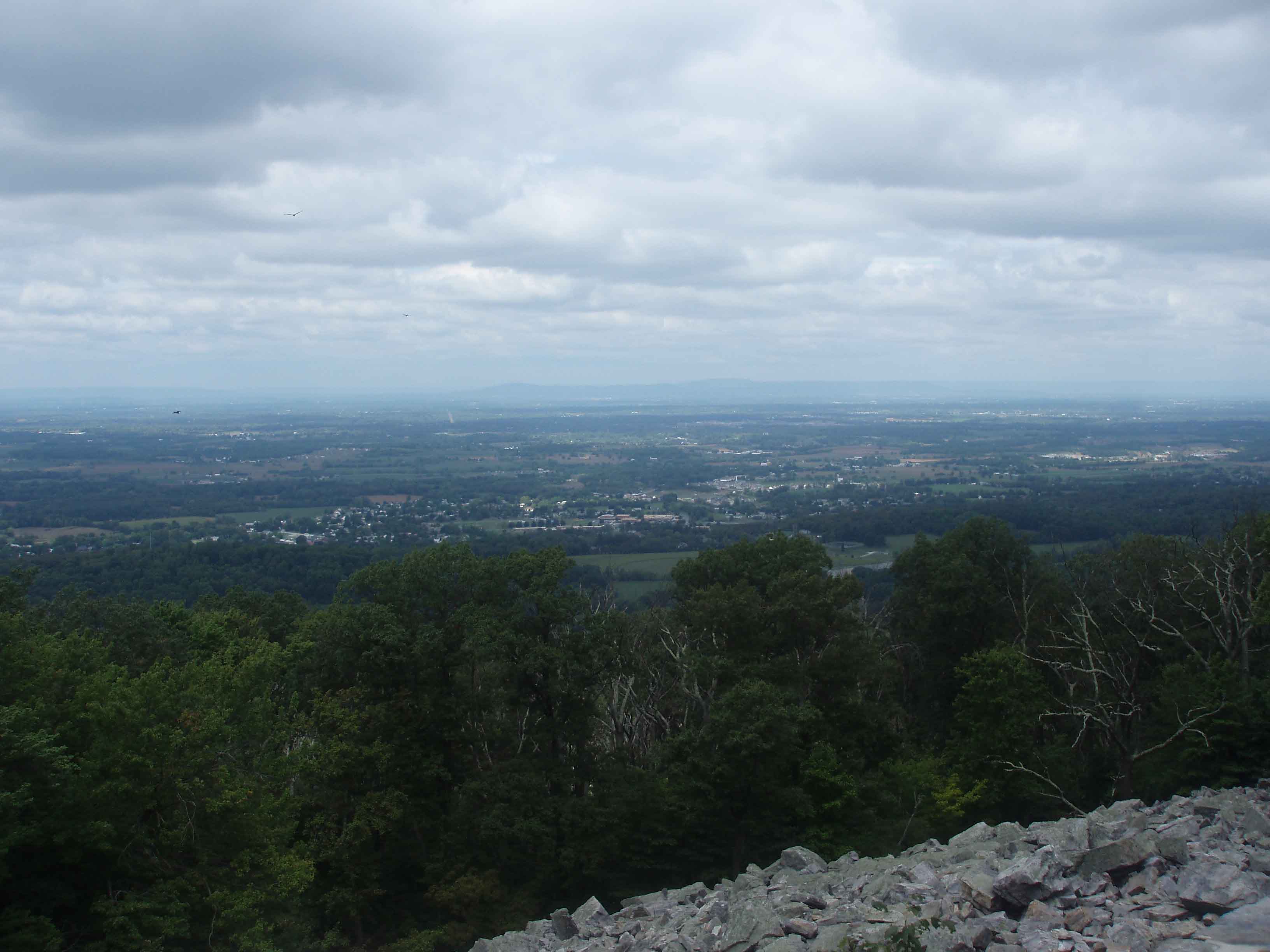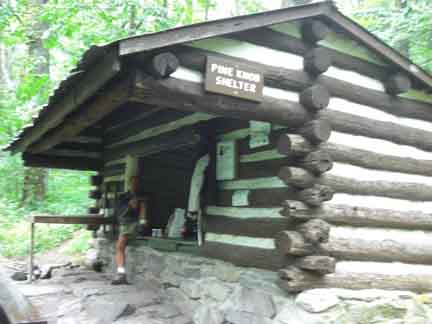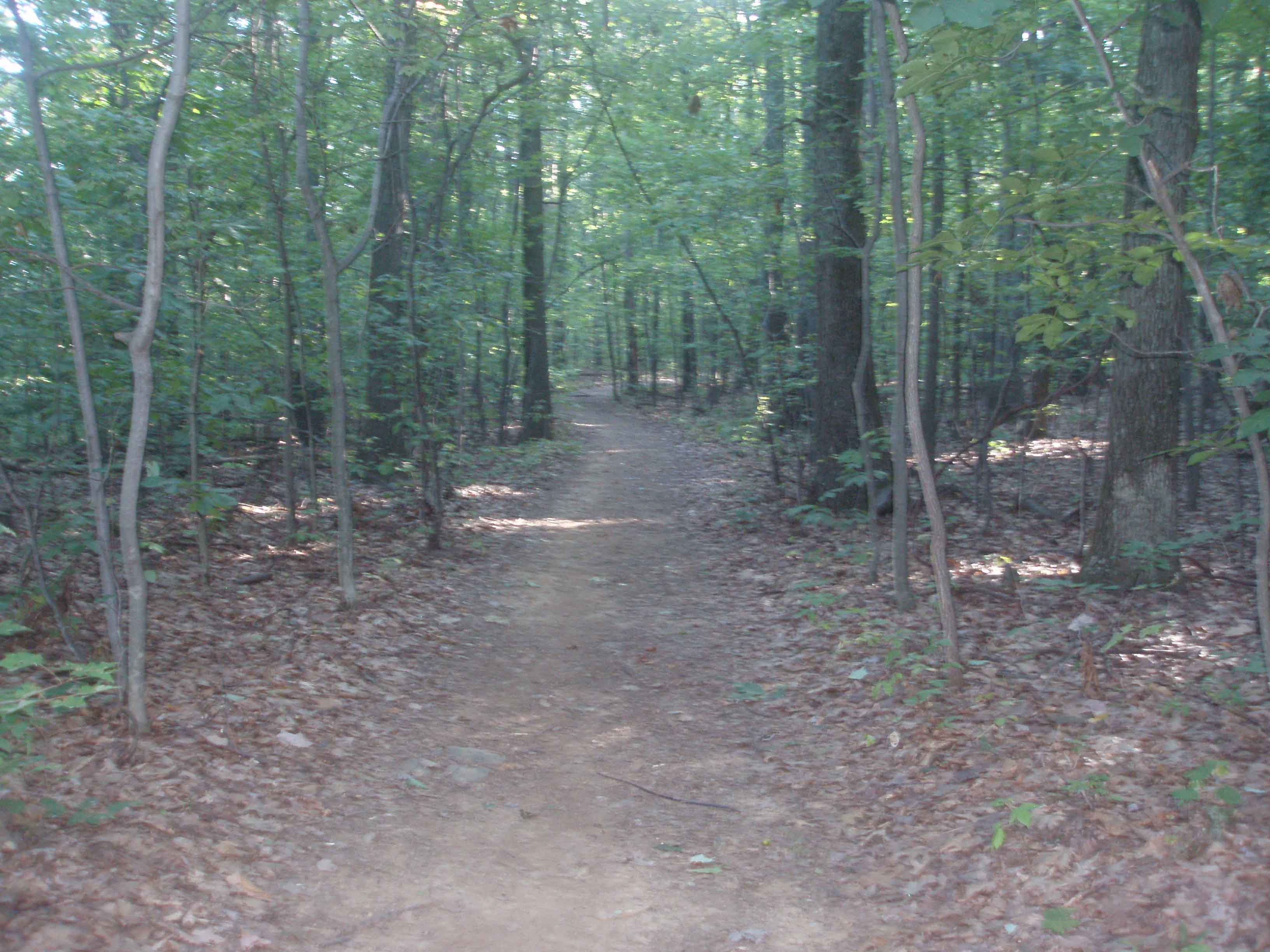 View from Washington Monument Pine Knob Shelter AT along the way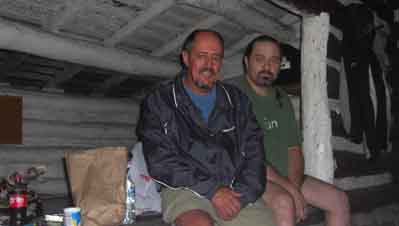 Al and me at Pine Knob Shelter
Tuesday – August 24, 2010 – Cloudy and cool to start, then sunny and warm.
Left Pine Knob at 7:12 headed north to Raven Rock Shelter – 13.1 miles. Pretty good climb leaving the shelter. Saw quite a few people on the trail out for a day hike. Some were even running. Passed Annapolis Rock but did not hike the blue blaze because it was too foggy to see anything. I encountered some of the most dangerous hiking so far. At times you could not tell where the trail was due to hiking over and around very large boulders along the crest of the mountain. Arrived at the ENS Cowall Shelter at 11:45 (8.2 miles). Tended to my feet and had a snack for lunch. 12 kids showed up and thinking that they may be headed to the same shelter I was I left and tried to make good time to stay ahead of them. It seemed that I was finally getting comfortable hiking with the pack. Legs and lungs felt the best yet. Got to Raven Rock Hollow (MD 491) and realized that I had a very big climb to get on top of the mountain.
Most shelters are in hollows where the water is plentiful. Raven Rock Shelter was on the top of the mountain. I got lucky and spotted the roof of the shelter as I was coming up on it. The shelter was off to the west on an unmarked trail. The Devils Racecourse camping area was to the east of the trail. Got to the shelter about 4:30. Alone again. Raven Rock Shelter as another very new log construction with a porch and a loft inside. Wet paint signs were still posted outside the shelter. I checked and all paint appeared to be dry so I decided to stay unless someone kicked me out. Again, Ramon noodles and tuna for supper, ate it all. Cell phone service again so I called Tina. Read some and then tucked myself in. I could hear the kids over in the campground. I was glad they had not found the shelter. Rain again during the night and again the lovely sound of acorns hitting the tin roof. Heard a coyote during the early morning hours.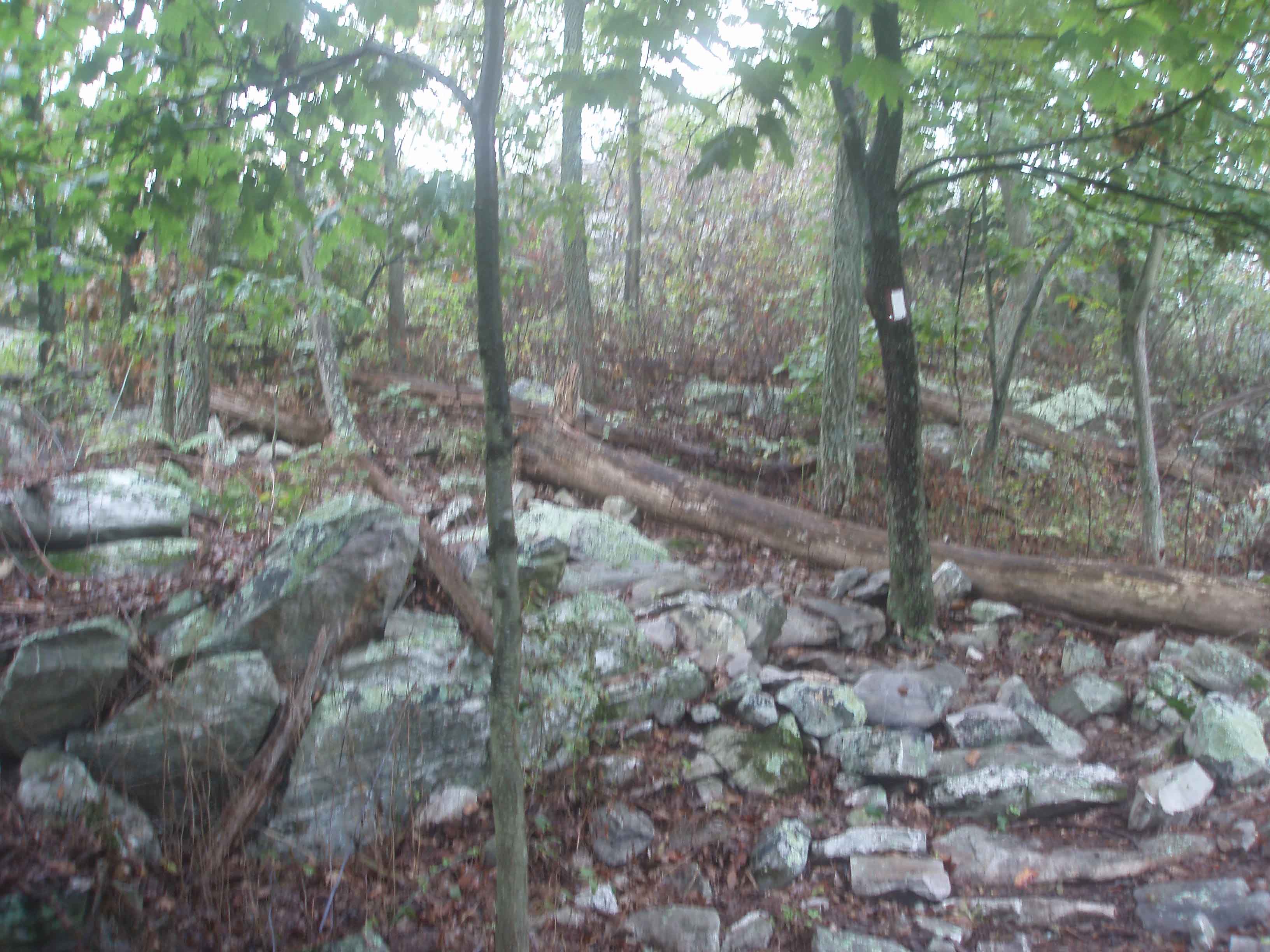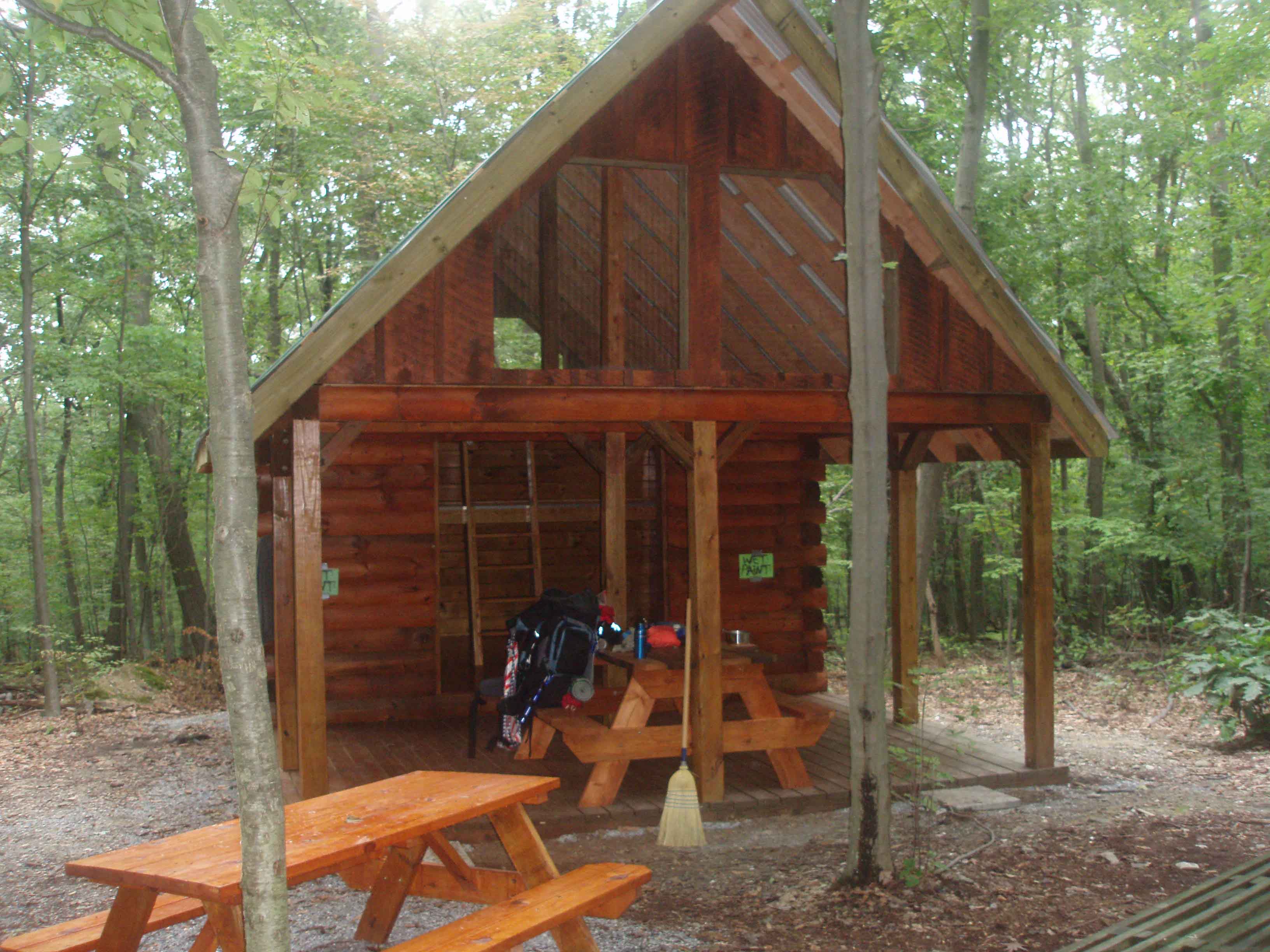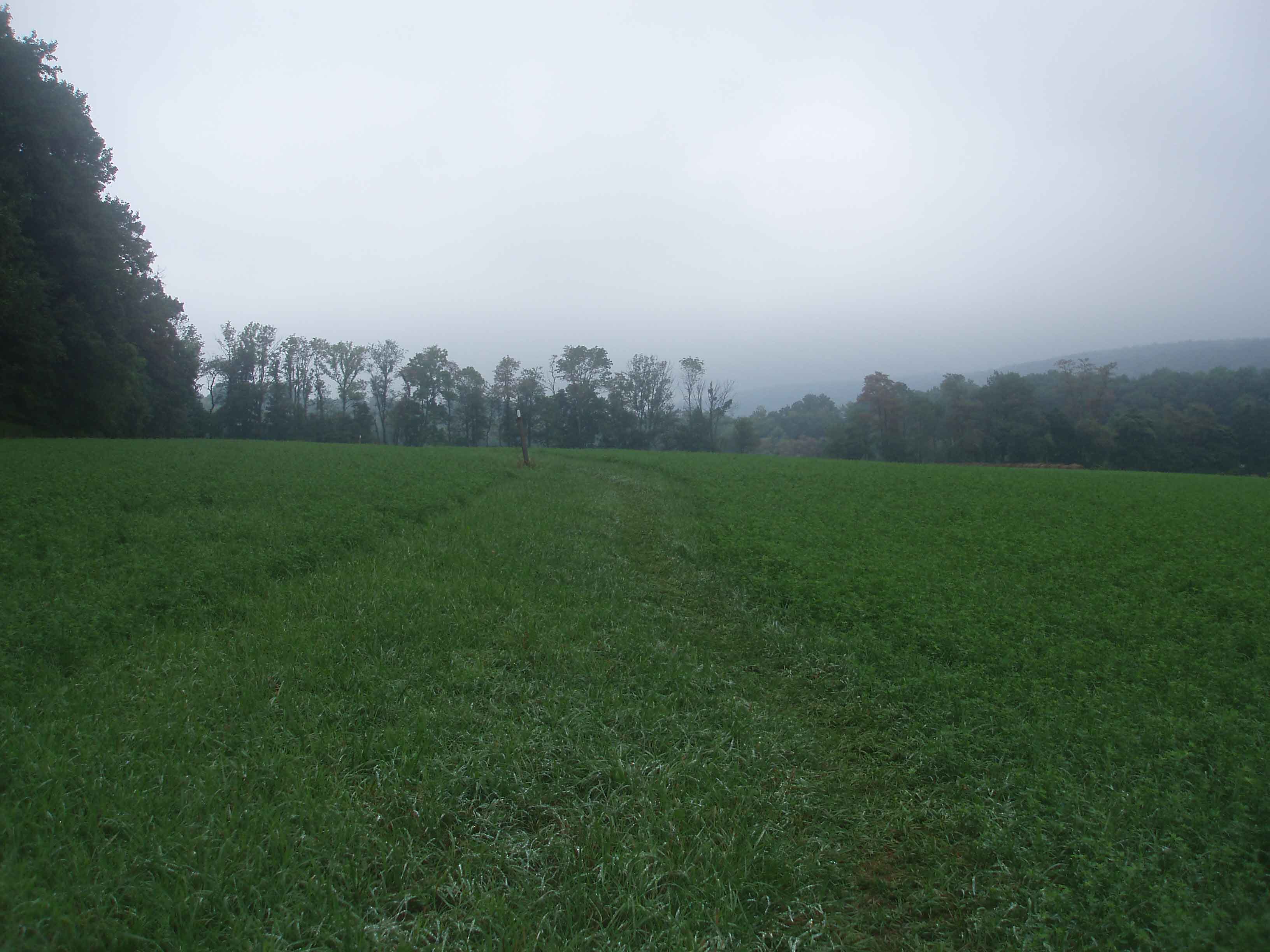 AT over the rocks!! Raven Rock Shelter AT through the field.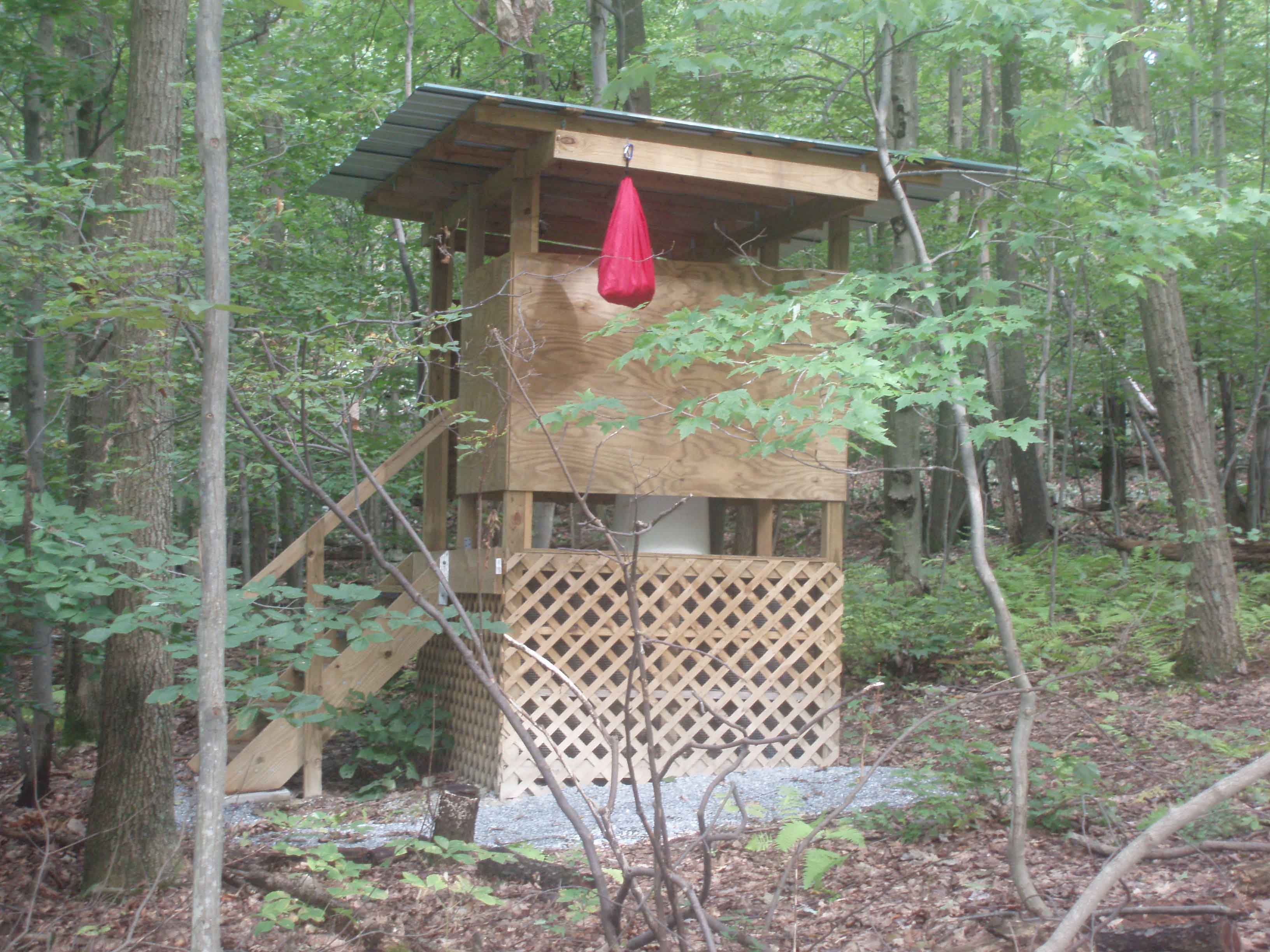 The restroom and food bag safely hung.
Wednesday, August 25, 2010 – Weather – warm and dry.
Left Raven Rock at 8:00 am headed to Pennsylvania and the Tumbling Run Shelter 13.2 miles north. Stopped at High Rock. Too foggy to see much so I had a snack and chatted up a truck driver. I asked how far it was to Blue Ridge Summit via the road. He said it was about 1.5 miles. I gave brief thought to taking the road. I could have cut about 3-4 miles of my hike for the day. Decided that I was not going to cheat. 10 minutes later I was back on the trail and regretted my decision. I had to go down over a boulder field. Fell once. Pretty much did a split between rocks. Scrapped a knee but other wise very lucky not to get injured.
Met a Ridge Runner on the trial just before Pen-Mar Park. He mentioned that there were still thru-hikers coming by, mostly SOBO (South-bounders), and a few NOBO (North-bounders). Stopped at Pen-Mar Park and had a very cold Coke. The snack bar was only opened on Sundays – no hot lunch there. Rested up, called Tina, charged the cell phone, had a snack, took care of my feet, filled my water bottles (only had a half of a bottle left), and stopped at the lookout for a few pictures before heading on to PA and north to Tumbling Run. PA was only about .2 miles north of Pen-Mar park. Stopped at Deer Lick Shelter for a short rest and to look at my feet. Moved on north and met a man hiking with two kids. He said that he had moved a small rattlesnake off the trail a little ways north. I did not see it when I got there.
Stopped at Antietam Shelter for a short break and then headed on to Tumbling Run 1.2 miles further. First hiker at the Tumbling Run Shelter at 3:30. Tumbling Run is newer log construction, two shelters, one for those who snore and one for those who don't. Washed up in the creek and cooked Ramon noodles and tuna. Feeling pretty good today, almost like I belong. Cell phone service again so I called Tina and sent her a picture of the shelter. Around 6:30 a south bound hiker arrived at the shelter. His name was Jerry (from New York) and he had started in Boiling Springs and was headed to Front Royal VA. 125 miles. Jerry bedded down in the other shelter. Jerry was a very angry man, angry at his ex-wife, angry because he couldn't get a driver's license, and angry because he did not have a job. I found out that Jerry had hiked several sections of the trail, including the Hundred Mile Wilderness. He also mentioned that I would have a very long climb in the morning. I told him how to find the Raven Rock Shelter. About 8:00 another guy showed up – an EMT who was practicing primitive fire starting techniques. I asked him to start a fire for us. He did, but it took about 45 minutes. Jerry and I in the sack at 9:00 while the EMT left to hike to the vista in the dark. Very strange dude. Heard what I can only describe as a snorting sound during the early morning hours. Could have been a bear?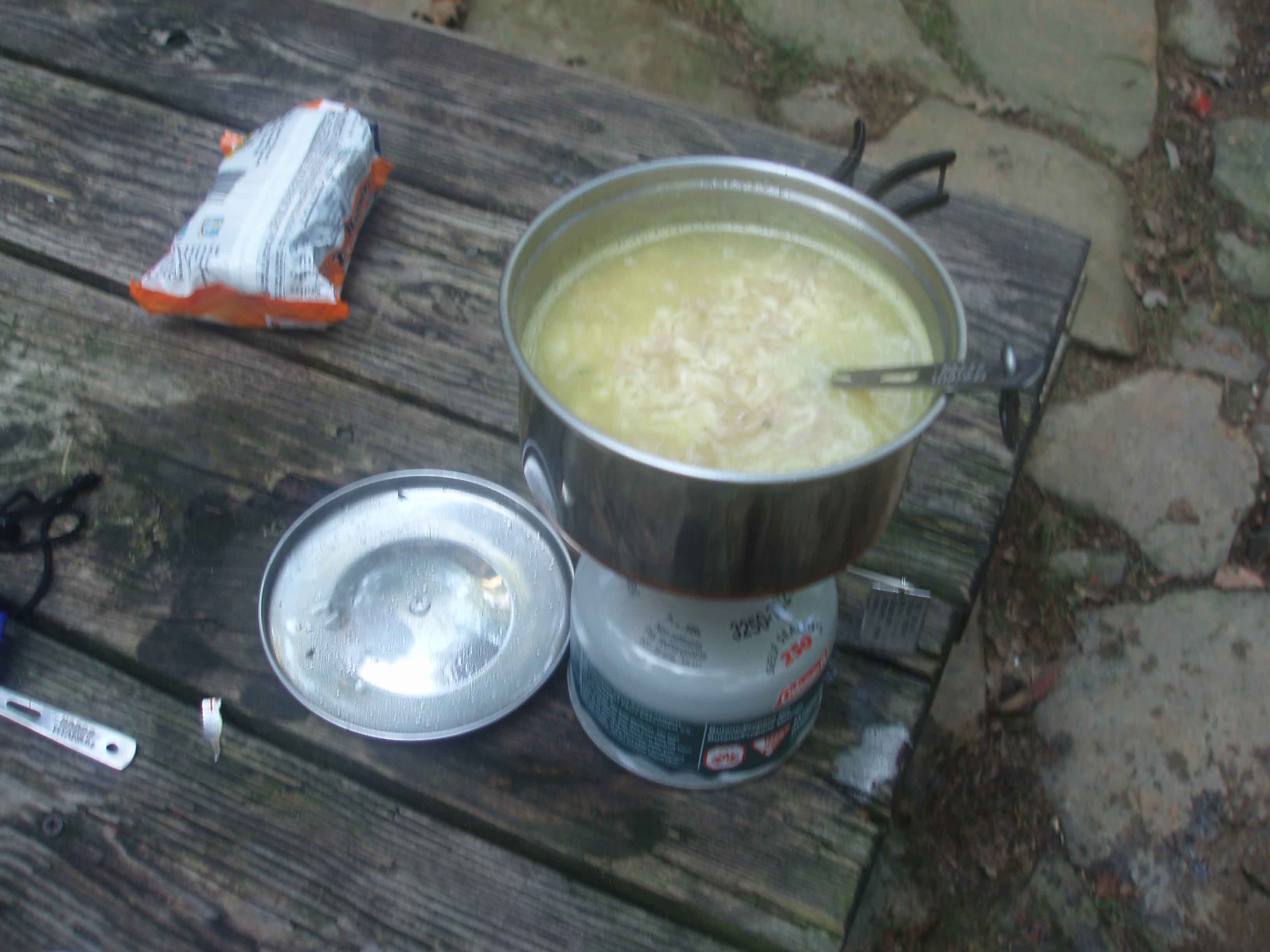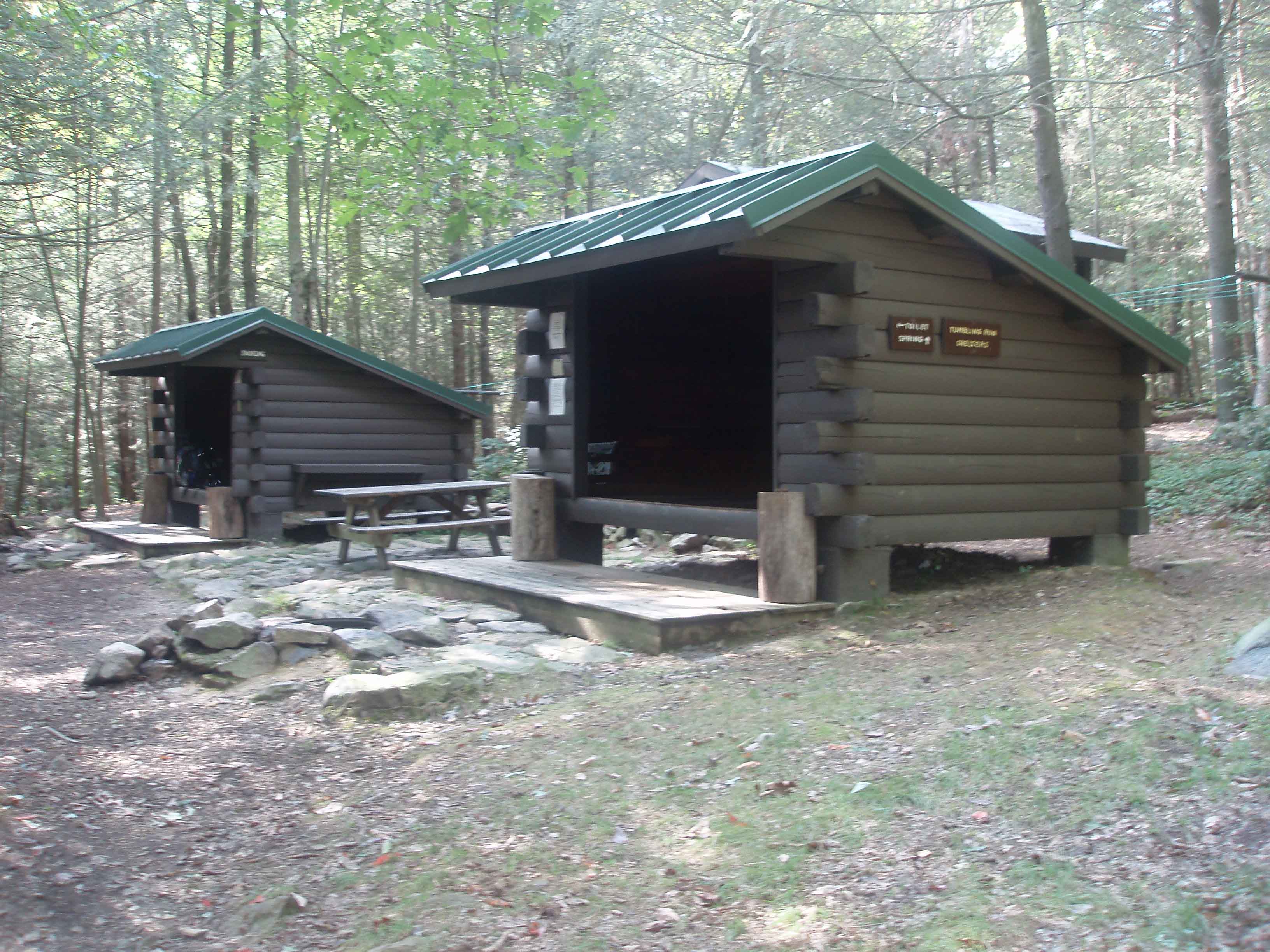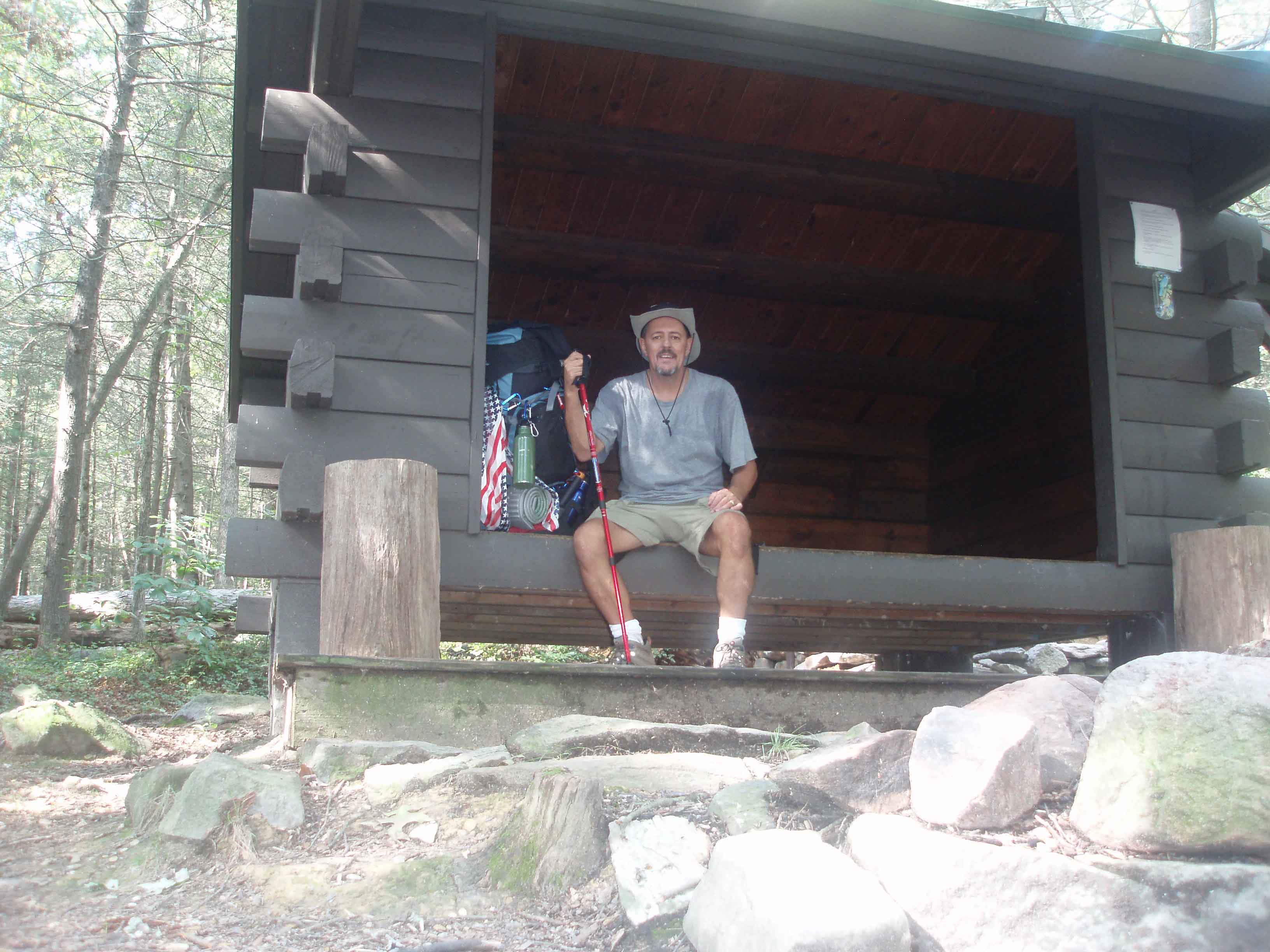 Ramon noodles and Tuna Tumbling Run Shelter Home Away from Home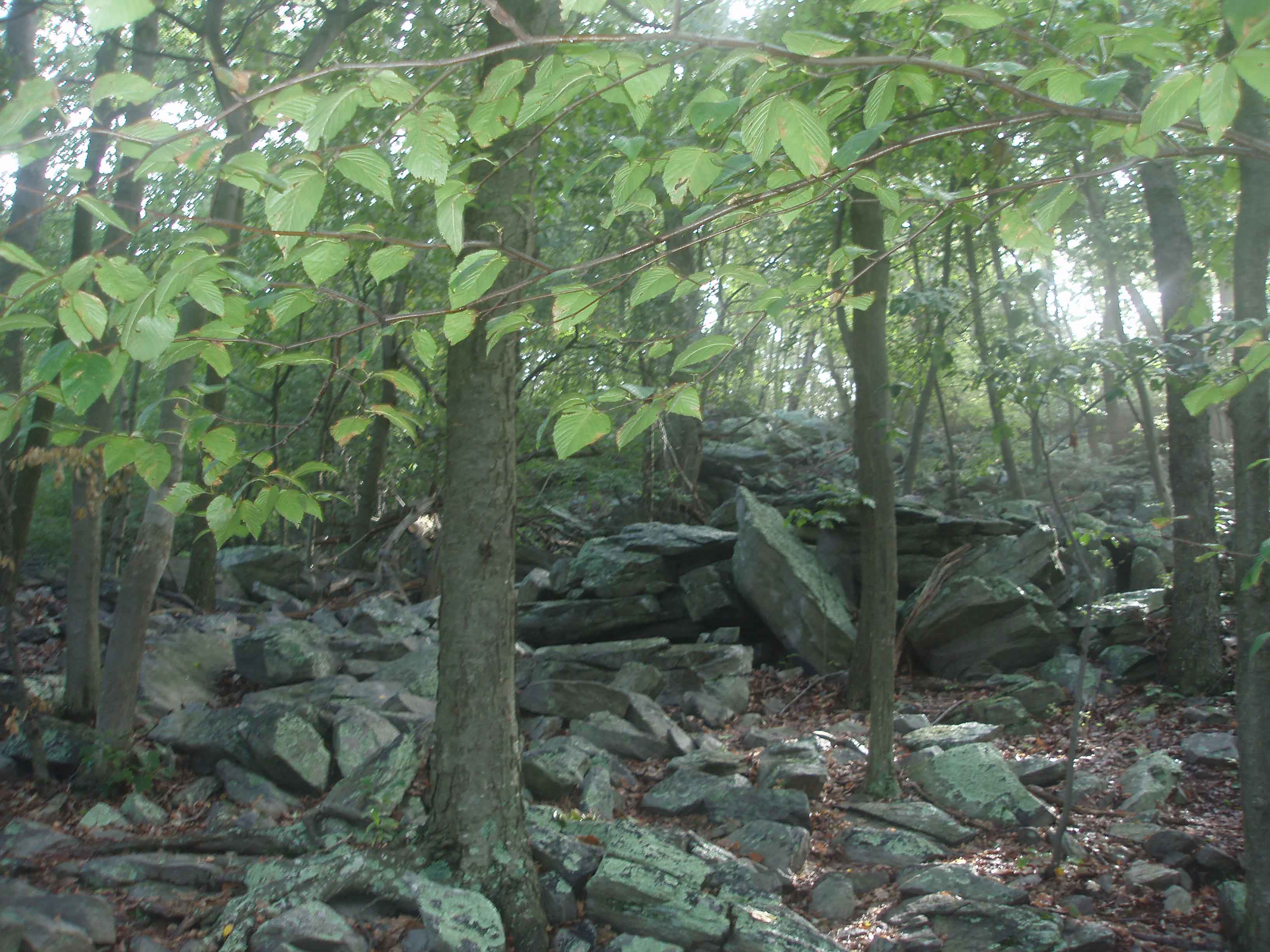 High Rock Trail - Where is it?
Thursday, August 26, 2010 – Warm and Sunny.
Left at 7:00 am headed to Caledonia State Park, 9.6 miles, then on the Quarry Run Shelter total 12.2 miles. Big event today is that I will be meeting Tina at Caledonia!!! A hot shower, re-supply and then a hot meal somewhere. It took 47 minutes to get to the top and then a beautiful hike along the crest of the mountain. This was what I would have pictured when I closed my eyes and imagined hiking the AT. Smooth, flat trail. No sounds but nature for several miles. Since I was hiking by myself and had no one to give me a trail name I chose "Footprints" as my name. The thought came to me as I noticed my footprints on the sandy trail and thought how neat it was to let my footprints on 100 miles of the AT. Got to RT 233 at 10:00 (half way). Worked on my feet, had a snack, and text Tina to tell her my ETA in Caledonia was around 1:00.
The trail from RT 233 on was very difficult. At times the trail moved to the rocky outcrop along the top of the mountain. In, out, and over large rock and boulders. I know this is where the snakes and bears live. The trail was not very well marked and you had to really look close to find the next white blaze. Got into Caledonia at 12:45 and went to the Park Office to pay for a much needed shower. Tina showed up while I was in the shower. I was very happy and emotional to see her. Tina took me to dinner at Hoss's….steak and salad bar, and then to Wal-Mart for some supplies, food and band aids. Went back to Caledonia. Took care of my feet and shared a small bottle of Godiva Liquor. Gave Tina my tent and some other things that I had not used so that I could lighten the pack. Probably down to about 40 pounds now, but I needed to get into a shelter or sleep on the ground without a tent.
Left Caledonia at 5:20 to hike the last 2.6 miles to Quarry Gap Shelter. Arrived at the shelter at 6:05. Quarry Gap Shelter had two sleeping areas with a covered picnic table between. There were hanging plants on either end. Kind of felt homey. Checked the spring…almost dry. Read the log book and found that a large rattlesnake had been seen at the spring and in front of the shelter a couple times in the past 6 days. Sleeping with one eye open tonight. About dark 2 brothers and a cousin headed north stopped at the shelter. Nice guys in their twenties. They had left their car at Boiling Springs and were ferried down to Caledonia planning on hiking back. The three of them stayed in one shelter and I stayed in the other. Called Tina and crawled into the sack for the night.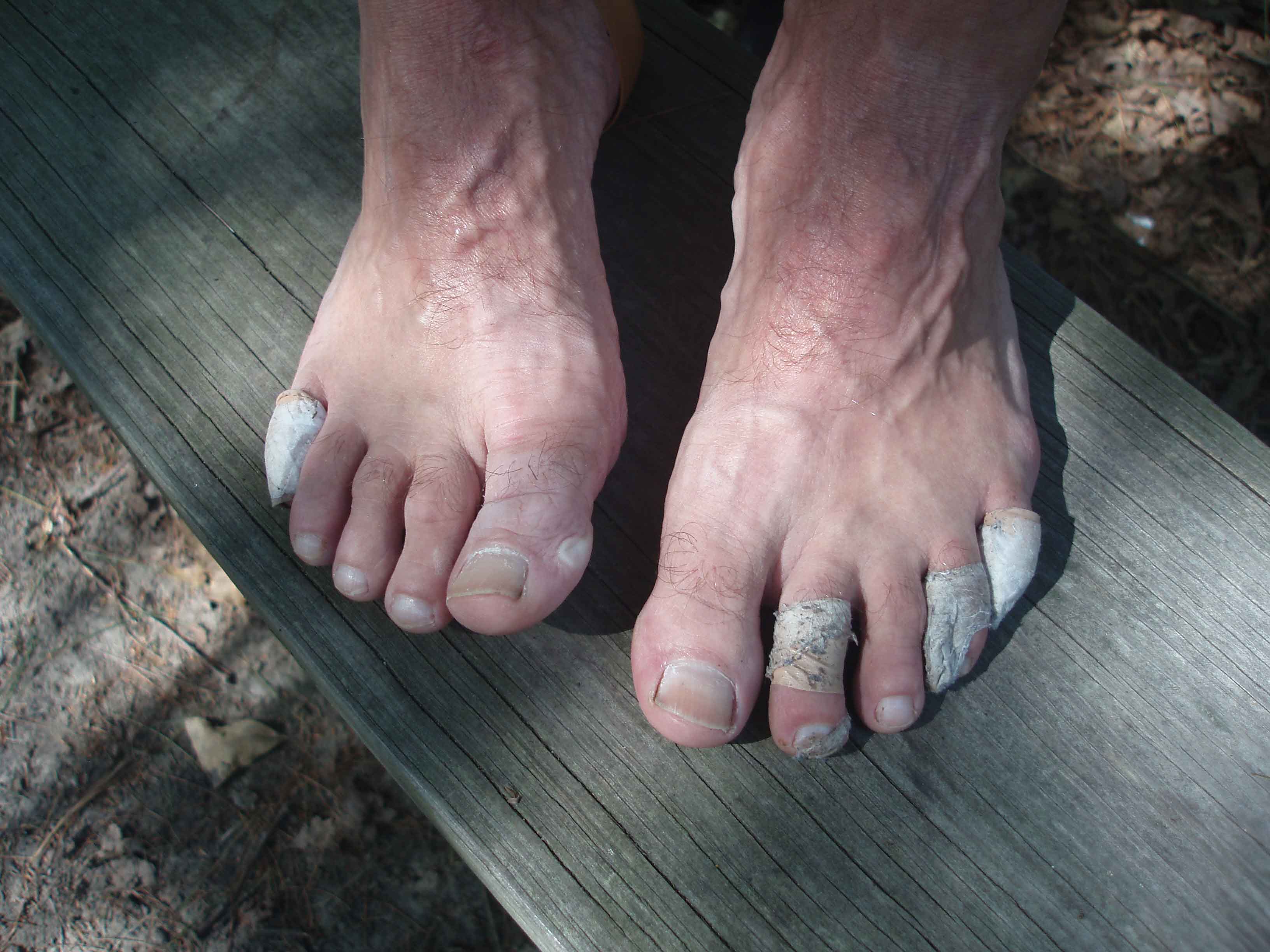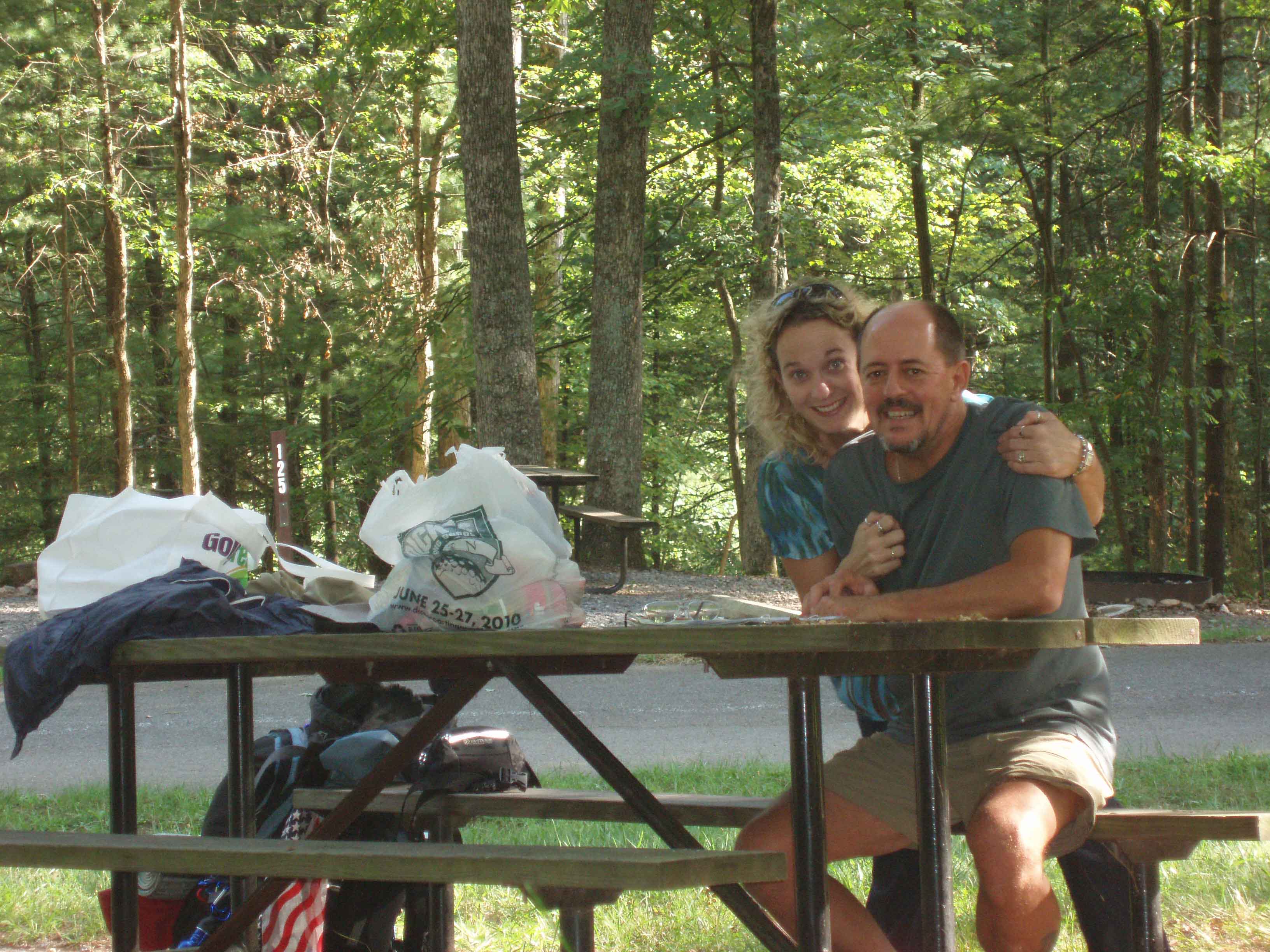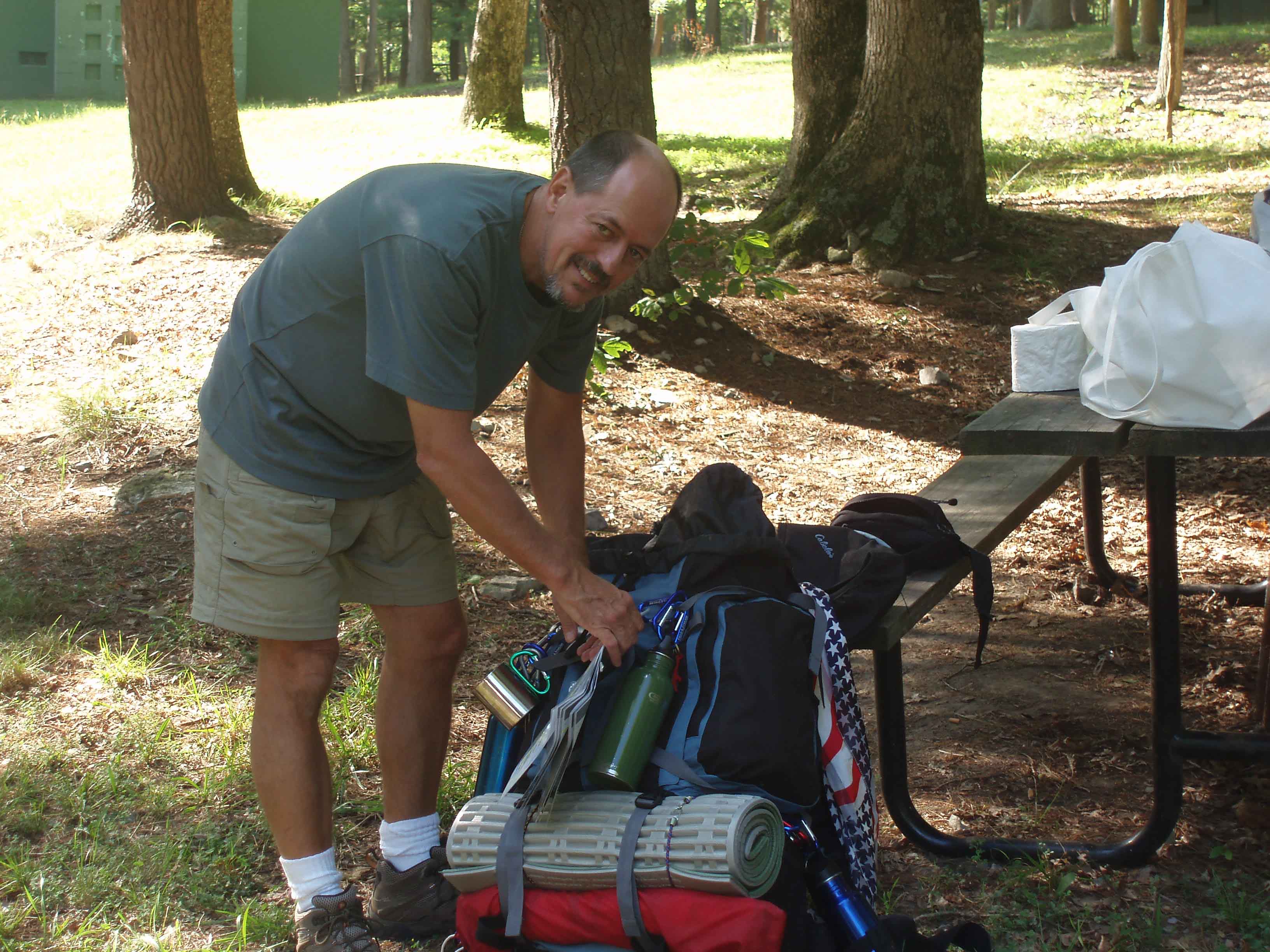 Poor Feet Do I look happy? Getting ready to go.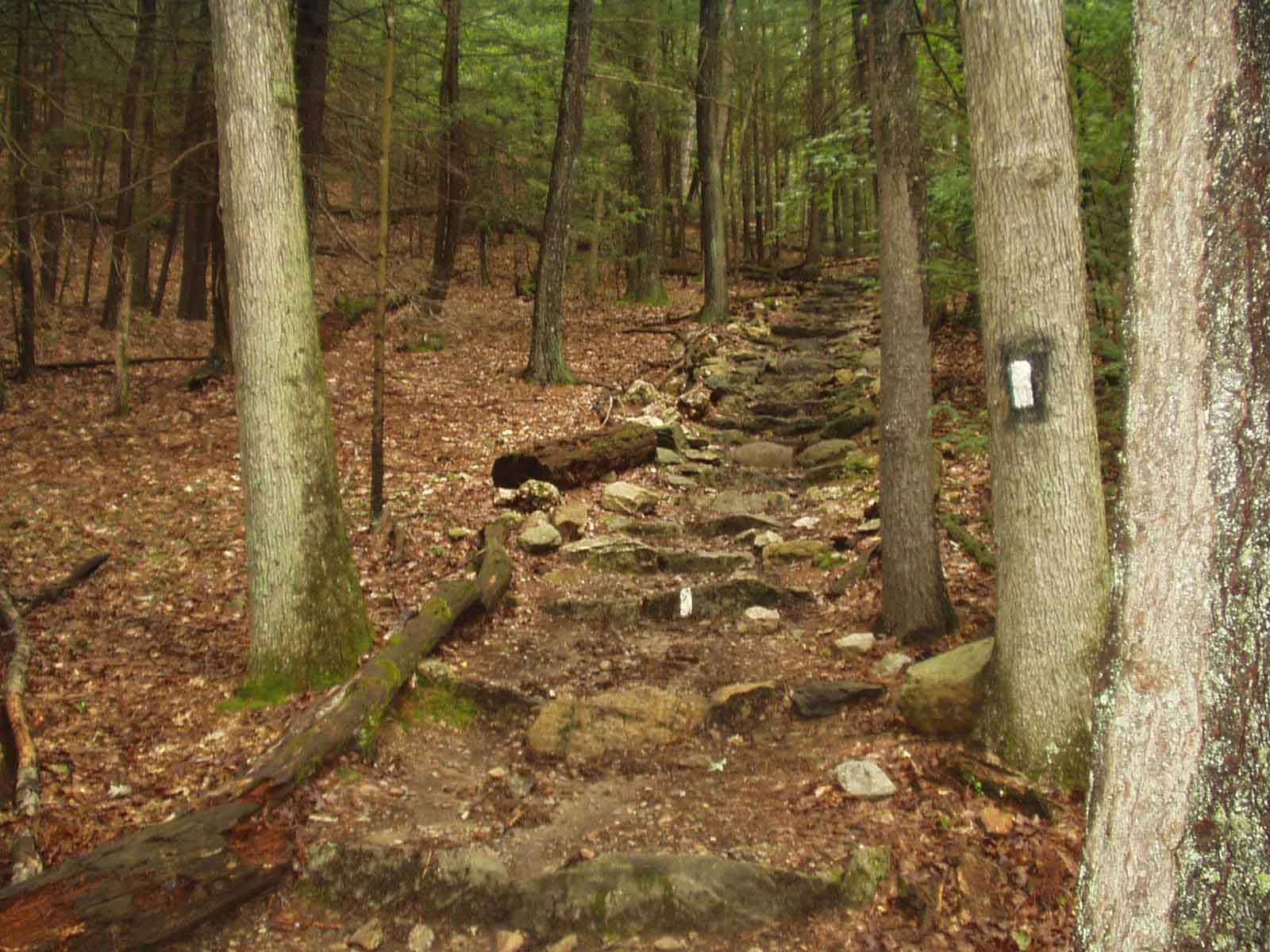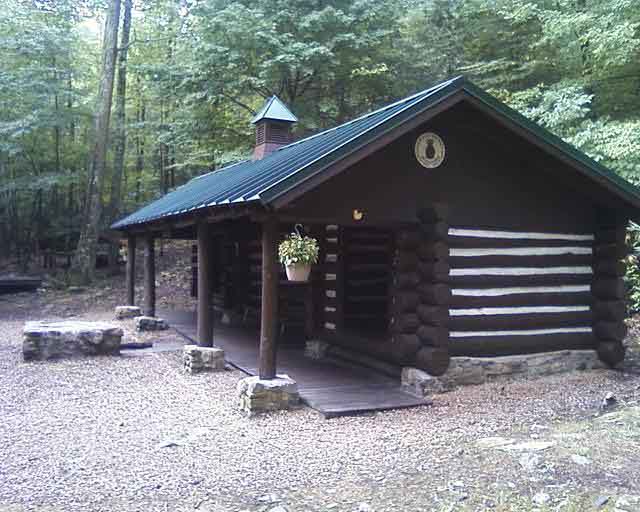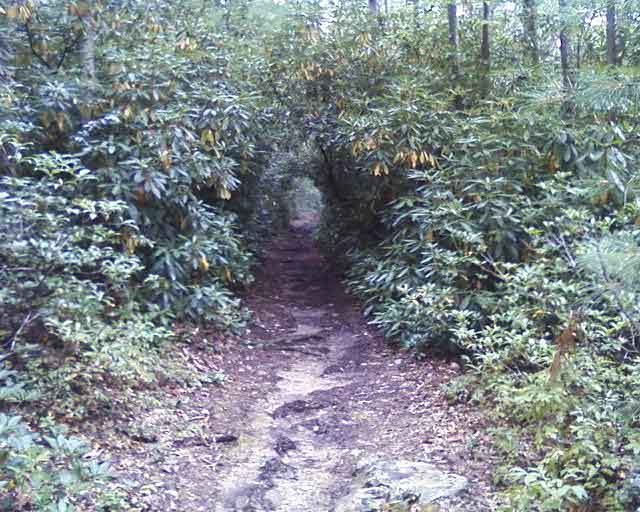 Leaving Caledonia Quarry Run Shelter AT through the Mt Laurel
Friday, August 27, 2010 – Warm and Sunny
Left Quarry Rock at 7:00 headed to Tom's Run Shelter, 13.6 miles. The hike was very nice today with not too many climbs and some smooth trail. Stopped at Birch Run Shelter to check my feet, have a snack, and sign the log book. Met a young couple headed back to Caledonia. They had hiked up to spend the night. They offered me some apples, which I took. Two SOBO through hikers stopped in. They were not very talkative but did say they left Maine on June 12th. As I was leaving one of the young guys from the Quarry Rock Shelter came in. I was back on the trail and headed north.
I wanted to get to Tom's Run before them. Met a man walking a dog near a cabin. He showed me where a spring was and then decided to give me a bottle of his water. The last mile or so going down hill to Tom's Run was very difficult. The trail was not so steep but there were a lot of rocks and I was pretty well exhausted till I got to the shelter at 2:15. The three guys from Quarry Gap arrived at 3:30. There were two shelters so they bunked in one and I had the other by myself. Again Ramon noodles and tuna for supper.
Heard shots on the ridge and then saw two guys come south on the trail, one carrying a rifle and the other a machete. They moved through quickly without paying much attention to us. Called Tina and crawled into the sleeping bag about 7:30. A woman looking into the shelter startled me sometime later. She ended up tenting close by. Heard some strange noises during the night, probably coming from a camping area above us on the ridge. Probably a party going on. Also I am pretty sure I heard a bear snort again. Same noise as the one I heard at Tumbling Run.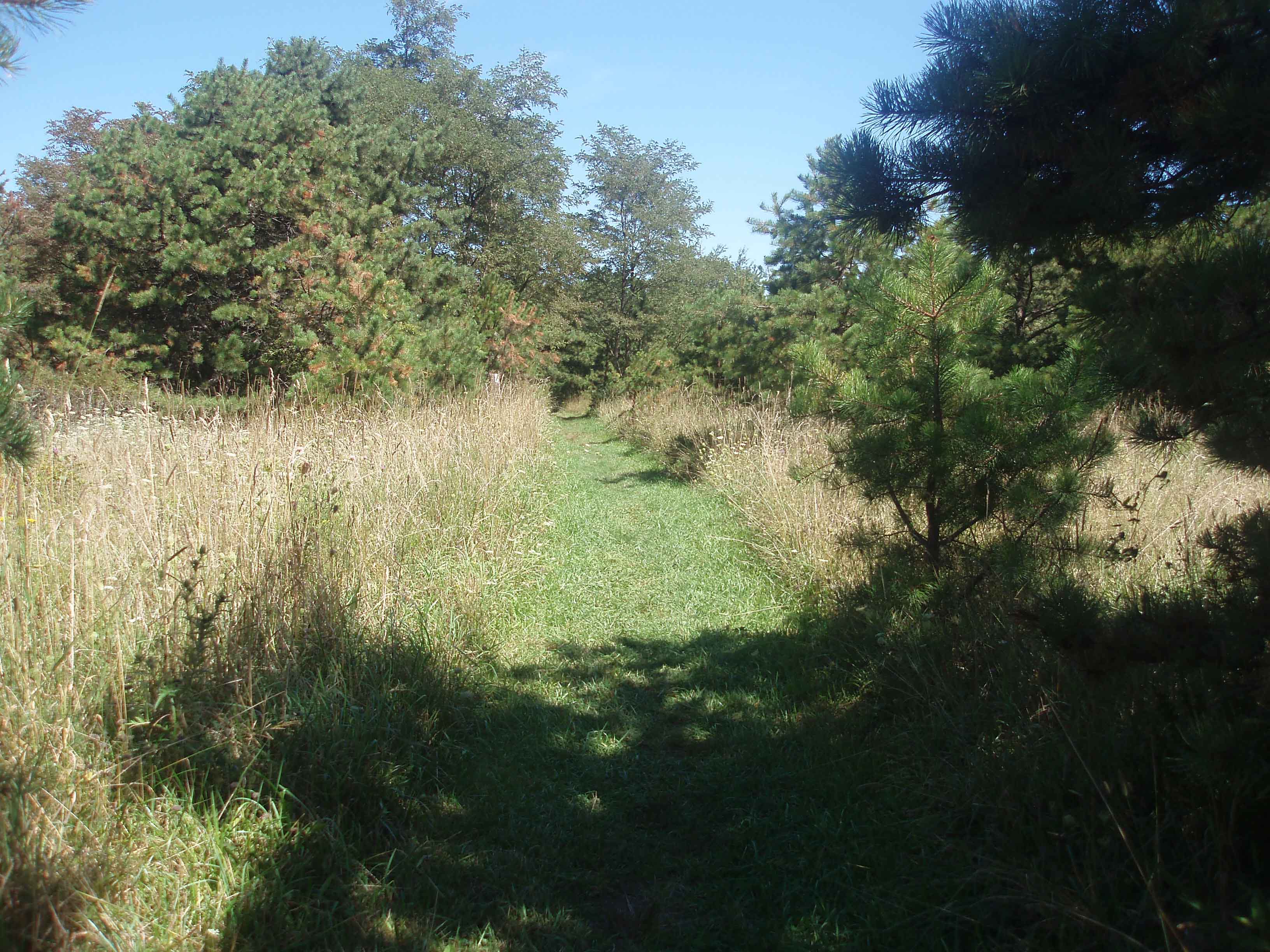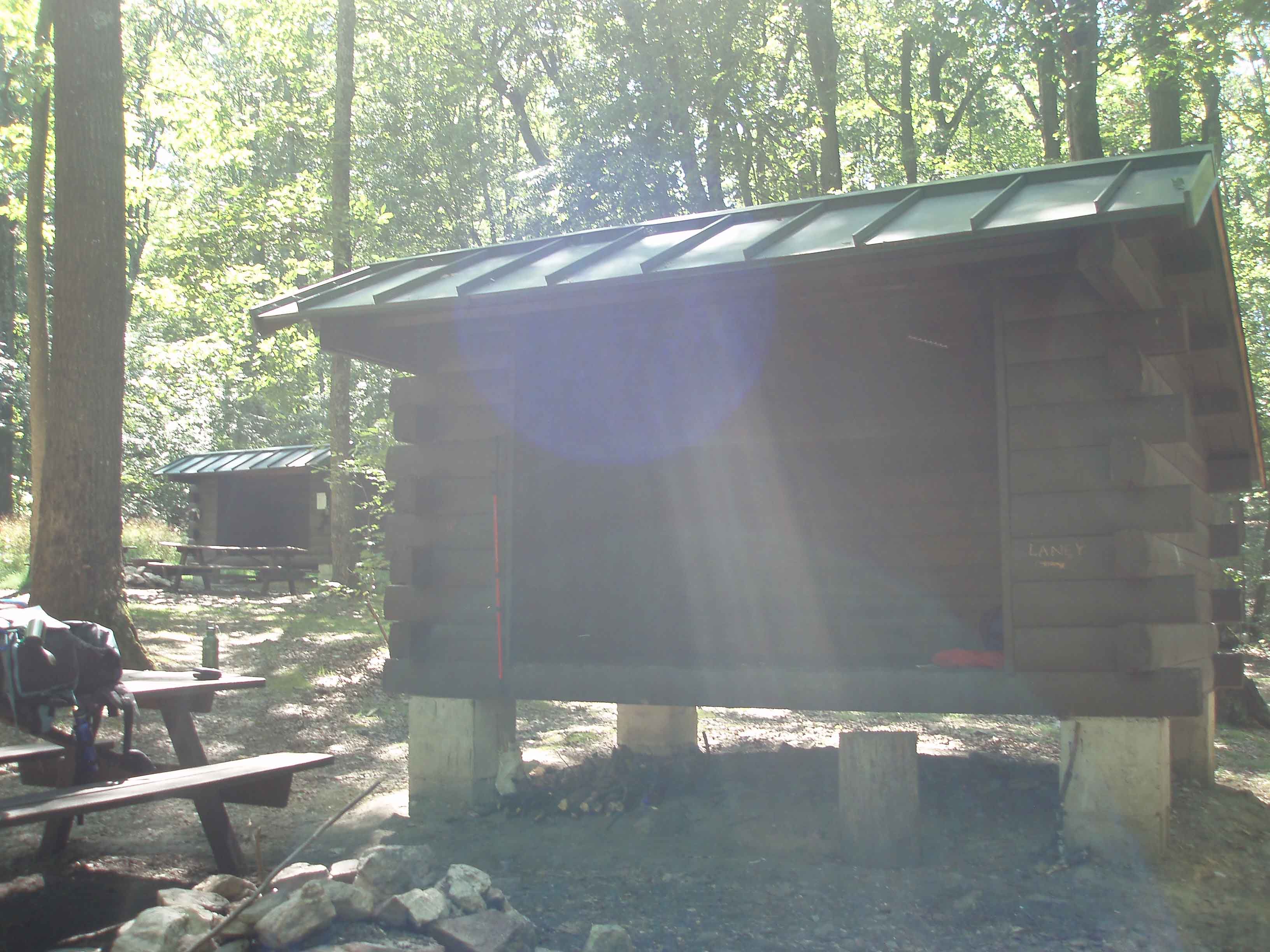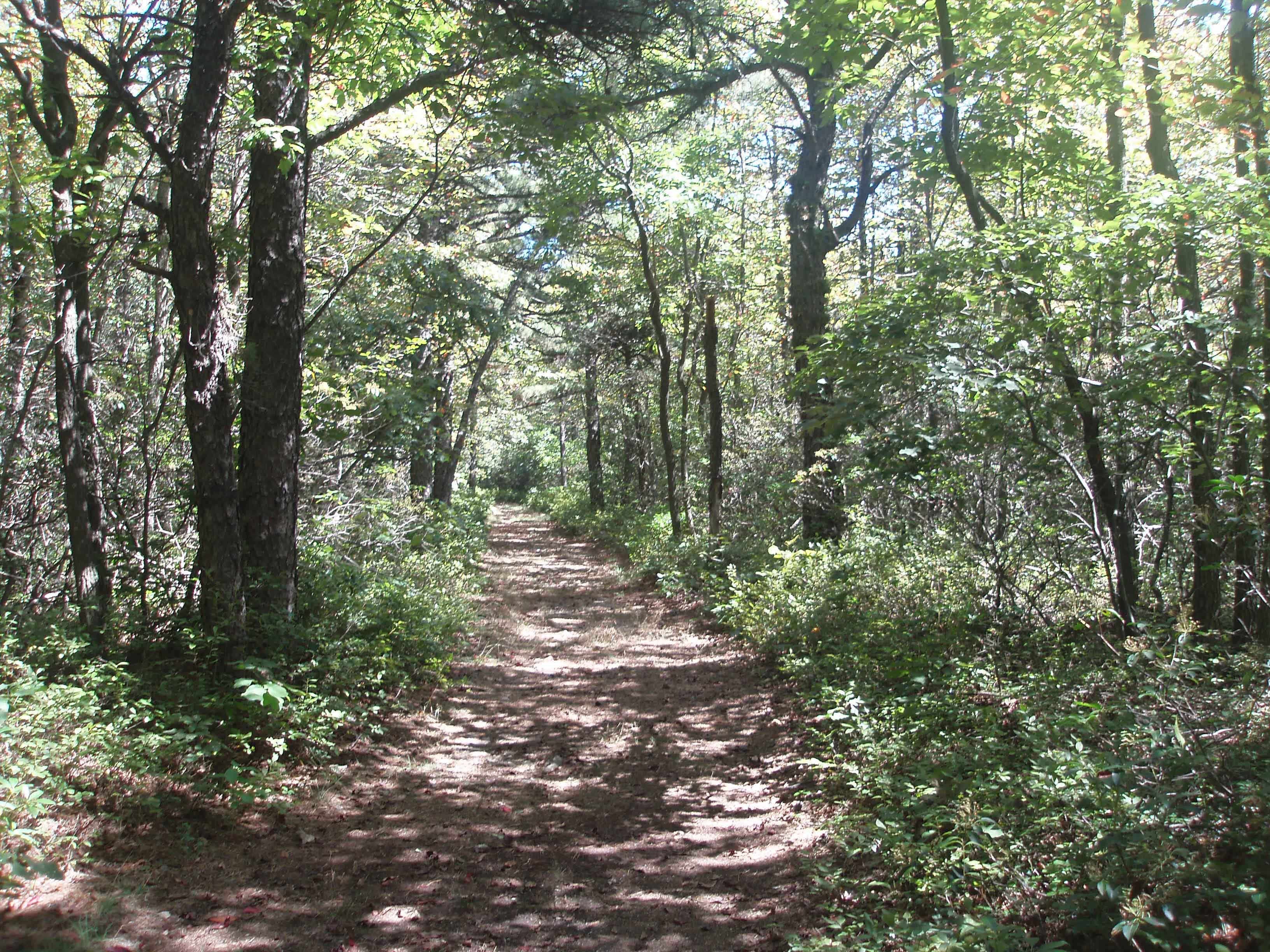 Another form of the AT Toms Run Shelter Another Beautiful AT shot.
Saturday, August 28, 2010 – Warm and Sunny
Left Tom's Run Shelter at 7:00 headed north for James Frey Shelter, 10.9 miles. Passed by the half-way point on the AT. The trail was pleasant today and I was looking forward to Pine Grove Furnace State Park in about 3.7 miles. About two miles from the state park I noticed that the woman who at tented at Tom's Run as coming up on me. I waited for her and hiked in to the state park with her. She was from Boiling Springs out on an overnight hike trying out a new tent that her husband had gotten for her. She directed me to the general store when we got to the park at 8:45.
As I waited for the store to open at 9:00 I plugged my cell phone in to charge. When the store opened I went in and ordered a cheeseburger, bought a coke and a nutty buddy. Also got some sweets to last for the next two days. Very nice breakfast!!! The woman from Boiling Springs came back and we chatted while I ate and she drank her coffee. About 9:45 we said our goodbyes and I headed north again. The trail went through the park and headed up the mountain. It seemed like a pretty good climb but I was feeling great and didn't have to stop for a rest.
Got to the James Fry Shelter at 1:45. The James Fry Shelter was a single building with two plywood bunks on each side and a good size floor area for sleeping as well. Called Tina to let her know I had arrived. Best cell phone service yet!!!. Also sent her a picture of the shelter. (Final leg to Boiling Springs tomorrow and riding home with Tina….can't wait and I can't believe I did it!!) The three guys from the past two days got into the shelter around 4:30 and a female SOBO (Aboo) through hiker showed up about 6:00. We grilled her about her hike and she was very willing to share her experience. 2 more guys showed up about 7:30 and decided to tent rather then crowding the shelter. We lit a nice fire, played cards, and chatted till well after dark. A very nice night!!!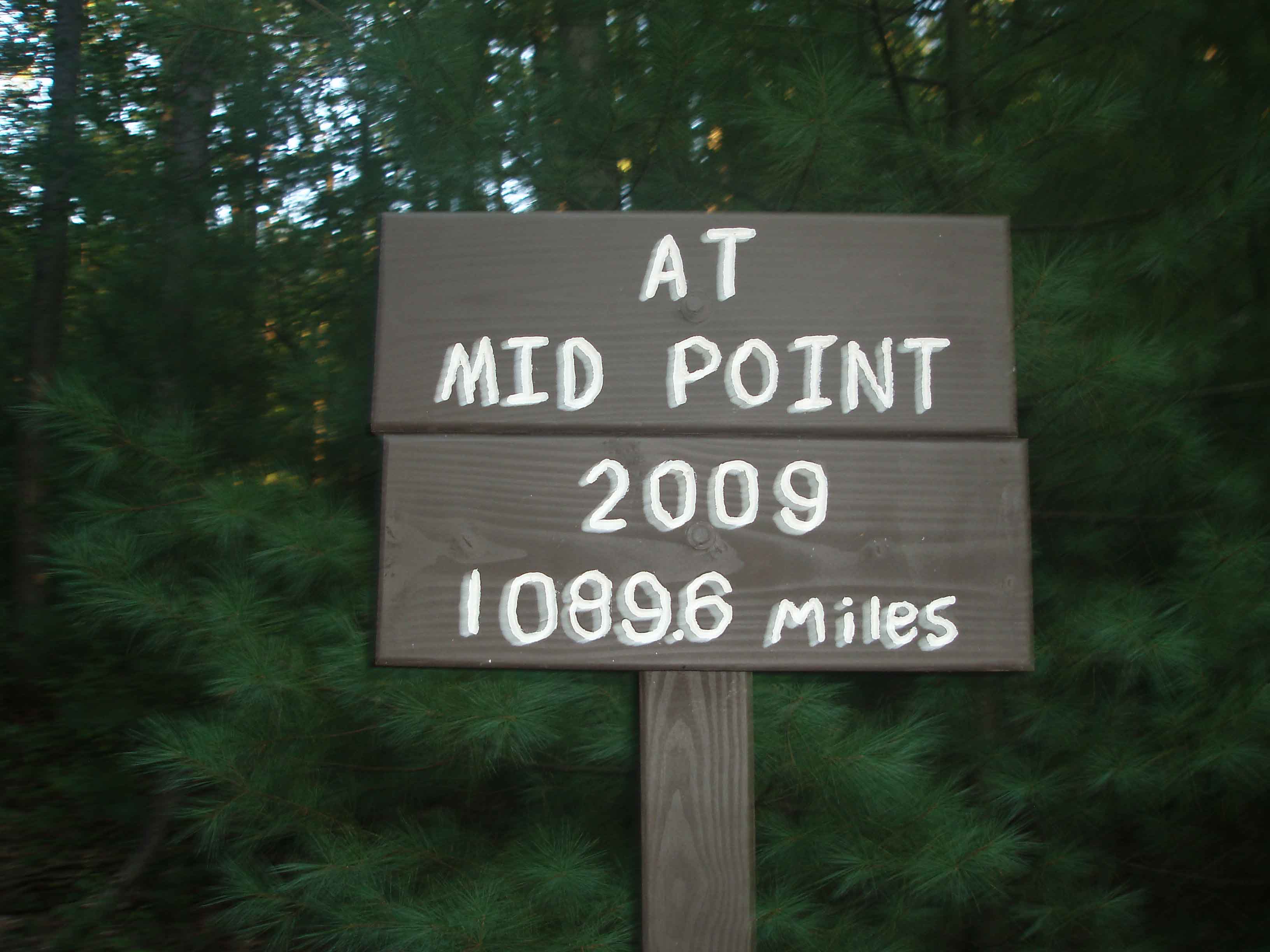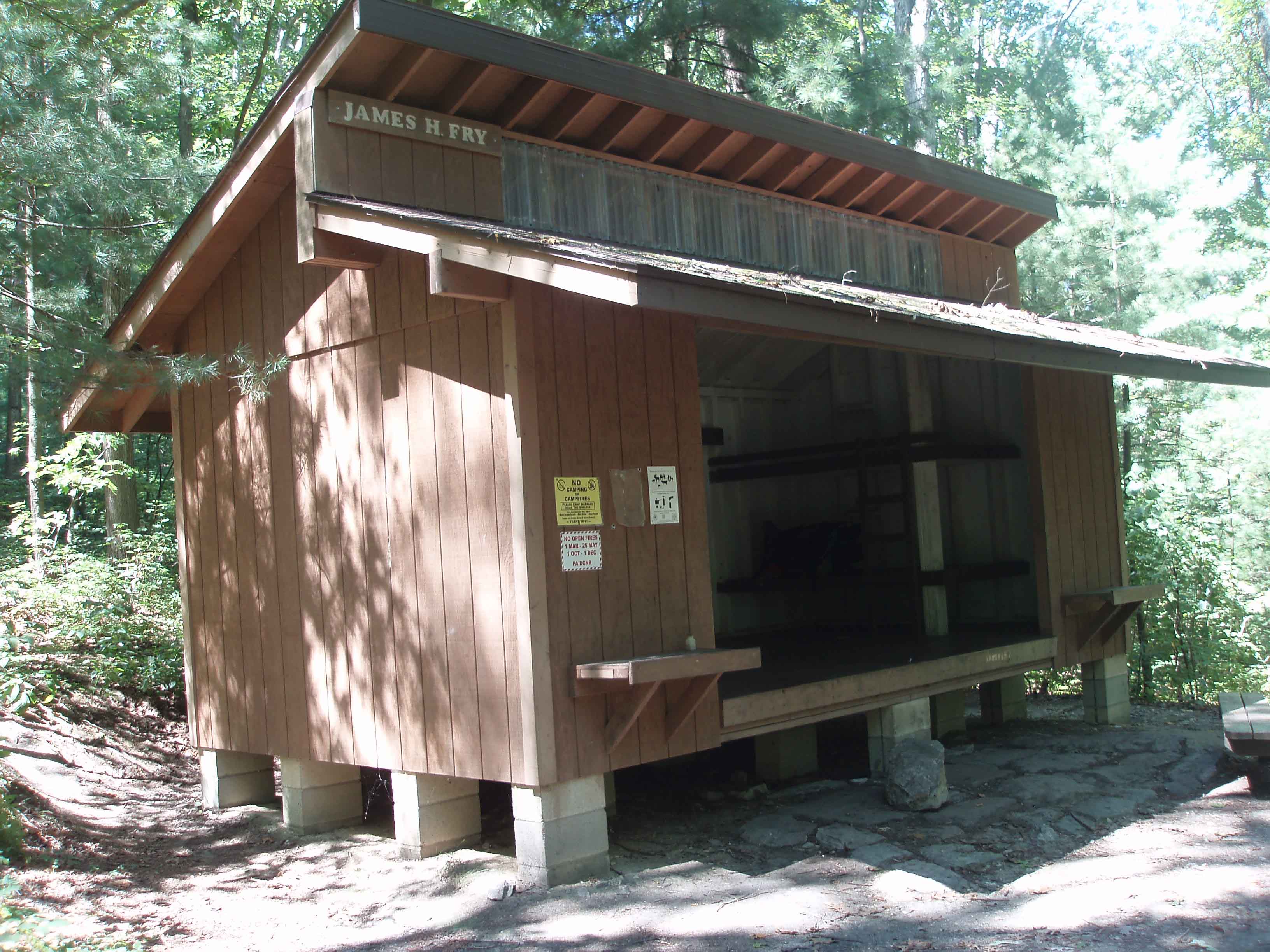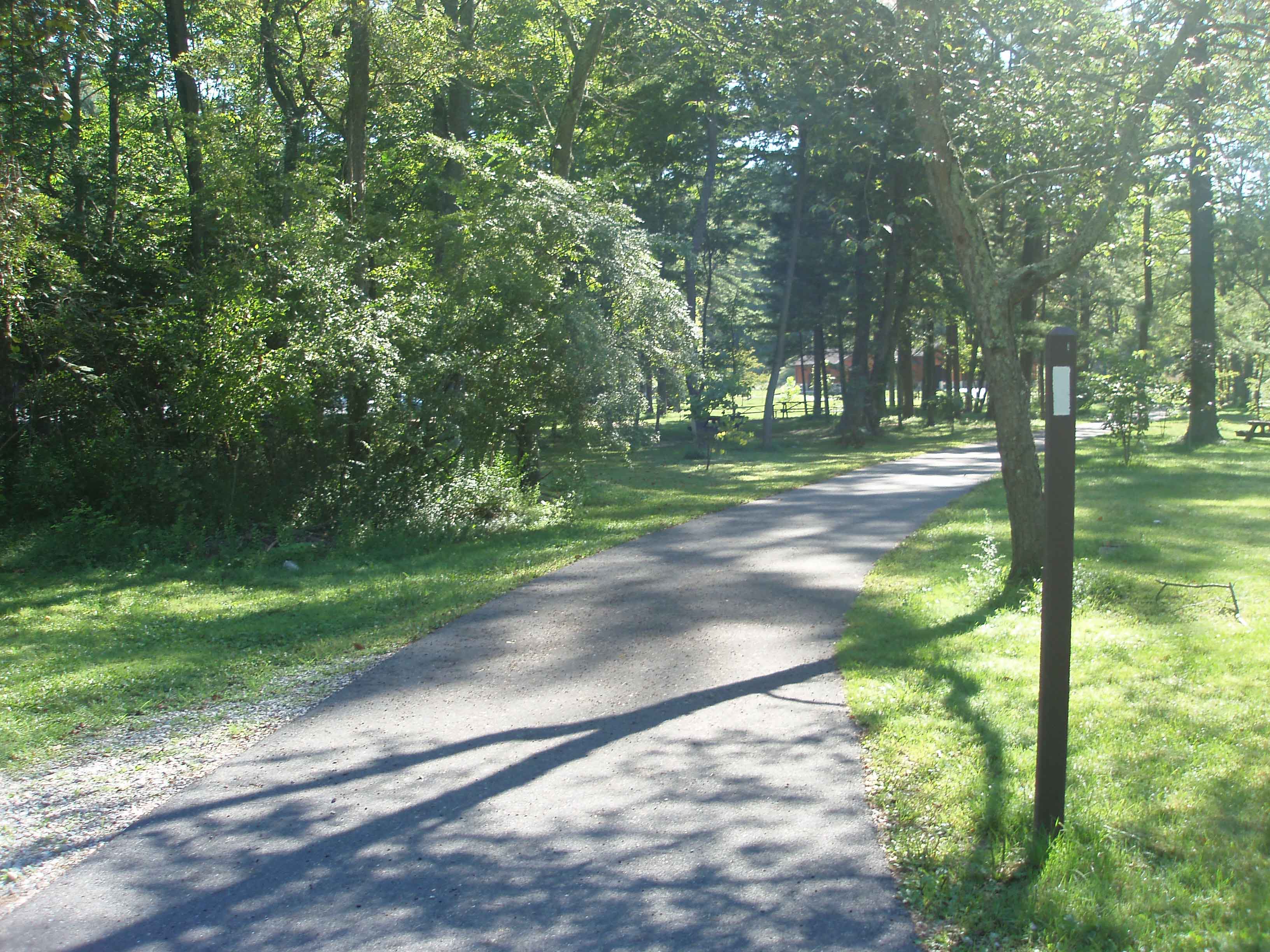 Mid Point on the AT James Fry Shelter Pine Grove Furnace SP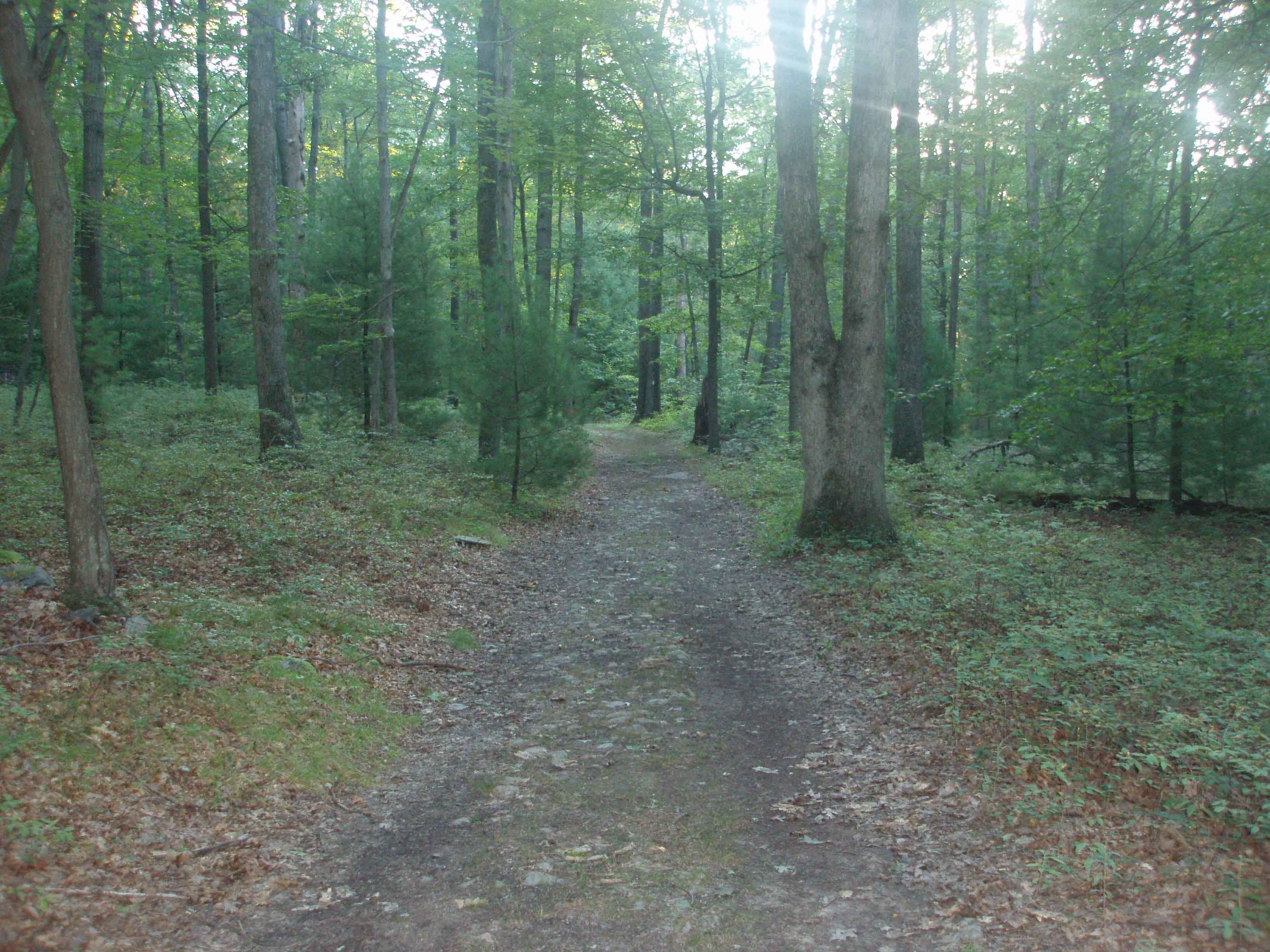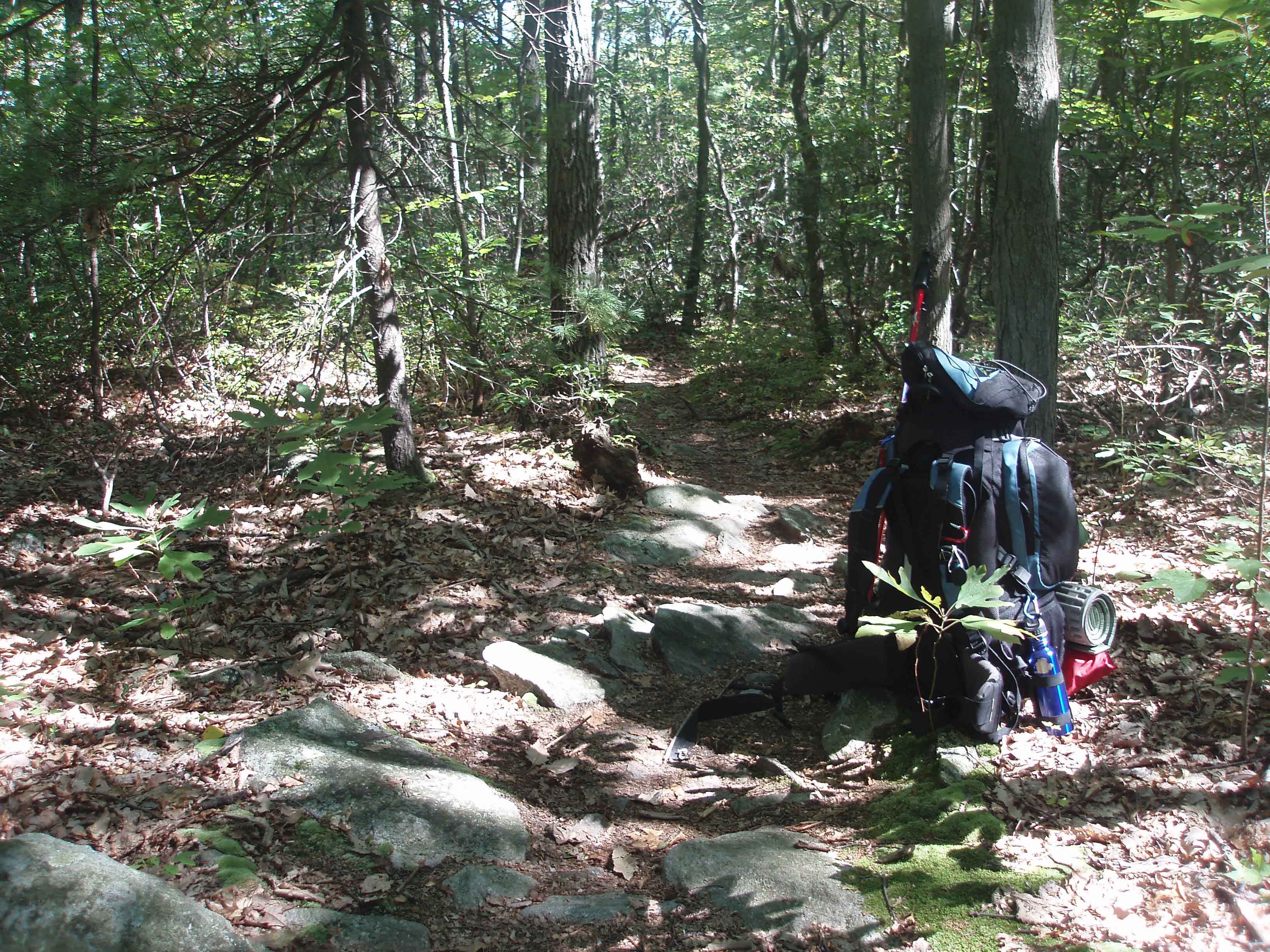 Another Beautiful Spot Backpack at rest.
Sunday, August, 29, 2010 – Sunny and Very Warm.
Up at 6:15 and on the trail by 7:00 headed north to Boiling Springs, 12.1 miles. Hoping for an easy day of hiking…not to be. A lot of ascents only to hike back down knowing that another ascent was not far ahead. Reached Center Point Knob (1060 ft) and began the log slow downhill to Boiling Springs. The AT emptied out into a field and ran first along the woods before making a right between two fields. The last 1.5 miles of the trail were hiked out in the open between fields with the temperature in the mid 90's.
With less then a half mile to go I met and older couple coming south. The man asked if my trail name had the word "foot" in it? I said "yes" and he said "well your people are waiting for you and you had better hurry up". Coming into Boiling Springs I crossed a bridge and then turned right following the trail along the creek. As I neared the foot bridge I saw Tina come down off the bridge and head my way at a pretty good pace. Even though I smelled pretty bad I still got a big hug and a kiss. Tina walked beside me for the last few hundred yards to complete my 100 mile "Walk in the Woods". Tina waited for me to sign the log book and then I headed for the springs to soak my feet. The water is 60 degrees year round and it sure felt good on my feet. We loaded the pack in the car and I asked Tina to stop for a Coke. I ended up with two. Next stop was McDonalds for a Big Mac meal. I am not sure a McDonalds meal ever tasted so good.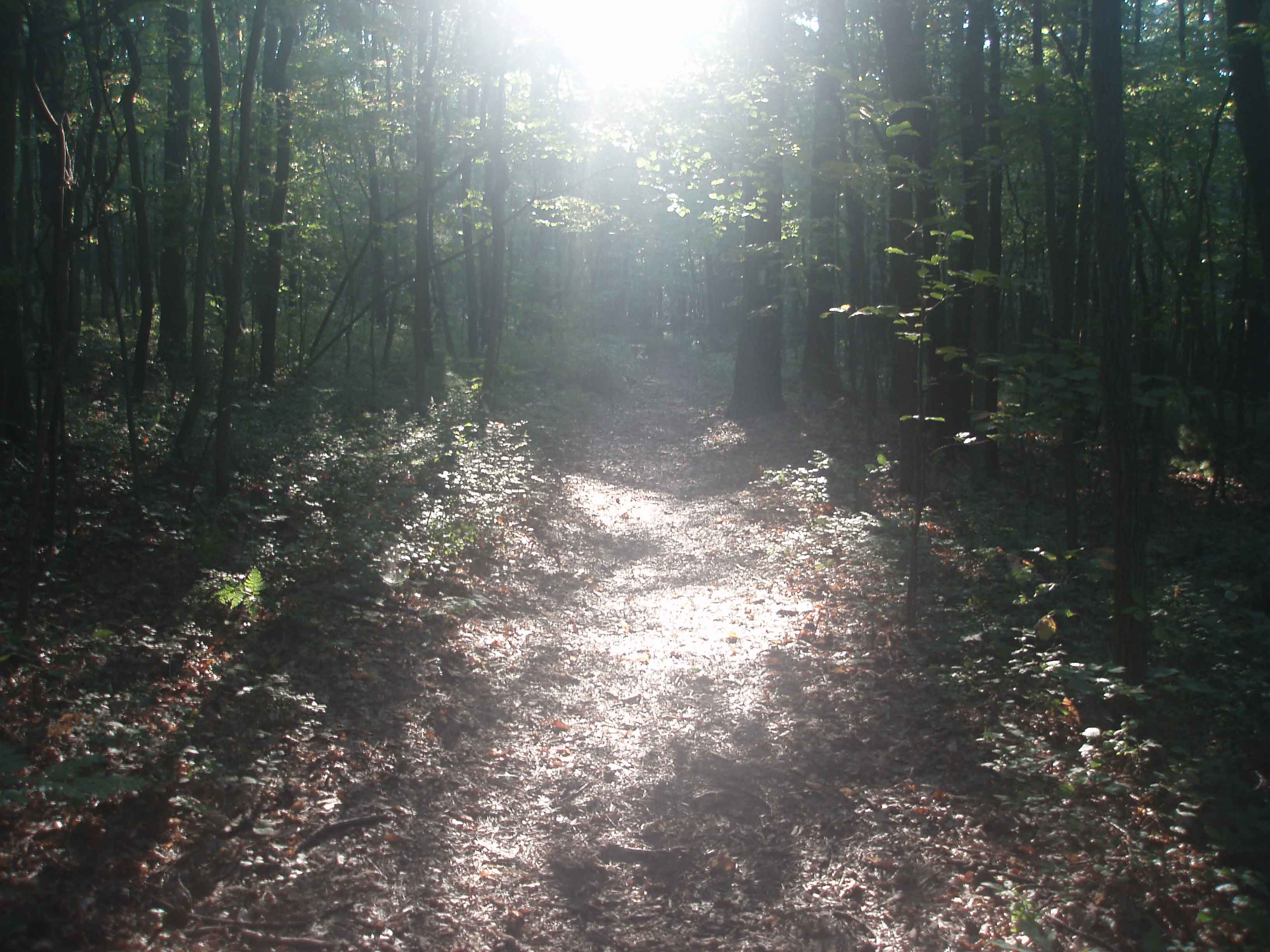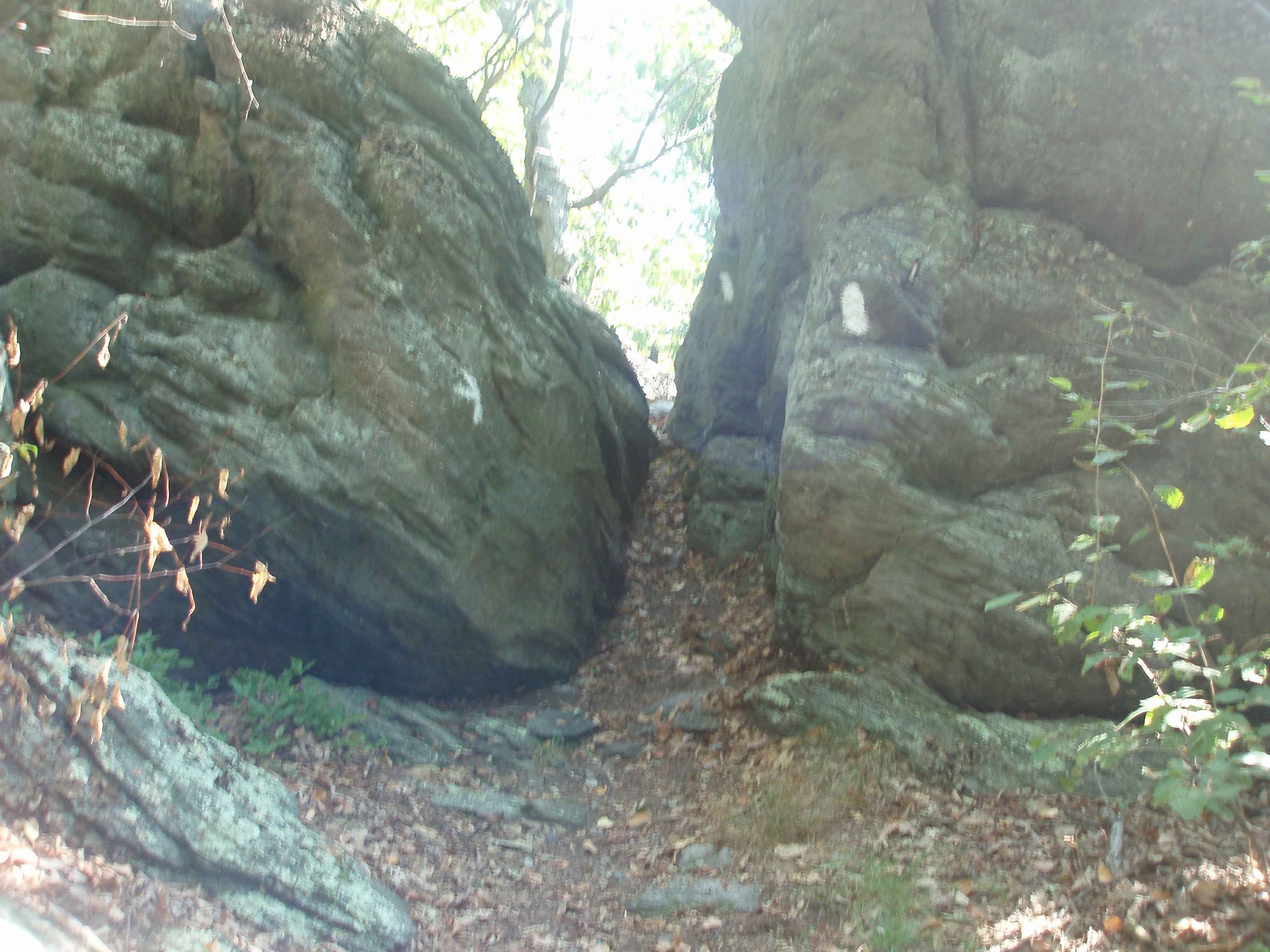 Trail at sunrise. Through the rocks. Through the rocks again!!!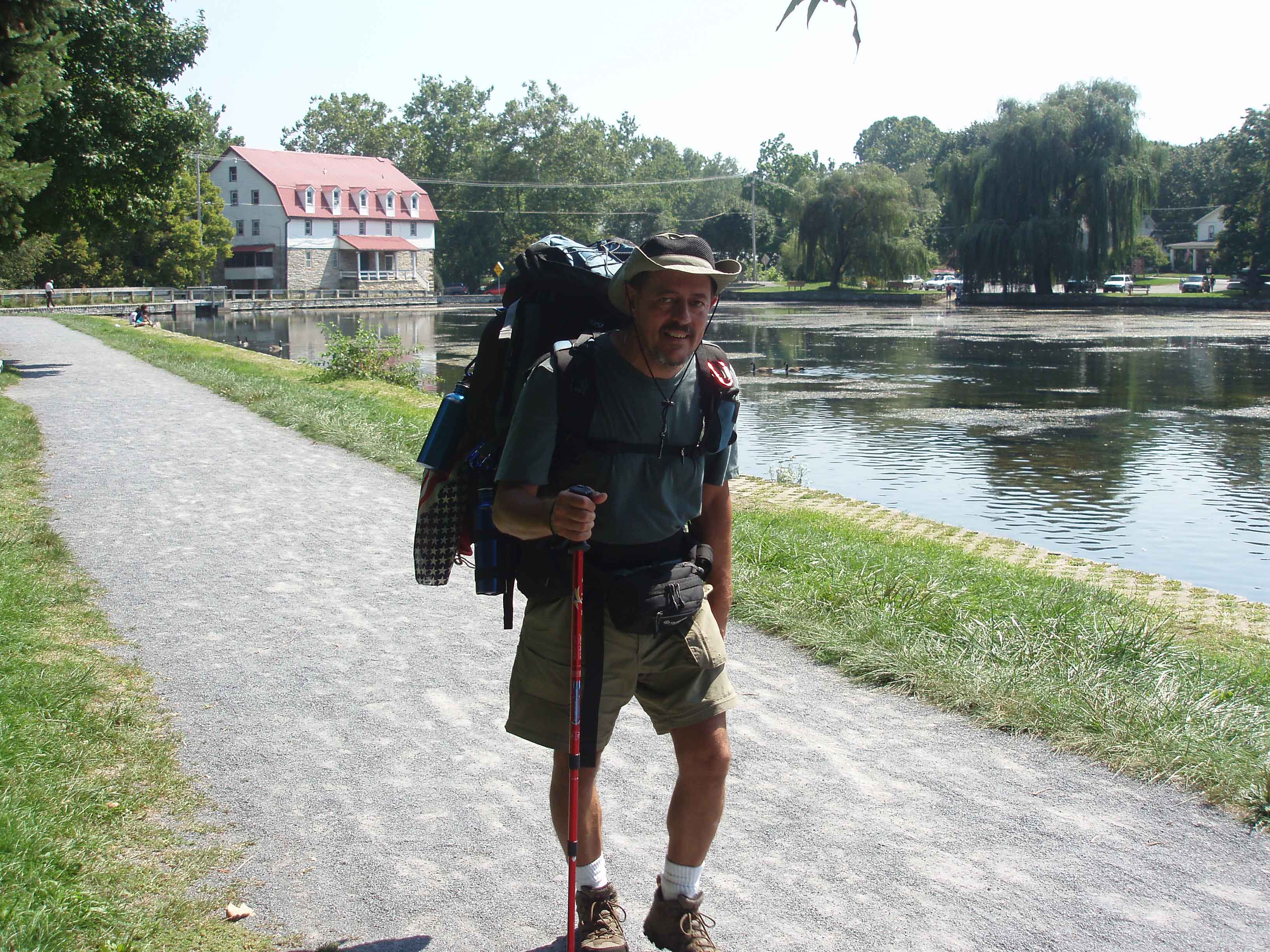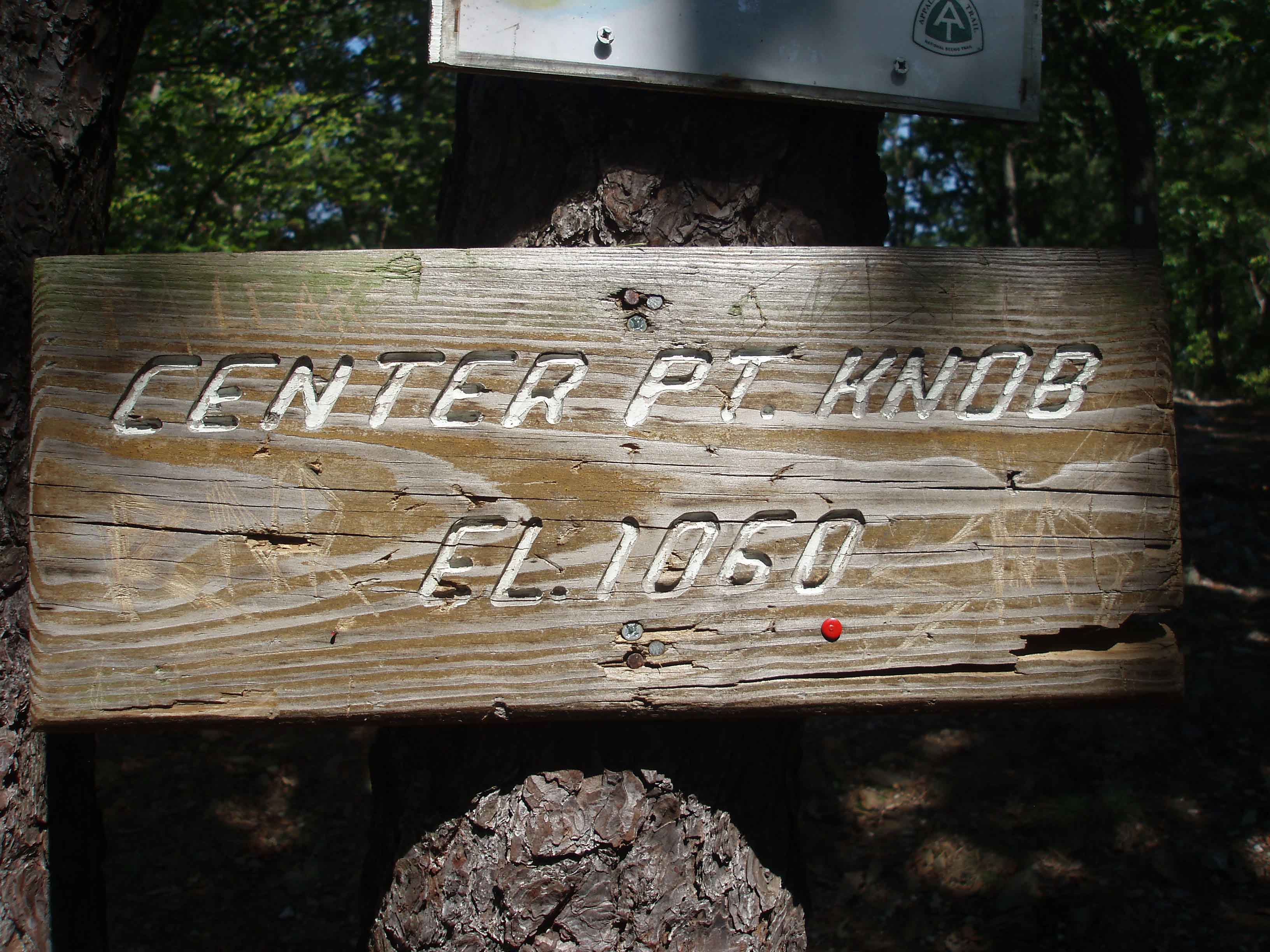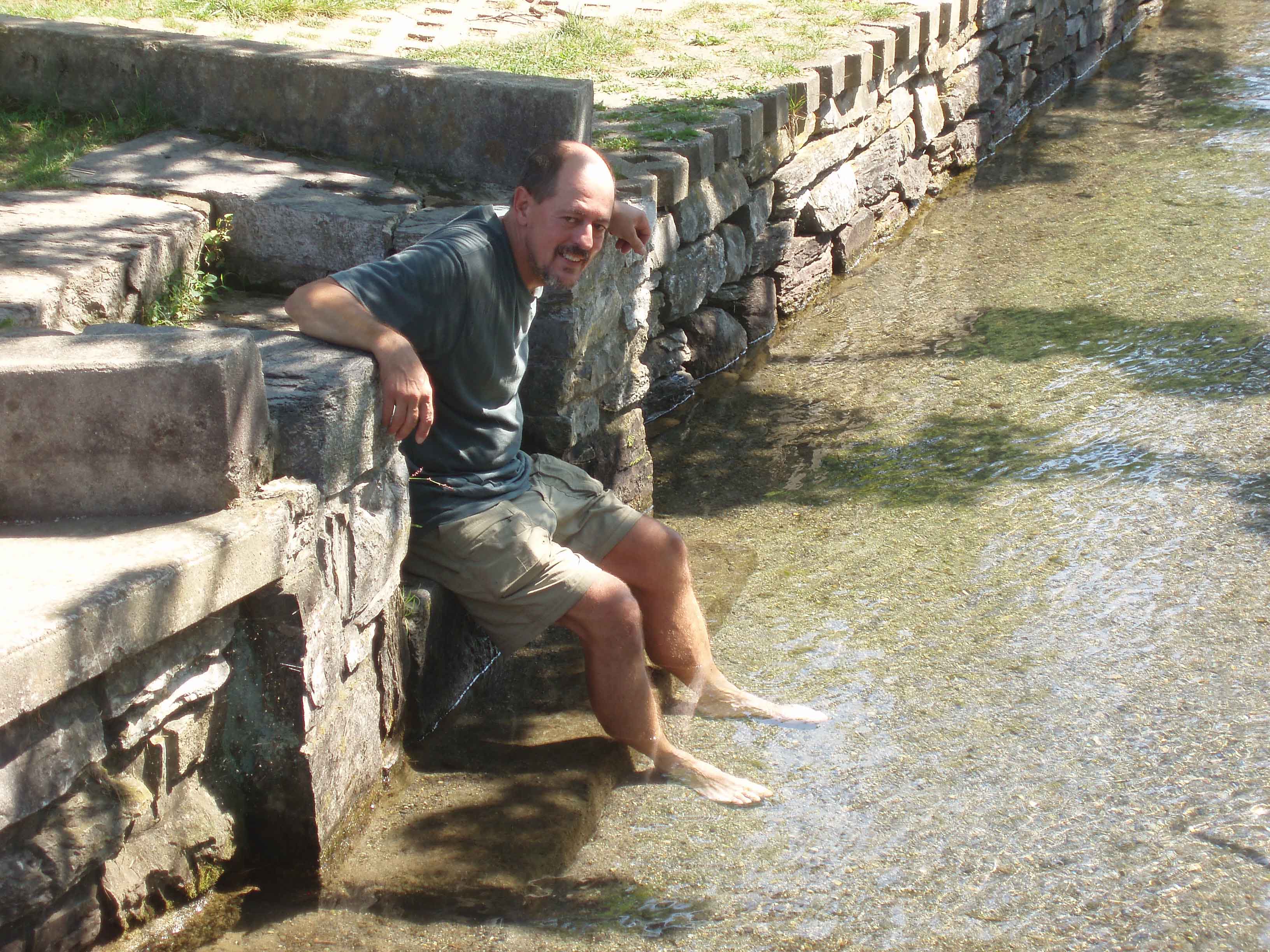 End of the Trail Last Mountain Feet in the spring.
Conclusion:
I am not sure if I can ever explain the emotions that I was feeling as I signed the log book in Boiling Springs. On one hand I was relieved that the hike was over and that I had achieved my goal of 100 miles. On the other hand I was very sad that the journey was over. I really don't know which emotion was the strongest. This was without a doubt the most physically demanding effort I had ever attempted.
Aside from having only one different letter, hiking and biking (the motorized version) have a few things in common. Specifically, both allow one to feel a great sense of freedom. Tina asked me if I would look at the mountains differently now that I had walked 100 miles in them. The answer is yes. I used to look at the mountains and wonder what was up there. Now I know what is up there and I look forward to going back.
Advise:
If anyone is considering a long distance hike I would certainly suggest that unless you are in outstanding physical condition, train, train, train. Also do a fair amount of training with the pack that you are going to be using. Keep your pack as light as possible. You will be surprised what a difference 5 pounds can make. Find someone to hike with you if you can. It only takes a little miss-step with a heavy pack and tired legs to twist or break an ankle. When you hike take lots of breaks to avoid becoming fatigued. Fill your water bottles whenever you find water. Take the time to smell the roses. Also don't forget to look from where you came as the view will be different (thanks to Tina for that suggestion).
Footprints
Updated: 03/29/2013 09:00:39
---