The State of New York Stock Transfer Tax stamp

- Album Pages for sale -
CLICK HERE TO RETURN TO THE MAIN PAGE

After not being able to locate any similar album pages like these, I decided to make them myself. If you are a collector of state revenues and enjoy the challenge of the NY Stock Transfer Tax series then these pages are for you. (Thanks to all of you who have purchased these pages already - showing me that there certainly is even more interest in this project than I initially thought! I originally thought I would sell a dozen or more of these sets of album pages and instead it's been over a hundred and still counting; and I really did think that there would be just a few people interested!)
- They are based on the "2007 State Revenue Society - State Revenue Stamps Catalog" and are listed chronologically by the "2007 SRS State Revenue Stamps Catalog" number and denomination. Like any other album, these pages alone won't be enough to identify every stamp. A SRS '07 catalog or other reference source will help out in doing that. There are many places where I have provided a close-up detail of a specific corner or numeral to assist you in spotting a difference (look at the photos below), but not every single one has that "zoom" image. (Note - these are not based on the 2013 catalog which has renumbering involved.)
- Each tax stamp is fully displayed at roughly 80% of the regular size. No blank boxes are used. (Now, keep in mind that I am a stamp-album-making amateur assembling this at home so many of the images displayed are scans of used revenue stamps in my collection so don't expect all of them to be "Mint" images. However, NOT ONE has a "killer cancel" on it that is heavy enough as to make the stamp unrecognizable.)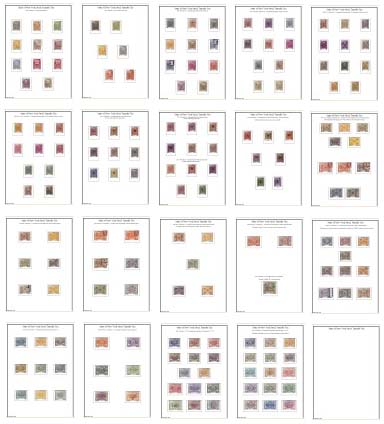 - They are available in full color or standard black and white. The price is the same for either one. (Price is at the very bottom of this page.)
- There are 22 pages total which include 19 pages of "State Revenue Society - State Revenue Stamps Catalog" identified NY Stock Transfer Tax stamps (170 main identified types) and also 3 blank matching pages with title and border only so you can put them wherever you would like for any other sub-varieties, notes, cover page, whatever you would like to use them for.
- Extra space has been intentionally left on certain pages of the older issues for known color variants. Use the space if you'd like, or just stick to the defined boxes only.
- These pages are made from standard size (8 1/2" W x 11" H) acid-free and lignin-free heavy card stock natural parchment look paper which has a solid lifetime look and feel.
- I would be happy to 3-hole punch the pages for you or I will leave them intact as-is for you to hole punch yourself with 2, 3, or 4 holes depending on how YOUR album is assembled.
- One more caveat so we are on the same page. Yes, these are printed at home so the images of the stamps may not be the crystal-clear ones from a nationally produced album made by the thousands. Just check out the samples below and I think you'll agree that they do look pretty darn good.
Click on either of the photos below for a much larger view of the samples.
Standard Black and White pages: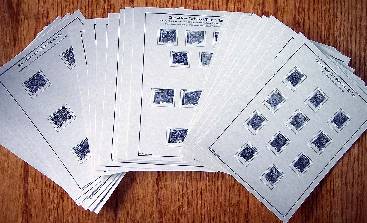 If you would like to assemble your own album for this NY revenue series you always have that option. Can you do it for about 60¢ per page? Do you have the graphics know-how? Would it really be worth your time?
That's what I'm asking for this for either the Full Color version or the Black and White version - your choice, same price. $13.00
$13.00 for all 22 cardstock pages mailed right to you and that INCLUDES the price for postage (inside the U.S.). If you do the math and subtract the (significant) paper price, the ink, and the postage for about $6 you can see that I'm not doing this to make money. I just want to help out anyone else out there who also enjoys this series of state revenues or has played with the idea of beginning a collection of them.
Interested? email me @ - kurt.d.lange@gmail.com and we can work out the details for payment, etc. Cash, Check, Money Order, and PayPal are all accepted. Just make sure to email first so we can sort through the specifics before anyone sends anything. Note that these are 2007 catalog based (not the renumbered 2013 catalog.) And, yes, sometimes life gets in the way so a little patience would be wonderful if I don't get back to you right away. Thanks!! And I sometimes get the question if these are still for sale...Update for 2022: YES, I am still actively selling these album pages. Enjoy!
Your checklist:
* payment method
* color or black and white
* leave it as-is or make it 3-hole punched?
* your mailing address