Brig Gen Walfried H Fromhold
1907-1996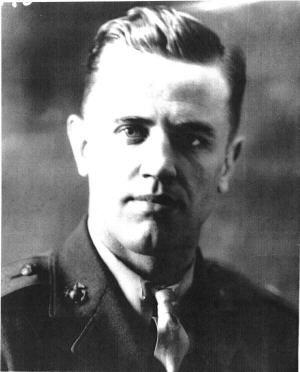 Brig Gen Walfried H Fromhold was a distant cousin. In fact, he was a sixth cousin to my father, Raymond A P Fromholt. Their common ancestor being Johann Henirich Fromhold, born in 1689 in Krauthiem/Jagst, and died in 1772 in Krauthiem/Jagst. His grandfather, Primus Walfried Fromhold, was born in Krautheim and immigrated to the United States, eventually settling in Kansas City, Missouri. Walfired H Fromhold's father Alphonse Fromhold was born in Kansas City, and lived for a time on the east coast before moving back to Kansas City and then on to California where he died in 1964. The following was a brief biography which I recieved 12.04.05 from the archives of the United States Marine Corp, written in 1949 after his retirement. The picture at left is of him as a 2nd Lieutenent, taken 7 April, 1931.



---
Brigadier General Walfried H Fromhold, USMC (Retired), commanded the Twenty-second Marine Regiment from August, 1943 until September, 1944, leading that unit in combat at Enitwetok Atoll, Marshall Islands, and at Guam as part of the First Provisional Marine Brigade.
For his services during the assault and capture of Eniwetok Atoll he received the Silver Star Medal, and was awarded the Bronze Star Medal for the action during the recapture of Guam.
General Fromhold, who retired from active duty on January 1, 1949, and who was advanced to his present rank for having been specially commended for the performance of duty in actual combat at the time of his retirement, began his naval career as an apprentice seaman in January, 1925. He was discharged from the U. S. Navy to accept an appointment to the U. S. Naval Academy at Annapolis, Maryland in June, 1926.
Born in New York, New York on August 23, 1907, General Fromhold embarked on his career as a Marine Officer upon graduation from the Academy in June, 1930, at which time he was appointed a second lieutenant.
He was ordered to the Basic School at Philadelphia in July, 1930, and upon completion of his studies he was transferred to the Marine Barracks, Quanitco, Virginia. Reporting in July, 1931, he served variously as a rifle range officer and as a company officer with the First Marines.
Ordered to the Naval Air Station, Hampton Roads, Norfolk, Virginia for aviation duty and elimination flight training in January, 1932, the following month he returned to Quantico as a student with Marine Observation Squadron Six, then attached to the East Coast Expeditionary Forces. March, 1932 saw the General at the Naval Air Station, Pensacola, Florida, where he remained as a student in flight training until August, 1932.
At that time he was detached to his first tour of expeditionary duty, to the Fourth Marines in Shanghai, China, arriving aboard the USS Henderson in September of that year. It was while on this duty that he received his promotion to first lieutenant with rank from May 29, 1934.
Returning to the United States via Manila, Phillippine Islands aboard the USS President Grant, General Fromhold next was assigned duty at the Marine Corps Base, Naval Operating Base, San Diego, California, where he served first as a company commander in the Second Battalion, Sixth Marines, and later as Battalion Quartermaster.
Reporting to Quantico for the third time in his career in June, 1937, he became a student in the Junior Course, Marine Corps School. While undergoing instruction he was advanced to captain on June 30, 1937. In June of the following year he was assigned to the staff of the Basic School at Philadelphia Navy yard as an instructor.
The next chapter in his colorful and varied career was that of a "sea soldier" on board the USS Mississippi, serving as Commanding Officer, Marine Detachment. Following the outbreak of World War II, however, he transferred ashore to the Marine Barracks, Norfolk Navy Yard, Portsmouth, Virginia, where for a short time he served as Commanding Officer, Second Guard Company. It was while on this duty that he was promoted to major on January 6, 1942.
The General was ordered to Marine Corps Headquarters in March, 1942 for temporary duty, upon the completion of which he was ordered to the Marine Corps Base, San Diego, where he was assigned to the Third Marine Brigade. With that unit he sailed for Tutuila, American Samoa, and following the unitís change in designation to the Defense Forces, Samoa, he became its Executive Officer.
General Fromhold received his advancement to lieutenant colonel in August, 1942. When the unitís title was again changed, this time to the Eighth Defense Battalion, he remained Executive Officer.
He joined the Twenty-second Marines in Samoa as Commanding Officer, First Battalion in August, 1943 and in November, that year, sailed for Maui, T. H. with his organization. Action against enemy Japanese at Enewetok in February, 1944 preceded the unitís duty as garrison troops for recently captured Kwanjalein Atoll, also in the Marshall Islands. Following the recapture of Guam, he departed with his unit for Guadalcanal where the Twenty-second Marines became part of the newly-formed Sixth Marine Division under the command of Major General Lemuel C. Shepherd Jr.
Ordered to the United States in late September, 1944, he reported to the Marine Barracks, Klamath Falls, Oregon, after a brief stay at the U. S. Naval Hospital at Oakland, California. He later became Troop Commanding Officer at Klamath Falls.
General Fromhold served at Marine Corps Headquarters in the Division of Reserve from February, 1945 to July, 1948, at which time he was ordered to his last duty station, the Fleet Marine Force, Western Pacific. He was appointed colonel in February, 1948 with rank from August, 1947. He served as Commanding Officer, Headquarters and Service Battalion in Tsingtao from August 13, 1948 until his return to the United States prior to his retirement following more than twenty years active duty with the Navy and Marine Corps.
In addition to the Silver Star Medal and the Bronze Star Medal, General Fromhold holds the Navy Unit Commendation, Guam, 1944; Yangtze Service Medal, China, 1932; Expeditionary Medal, China, 1933-34; American Defense Service Medal with Fleet Clasp, USS Mississippi, 1939-41; Asiatic-Pacific Campaign Medal with two Bronze Stars; American Campaign Medal, 1941-42 and 44-46; World War II Victory Medal; and the China Service Medal, China 1948.
Written by SSgt Capozzoli, December, 1949
---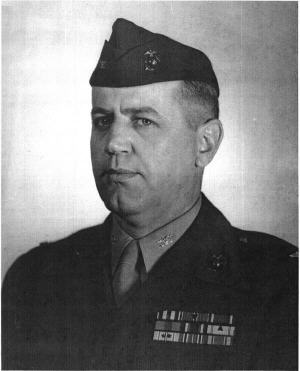 The pictue shown here was taken 5 May, 1948, while he held the rank of Colonel.


















I have been in contact with his daughter, and there may be more to add in the future.