Welcome to Our New Website!
Estate of Mind is a family owned business specializing in all types of liquidation sales. We know how to sort, organize, and declutter so you don't have to. Need to empty a neglected storage unit? Clean out the attic? We are the ones to call. We can price items and hold a sale or help you donate to a charity. Need to downsize before you move? That's our specialty. Read about all our services below...
Estate Sales: Less stressful than an auction; we can organize, value, price and tag your items for an estate sale. We can even arrange for unsold items to be picked up after the sale and donated to the charity of your choice.

Organization: If the clutter in your home is too much to handle, we can help. No amount of items is too big or too small. We work at your pace to decide what to keep, sell or store for future use.

Garage Sales:If the neighborhood is holding a sale and you just don't have time to get ready, give us a call. We can sort, price, and tag your items for you. You'll be ready to open the garage and start selling!

Staging: Every realtor will tell you that "Less is More" when it comes to selling your home. We can help. Whether you need a simple interior redesign or a major decluttering. We can do the work for you and be ready for a beautiful "Open House".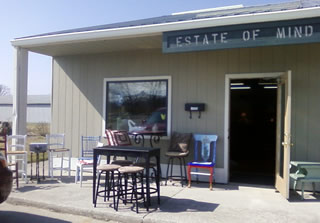 14505 Lima Road , Next to the Rain's Place!
Amazing Furniture at reasonable prices!
Items that don't sell right away might end up at our shop in Huntertown. We are open three days a week, right when the garage sale crowd is out and about. Stop by to see what's new this week.
The Clearance Corner has new items every week at rock bottom prices!
Adding new Merchandise all the time !
We buy items too!
Photos on the Wall show items currently in the store.

News from the shop....

We bought another estate and our store is too full to move around!
You can reap the benefits! Excellent prices on some amazing items.
-Pam