Family Tree
The name "Danner" is believe to be originated from Germany and it means "dweller at, or near a fir tree".
Here is the Danner's Coat of Arms taken from "The World Book of Danners" published by Halbert's Family Heritage: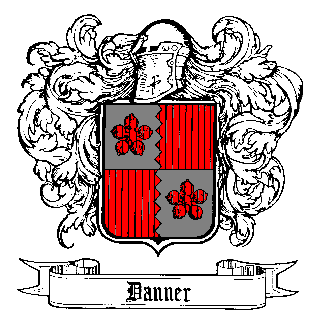 To do family history, it is a good idea to have some kind of computer program to allows a person to organize their family history records. The Personal Ancestry File (PAF) can produce, either on screen or on paper, family histories, pedigree charts, family group records, and other reports to help users in their search for missing ancestors. There are several other genealogy applications that can be useful too. The PAF and Personal Ancestry File Companion are free programs which can be downloaded from www.ldscatalog.com or www.familysearch.org .
I am willing to share my PAF file for those who do have their own genealogy application on their computer. I hope for those who also are doing family history, please share their results with me and others. We also are human and we can make errors when doing research. Hopefully the communication among us will help us to eliminate any possible errors. In some cases, very little data is available and sometimes a logical speculation needs to take place to make the connection on our family lines.
The best way to view genealogy information such as pedigree lines and family group sheets, it is best to use a genealogy program. For those who do not have a genealogy program, here is the web link or click on the right symbol of a tree to view some of the work being done on my family lines. There are some drawbacks to this method, the information could be outdated since this is an ongoing project. In my research, I keep adding names and make corrections as I go along. The information on these web pages does not get updated automatically and to get the most current information, it is best to get the current GEDCOM file from me via e-mail and download it into your genealogy program. To look at the family group sheets online, the computer user will need Acrobat Reader which can obtain from www.adobe.com .
For newcomers in family history, my file can give you an excellent start. My data from my PAF file can be exported into a GEDCOM file format which can be imported into your application To obtain this file, please send me an e-mail and I will send this file as an attachment when I respond back to you. To protect the confidentiality or prevent identity theft of the living Danner individual, only the names are given. In other words, if a person is alive, then the birth date, birth place and marriage information are not shown.

If you are a newcomer to family history and would like to get started, the best advice I can give is to visit a local Family History Center that is supported by Church of Jesus Christ of Latter Day Saints. Both members and non-members are welcome to use their facility. In these centers, there are a lot of materials and assistance that can be given to those who want to start. Please be patient with yourself when taking on such an endeavor because it can be overwhelming and it takes perseverance to see results or rewards. The church puts out a website, www.familysearch.org which will give you a location of the nearest Family History Center and genealogy information.

›
Home
›
Bruce Danner
›
Stories
›
Pictures
› Past Newsletters

› Recipes

› E-Mail

Family Tree