The State of New York Stock Transfer Tax stamp
(dial-up / slower bandwidth version)
Use this NAVIGATION BAR to switch pages - Intro | 1905 (1) | 1905 (2) | 1906 | 1907 | 1908 | 1914 (1) | 1914 (2) | 1914 (3) | 1915 | 1916 (1) | 1916 (2) | 1922 | 1929 | 1930 | 1932 | 1936 | 1943 | 1943 (2) | 1943 (3) | 1975 Bond
- Different Styles of Stamped and Punched cancellations -- Attached Multiples - Mint and Used -- Perfins on Memorandums -- Used on Stock Certificates -

- CLICK HERE TO RETURN TO THE HIGHER BANDWIDTH "FULL PAGE" VERSION -
- ALBUM PAGES FOR SALE HERE -
---
Not all stamps were used for postage. These tax stamps (or revenue stamps or fiscal stamps) were used to pay tax imposed by New York due to the Stock Transfer Stamp Tax of 1905 which taxed the sales of corporate stocks and certificates. This threatened the movement of the Wall Street financial center over to New Jersey, but that never materialized (see image below). This tax lasted until 1981 although the use of the actual stamps ended much earlier. These stamps are considered "State Revenues" so you won't find them listed in a standard Scott Catalog. These were issued by New York State, not by the federal government.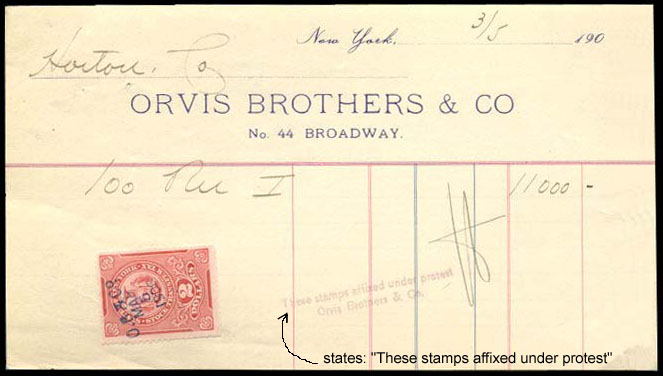 Most of the main varieties are displayed here on the following pages (but there are many more sub-varieties.) Some of the differences: 19 denominations, 3 design styles (with more variations than you can imagine), 5 styles of "overprint" ink (in multiple colors), and at least 6 perforation varieties.
This is an ongoing project so there will be constant changes to this page as it evolves. I would like to publicly thank Ken Pruess whose help was invaluable in the making and refining of this page. Make sure to check back again later - Thanks for stopping by!
THEY ARE HERE!!! - I am now offering album pages for sale for this series - Read all about them here.