This is a free ride of about 45 miles around north-central Ohio. A map is provided, but NO other services are provided. NO sag wagon, NO snack stops, NO closed course, NO first aid cars, NO food. Get the idea? Then come prepared! The riders usually stop at the Malabar Inn for lunch. This ride is an old-fashioned self-sufficient ride where riders are expected to be prepared to handle any problem themselves.
$1 donation accepted for Ohio Bicycling Federation to cover calendar printing.
The ride goes through the Mohican State Forest and past Malabar Farm. 
THIS IS A HILLY RIDE. MAKE SURE YOU ARE IN SHAPE TO HANDLE THE HILLS. 
BE PREPARED TO TAKE CARE OF YOURSELF IF YOU COME TO THIS RIDE!
Attendance is usually between 5 and 20 depending on the weather. You will be riding on public roads that day and there is no liability at all assumed by anyone assisting with this ride. Be prepared, ride safely, and enjoy the day.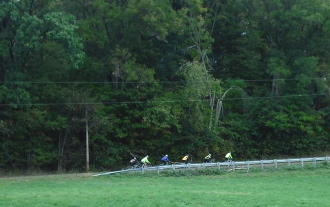 Six of the seven riders head up the foothills
of "Mt. Moffet" from Pleasant Hill Road.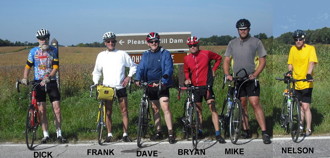 The six riders on MORON 2011 pose after conquering
one of the more difficult climbs of the day.