Updated July 29, 2015
<![if !vml]>

<![endif]>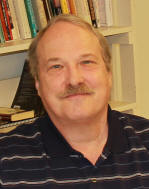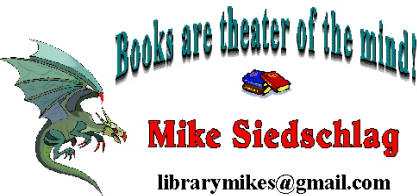 Check Out My Blog!
https://plus.google.com/115877774584985427255/about
https://mikestheaterofthemind.blogspot.com
My blog began July 27, 2015. I received many requests to have one because of the book reviews I give on http://www.goodreads.com.
My webpage is still a work in progress, but slowly but surely it's getting done.
For any comments and questions, please e-mail me at librarymikes@gmail.com
My name is Mike Siedschlag and this is my page. I love books! I love collecting books! I love talking about books!
This page is to share with you my books and hopefully you share your books with me. I'm trying to figure out the most efficient and entertaining way to do this.
Sorry, this is taking so long to construct. However, go to http://www.goodreads.com and sign up to be my friend. I am currently using this website for all my book enjoyment. I have reviewed many of the books I have read there. This is also the same for Sonya Siedschlag.
If you don't know about http://www.goodreads.com, it's a great place to find new authors, read and write reviews, inventory the books you've read, and/or see what your friends are reading. This website is about books, books, and more books. It doesn't sell books! It may take you to where you can purchase one, but that would be your choice. The website does keep track of what books you've read and may introduce you to new books you may be interested in based on your past choices. Sonya and I find it a great website.
Currently, I have found a place in http://www.goodreads.com to win books through free drawings. Since February 2015, I have won many books. The purpose of these giveaways is to introduce new authors and new books. Although not required, the hope is that the reader will give honest reviews which help the authors gain recognition and increase their following. I'm amazed at how many good new authors I have found this way. The best part is, the more reviews you write, the better your chances are to win subsequent drawings. They literally give away thousands of books! Since I only enter drawings for books that truly interest me, I'm rarely disappointed in the books I do win. I am in Happy Book Land! My library is increasing by the week.
As for this site, I plan to start listing the books in my personal library. It's in the neighborhood of 3000 books so it appears to be an overwhelming task, not something I can do in one sitting. I guess I have to just bite the bullet and start.
Regarding Memoirs of a Simple German Girl by Sonya Siedschlag, check out:
https://www.goodreads.com/book/show/23006546-memoirs-of-a-simple-german-girl - Shows some reviews.
www.lulu.com/shop/sonya-siedschlag/memoirs-of-a-simple-german-girl-public/paperback/product-21772773.html - Can review my book and/or purchase a copy.
http://www.lulu.com/spotlight/sonyasiedschlag - A spotlight in Lulu.com's website under my books.
www.amazon.com/Memoirs-Simple-German-Girl-Public/dp/1312311681 - Can review my book or purchase a copy.
https://itunes.apple.com/us/book/memoirs-simple-german-girl/id938981596?mt=11 - Can review my e-book and/or purchase it.
There are various other online bookstores that sell my book too.
If you are interested in purchasing a copy, please check out Lulu.com's specials. Go to http://www.retailmenot.com/view/lulu.com. Sometimes their specials are better than Amazon.
As in most websites, I believe you need to sign up in order to view content and participate. For your information, I have never had any problems regarding security in any of the websites mentioned. They are there strictly for book sales, information, etc. Unless you request their newsletter and specials, that's it. My junk box stuff doesn't increase because of them, at least not to my knowledge and experience.
Mike Siedschlag
---
---
Mike Siedschlag
Copyright © 2014 [librarymikes@gmail.com]. All rights reserved.
Revised: 07/29/15.