Dedicated to Amateur HF Digital Radio
This web site was established in 1996 to provide a resource for, and to promote the use of, digital communications on the amateur HF radio bands. Feel free to provide input and feed-back to NB6Z.
Search the BUCKMASTER CD Data Base
Now Serving since October 2001: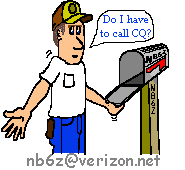 Please feel free to drop me an email...
Make NB6Z a BookMark in your browser and visit often!
A live picture from BEAVERTON, OR.
If you are curious about me, CLICK HERE for a recent picture of me at the controls of NB6Z.