The early pioneers, who moved to Chester Township, first had to build homes, then clear land. The average price for land was $1.25 per acre. Most of these early settlers established farms and raised crops and livestock for a living. Clearing the land and preparing it for crop production was not an easy task. The first survey conducted in Chester Township in 1839 stated that the township was "heavily wooded." In addition to being heavily wooded, much of the low land contained swamps and bogs. The soils varied from sandy loam to clay.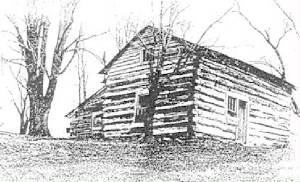 The Irish Family's Original Log Cabin
The earliest farm houses in the township were constructed of the logs felled on site. Most log homes had only one room as the living area. Another room often was added to the back or side to keep livestock and other supplies. Gradually, as more land was cleared, cut logs could be sold or sawn into lumber to build a larger, more traditional home. Barns were constructed completely by hand. Neighbors would gather together to have a "barn raising."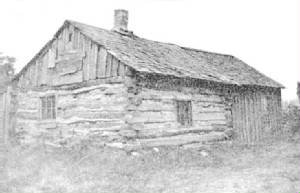 Early Log Cabin with Addition on the Right Side*
At his golden wedding anniversary celebration in 1902, John McNitt told the following story about his family's move to Michigan and the struggle to establish a productive farm.
"In the year 1854, we moved to Michigan. At that time there were no railroads, part of the way was wilderness and the way was mud and bad roads. The distance was 300 miles.
In November we bought eighty acres of wild land and cut a road one mile to the land. On November 15, we moved into a shanty built by myself and two men in two days. The snow was 20 inches deep at the time. I traded my team and two cows and gave my note to complete the deal.
Thirty dollars in debt, nothing to eat, no work, I did not know where the money was coming from. There was no work except in the lumber woods, and a wife so timid that I could not leave home. I said to my wife that when I was a boy I saw a man make baskets and believed I could do the same, and after a few trials I could make a fair basket. I exchanged baskets with my neighbors for corn and potatoes, and axe handles for groceries, and we wintered. The next season, I worked in haying and harvesting and paid my note.
In the winter I had chopped some timber but the spring found the land too wet. I could not clear it. I planted my corn and potatoes among the brush. In the fall I logged a small place but couldn't burn the logs as it was too wet, so I sowed my wheat among the logs. I sowed two bushel and harvested twenty-seven bushel, so had more wheat than I needed for my bread that year."*
Most early farm families grew simple crops such as wheat, corn, and potatoes. Many raised some livestock – cattle, chickens, hogs, and sheep. Along the "ridge" areas of the township, farmers were successful in raising fruit – apples, cherries, peaches and pears. Every farm family had at least one horse, usually two or three. Horses and oxen were used for transportation, hauling logs, delivering crops to market, and cultivating the fields.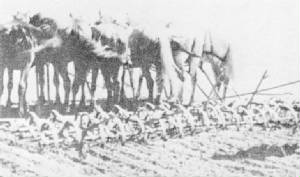 William Finkler, Sr. with his 6 Horse Hitch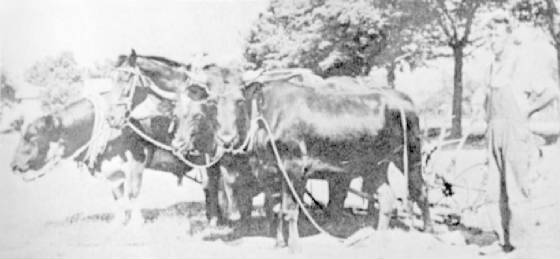 Owen Emmons with his Team of 3 Oxen & 1 Horse
Every member of the family worked on the farm. Husbands, wives and older children all worked in the fields. Women and children usually tended to the livestock. Women and older girls did the cooking and preserving of food. Women and children raised garden crops to supplement their food supply.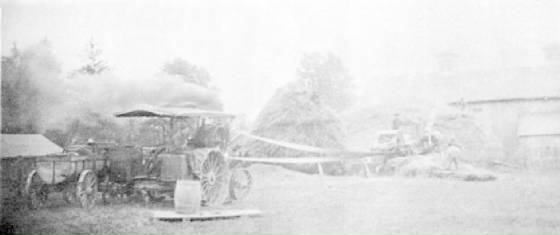 Thrashing Wheat on the Irish Farm
As farm machinery became more mechanized, more land could be worked and the production per acre increased. With the coming of the railroads to the township, it was easier to transport crops and livestock to more distant and populous markets, such as Grand Rapids and Muskegon. Rural Free Delivery, RFD, brought catalogs to farm homes and allowed families to "mail order" needed farm equipment, supplies and goods that could not be obtained locally.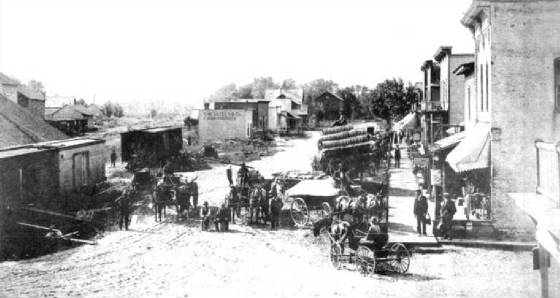 Three Farmers Waiting to Load Their Peaches onto the Train in Conklin.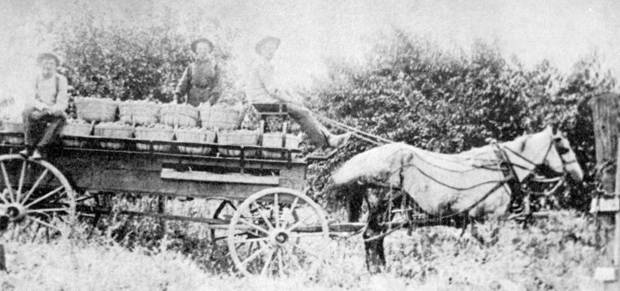 Conrand & Martin Kraft, with Hired Man, Jim Preston, with Load of Peaches
In 1860, over 85% of Michigan's population earned their living by farming. A hundred years later, in 1960, less than 26% made an income from farming and many of these also held jobs off the farm at least part of the year.** Chester Township continues to go against this trend, as the primary industry in the township is still agriculture. Crops raised in Chester Township today include: apples, asparagus, beef and dairy cattle, cherries, corn, hay, hogs, oats, peaches, soy beans, sweet corn, tomatoes, and wheat. The average price for land has risen to $3,500 per acre.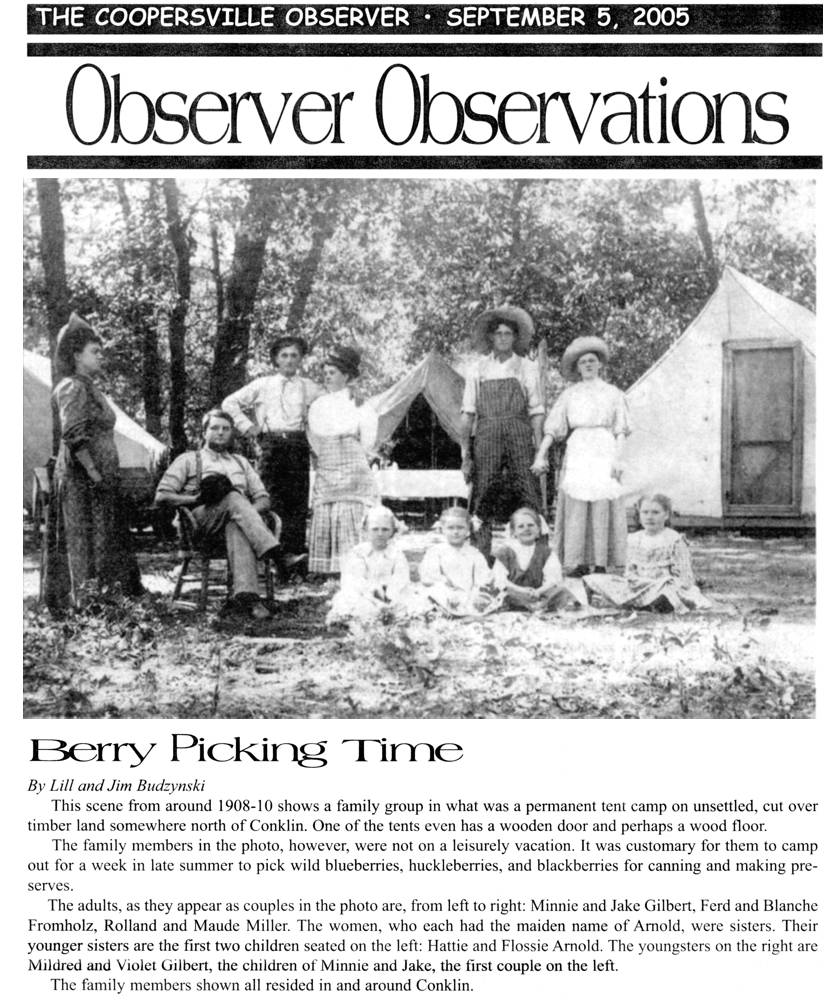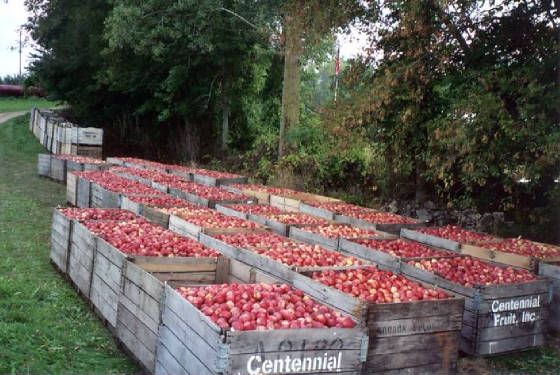 Apples Waiting in the Orchard, 2004 - Flag at Township Hall in Background.
*Top Of The County, compiled by the Bicentennial Heritage Committee, A & A Affiliates, Inc., Grand Rapids, Michigan, 1976

**Michigan State University, http://www.geo.msu.edu/geo333/ag_history.htm