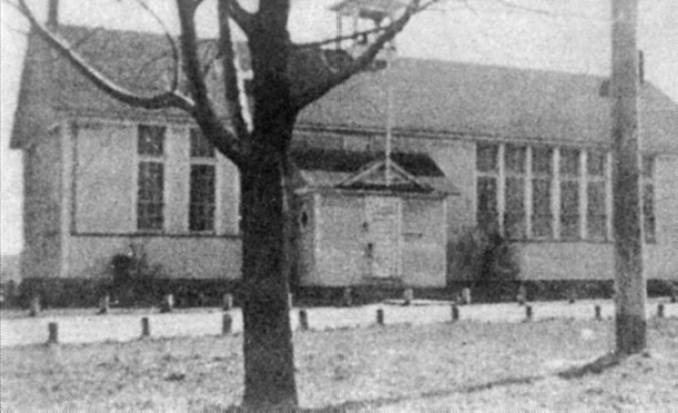 Conklin School circa 1940
The first school serving the area near the present village of Conklin was a one room log structure, built in approximately 1848 and located on the southeast corner of Harding Street and 40th Avenue. With the coming of the railroad and the establishment of the village of Conklin, the log school could no longer accommodate the growing number of students.
Solon Daggett donated land across 40th Avenue from the log school and a new school was constructed. The school was then called Daggett School. Originally consisting of just one room, a second room was added some years later and finally a third room was also added. Beulah Fitebett-Nostrant taught the first classes in the new school. Kate T Kelly taught the first classes in the newly added second room.
When this school became too crowded and difficult to maintain, a new four-room school was built on Sehler Street, just east of the village of Conklin. The old school building and property were purchased and used as farm storage. The building burned in 2003.
In the beginning, the school taught children from Grades 1 – 10. Grades 9 and 10 were considered high school. Later, the school taught grades kindergarten – 8th. Students attended either Coopersville or Ravenna for high school.
Conklin
School District
annexed to Coopersville Area Public Schools (CAPS) in 1968. CAPS operated the school, grades 1-4, for several years after the annexation. The building was empty for several years, then it was leased to Telamon Corporation for use as a migrant headstart center. In 2005, CAPS sold the building and property to Telamon.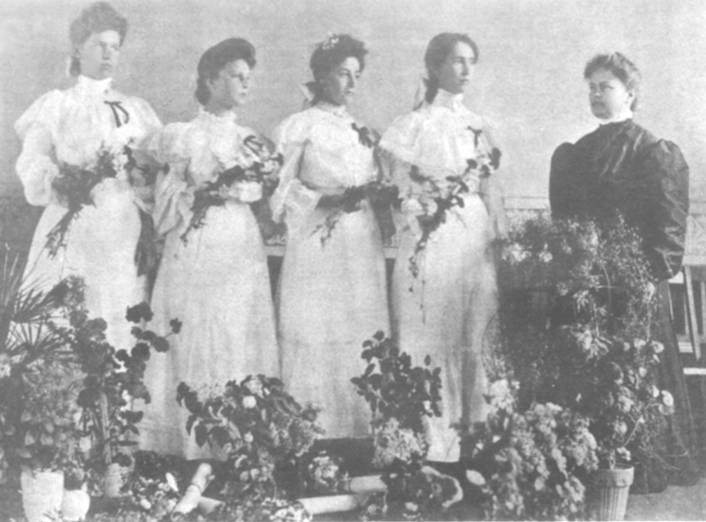 Conklin High School's First Graduating Class - 1908
The first graduating class of Conklin High School finished their tenth, and final year, of studies in 1908. The graduates are, from left to right, Delia Gillhespy (Seelman), Mary Boozer (Brown), Kate Kelly, and Clara Doane (Rhodes). Their principal, Mrs. Frarey, is on the far right.

Conklin School Students, 1924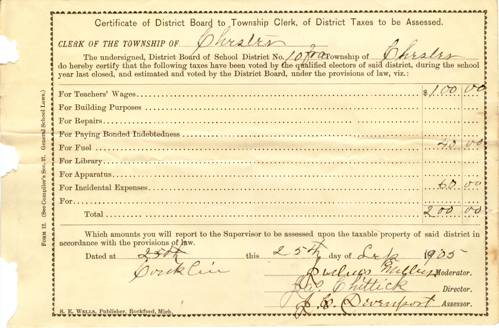 1905 Tax Statement from Conklin School to Chester Township
In 1905, when this tax statement was prepared, Conklin School was considered to be District #10. At that time, the township considered the portion of the Casnovia Township school district that extended into the northeast corner of Chester Township to be District #2. This was later changed and Conklin School became District #2.
Click on the links below to see the 1948 Conklin School Yearbook and the 1923 Conklin High School Graduation Program.