In 1845, John Pintler and his family blazed a trail through the wilderness and arrived at the site of what was to become the village of Lisbon. Curtis A. Pintler, son of John, was the first white, male child born there on November 3, 1847.
In 1846, using John Pintler's homestead as a starting point, Samuel Free and John Brooks began a survey for a public road between Newaygo, to the north, and Grand Rapids, to the south. Mr. Pintler assisted, in his locality, with the felling of trees and clearing of brush in preparation for the construction of the road. Mr. Pintler ran an inn at this location for three years.
The village of Lisbon, originally called Pintler's Corners, developed in the area of John Pintler's original homestead, located around the intersection of 12 Mile Road/Coolidge and Kenowa Avenue. Like Gooding, Lisbon was located in both Sparta Township, Kent County and Chester Township, Ottawa County.
Chester Township's first post office was established at Pintler's Corners December 21, 1847. John Pintler became the first Postmaster. A few years later, a relay station was established for the Grand Rapids and Big Rapids Coach Lines where people could transfer to the Muskegon Line.
The name of the community and the post office were changed to Lisbon on November 21, 1859 when it became an incorporated village. Lisbon was the only incorporated village in Chester Township. In 1904 an election was held and it was decided to vacate the village's charter.
Click here to view an 1876 plat description of the Village of Lisbon with original signers.
Click here to view a 1912 Lisbon Plat Map.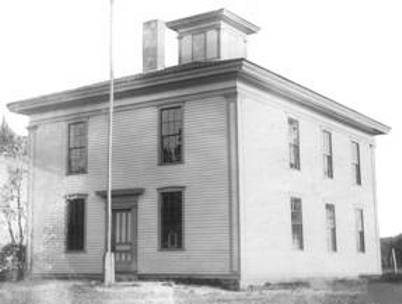 Lisbon School
At it's peak, the village boasted a population of over 350 people and was comprised of 26 buildings. Some of the businesses that prospered in Lisbon were: apple-packing plant, barrel and basket making factory, blacksmith and machinist's shop, carpenter's shop, doctor's office, drug store, dry goods store, flour mill, general store, hardware store, insurance ageny, sawmill and steam thresher works, three story hotel, and wagonmaker's shop.
A two story frame school was built in 1871 at a cost of $2,700. At one time it housed 150 students and three teachers. A Methodist church was built in 1864 and a Baptist church was built a short time later.
Because of Lisbon's location on the township and county line and the practice of locating the post office in the business of the current postmaster, it moved between Kent and Ottawa counties at least five times. When the Toledo, Saginaw and Muskegon (TS&M) railroad laid its track through Gooding, one mile to the north, in 1888, Lisbon began a slow decline. The post office was finally closed in 1925. Many of the businesses closed or moved to more lucrative locations.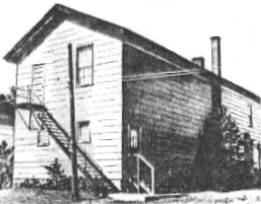 Masonic Temple, Lisbon, Michigan
The only historic building remaining in the former village is the Masonic Temple, located on the west side of Kenowa.