About Fantazsa Vizslas
Inspiration
Although Vizslas had been in the US since the 1950's, it was half-way around the world in England that I met the Vizsla who inspired me to get one of my own. While visiting Sratford-on-Avon, I dogsat a wonderful character named Kiraly. His breeder was Louise Petrie-Hay and he was a grandson of Sh Ch Futaki Lazslo, an import to the U.K. from Chauncey Smith in the U.S.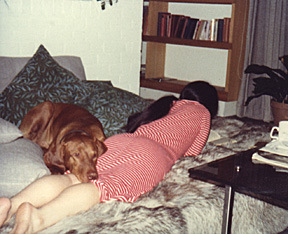 Beginnings
A few months after my return from Europe, I got my first Vizsla. Sobaka was a pistol - A typical, high-energy Vizsla who soon destroyed the house. She ate the arms of chairs and chewed holes in the curtains. Lesson 1: A bored Vizsla left alone is a weapon of mass destruction!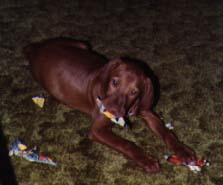 Sobaka, American & Canadian CD
Sobaka took me to obedience classes. She was exceptionally intelligent and quite a challenge for a newcomer to obedience training. Meanwhile, Sobaka was busy tearing the house up, so we decided to get her a companion. Sobaka was joined by an engaging young pup named Fang.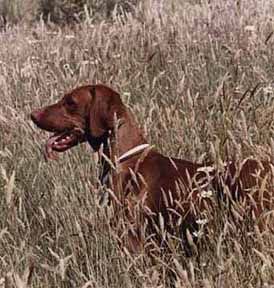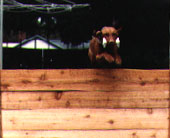 Vot Zdorova Fantazija CD
First Litter, First Champions
Fang was the polar opposite of Sobaka. Easy-going and mellow, Fang was the foundation bitch of Fantazsa Vizslas with her 2 litters, which included 5 show champions, several personal gun dogs and all of them cherished family companions. Her first litter was born in 1982, producing our first home-bred champions, CH Fantazsa's Classic Magenta and her litterbrother American & Canadian CH Fantazsa's Rebel of Robles. Magenta and I had fun in the show ring and in the field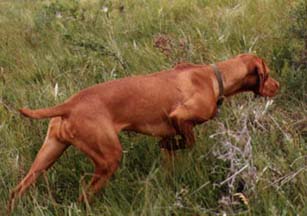 A Legacy
George Yamamoto and Bob Foster acquired Vizslas in the 1950's, and were the first Vizsla owners in Washington State, as well as pioneers of the breed in this country. I'll always be grateful for the stories they shared with me and their words of wisdom. They are both gone now, but left an indelible impression on me.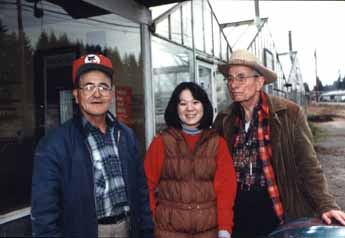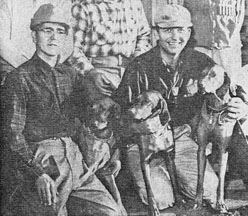 George Yamamoto & Donald Douglas Jr. of Douglas Aircraft, hunting with their Vizslas, Nikki, Sally & Lucky, in Eastern Washington in 1959.
George Yamamoto acquired Nikki of Bayview from Dr. I.S. Osborn in 1955. Nikki was "a once in a lifetime dog," remembers George of his dog's outstanding field ability. She swept the Puppy & Derby classes in the first Maygar Vizsla Club of America field trial in Fort Snelling, MN in May 1956. George was also the breeder of Ch. Nikki's Arco HOF, one of Nikki's pups who also excelled in the field.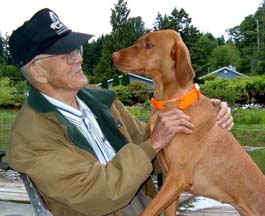 June 2007
George shares a moment with Diva, who traces her lineage
back to Nikki on her dam's side.
Bob Foster and CH Nikki's Arco HOF, Late 1950's-60's

Our friend Bob Foster was the first Vizsla owner in Washington state, and an avid hunter, trainer & competitor in the field. Bob handled Nikki of Bayview to her celebrated Puppy & Derby wins in 1956. His dog Ch Nikki's Arco HOF was a son of Nikki born in 1957, and also a talented dog in the field and an early foundation sire of the breed.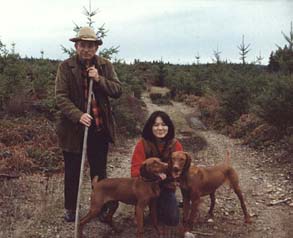 With Bob and 2 pups from my first litter,
Fantazsa's Kis Csillag & CH Fantazsa's Classic Magenta
Bob took an interest in my dogs as they were descendants of Nikki & Arco, and bestowed upon us Arco's famous wetsuit, which he had made out of scuba-diving rubber so Arco could hunt duck in the winter.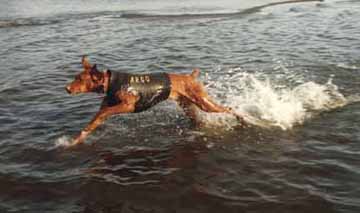 Vot Zdorova Fantazija C.D. "Fang" wearing Arco's wetsuit in 1981 ,

In 2006, Fang's great-granddaughter Diva squeezes into Arco's
nearly 50-year old (and shrinking) wetsuit.