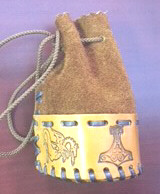 Introduction to Leatherworking
Make Your Own Pixie Pouch


Join us and learn how to make a versatile, custom leather pouch you can use as a medicine bag, portable alter kit, etc. Learn the basics of leather stamping, dying and lacing. These bags are great for stones, runes, dice and much, much more. Various leather stamps will be available including English Alphabet, Futhark Rune Alphabet and, many miscellaneous designs. This pouch has a much more rigid leather strip laced around a soft suede to give it a solid foundation to stand upright.

Instructor: Alan Lute

Alan Lute is the store manager for Tandy Leather in Fort Wayne. He started in Leathercraft in 2005 when he began making armor for a medieval/fantasy game he participated in, He began working for Tandy Leather in 2013 to pursuing his interest in leathercraft. Alan has made and taught many projects; belts, wallets, bags, pouches, purses, armor, garments, etc.