This is a free ride of 85 miles around the Firelands area of Ohio. A map is provided, but NO other services are provided. NO sag wagon, NO snack stops, NO closed course, NO first aid cars, NO food. Get the idea? Then come prepared! The route does go through a couple of cities where food may be purchased if you need it. This ride is an old-fashioned self-sufficient ride where riders are expected to be prepared to handle any problem themselves. Usually lunch has been at the New London Subway. There is only "gas station" food available in Fitchville.
BE PREPARED TO TAKE CARE OF YOURSELF IF YOU COME TO THIS RIDE!
Attendance is usually between 5 and 20 depending on the weather. You will be riding on public roads that day and there is no liability at all assumed by anyone assisting with this ride. Be prepared, ride safely, and enjoy the day.
The Firelands Campus of Bowling Green State University is located at the western edge of Huron, Ohio on Rye Beach Road, just south of State Route 2. Meet in the northern parking lot. See the map.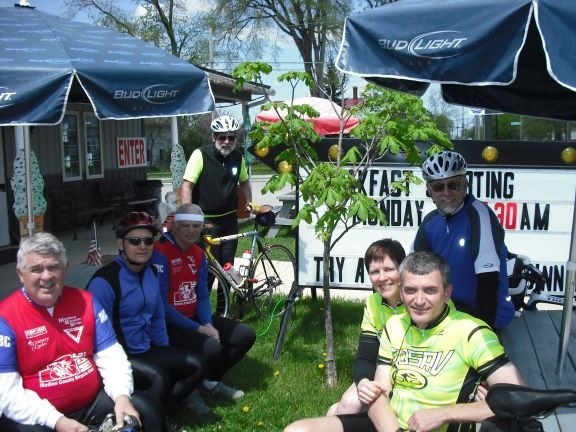 The lunch crowd at New London's famous Fat Pony on May 3, 2009. (left to right) Lou, Terry, Tom, Joe, Vickie, Neil, and Steve. Not shown is the photographer.