Location:
BGSU Firelands Campus in Huron, Ohio.
Time:
Group photo at 9:55 am.
Start riding at 10:00 am.

Garmin navigation files:
Huron area showing where the BGSU Firelands campus is located.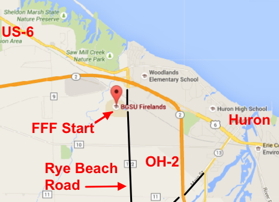 Or use this Google Map showing the campus location.
(click)

Details
This is a free ride of 50 or 25 miles at Hallowe'en time. A map and cider stop are provided. NO other services are provided. NO sag wagon, NO snack stops, NO closed course, NO first aid cars, NO food. Get the idea? Then come prepared! The route does go through a couple of small towns where food may be purchased if you need it. The attendance is usually between 50 and 250 depending on the weather.

Donations up to 50 cents are cheerfully accepted for this ride. This ride is sponsored by the Medina County Bicycle Club of Medina, Ohio and departs from the Medina square in the center of Medina. See the maps for help in finding the ride.
There really isn't any more information needed. If you have a question, send an e-mail.