Here's a little data on the Swedish SVEA burner performance. Temp was 60* - nothing special. The burner was filled to within 1/8" of the rim - not something you should do for best performance. The following boil times for 4 liters of water are only slightly longer than a commercial Trangia:
14 minutes - showing how long it takes to warm up when over-filled - SS tea kettle
7 minutes - burner wide open - AL tea kettle
8 minutes - burner wide open - SS tea kettle
7 minutes - burner wide open - AL tea kettle
The burner ran for 51 minutes - twice as long as a commercial Trangia.
The burner was placed on the concrete and the pot to burner height was a little over 2", which is above the "sweet spot" of 1.75". I think a little lower pot height would improve the boil times.
So this burner is good for 4 meals (my meals are entree and 16oz coffee).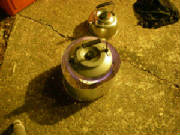 Showing the flame wrap around when the burner is at full throttle.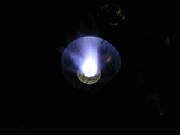 Burner flame at full output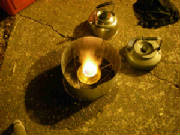 Burner flame about 10 minutes before going out. The burner tapers out quite slowly compared to the comercial Trangia.
The following picture is part of a can slid onto the body of the burner so as to raise it closer to the pot bottom. There are probably other ways to do it, but this works nicely. But don't enclose the bottom of the burner as it will tend to overheat.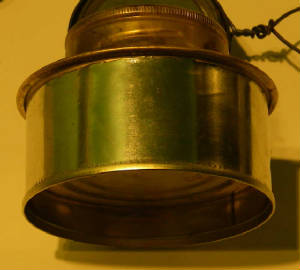 The following two pictures show one way to do a simmer-ring and snuffer for the SVEA burner. In the first picture, to the left is a flame snuffer made from a can top. The middle is a simmer ring made from a can bottom x-cut and petals pushed down. To the right is the stock SVEA lid for reference. The bottom picture shows the flame output with the simmer ring installed. A full burner will simmer for over 2 hours this way and the heat output is enough to boil a liter of water. Note the simple twisted wire handles - but I should've used stainless wire.