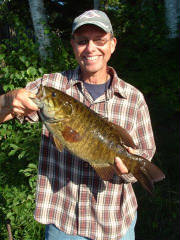 Hi! I'm Dan Petry from Middlebury, Indiana. I'm a fisherman and a pastor. Most days find me in or around the Middlebury Church of the Brethren, but the occasional day off may find me in a boat or even drilling holes in the ice. (And yes, my wife thinks I'm crazy, too.) Anyway, thanks for stopping by! I add to and change these pages every now and then, so drop by again. Please take a look at my other pages listed in the header. Feel free to follow the links on this site; you'll just find good information and no pop-ups.
In the meantime, why not stop by our church if you are in the area? We're located at 507 West Bristol Avenue (that's County Road 8, just a half-mile northwest of the town of Middlebury). Our Sunday service (blended) is held at 9:00 a.m., with fellowship time at 10:10 a.m. and Sunday school for all ages beginning at 10:30 a.m. We are a living peace church from the Anabaptist tradition. Our denomination has been serving God through Jesus Christ for 303 years (1708-2011), and we at Middlebury have been doing the same since 1911. We've got lots of great plans for celebrating our centennial this year. Hope you can tie into them. See the link above or below to learn more about our congregation. For more information, call 574-825-2955, check out our website at http://www.mcob.org/ or send us an email at mcob@mcob.org.
Tight lines to all my angling brethren--and remember to follow the regs, take a picture and let the big ones go, and perpetuate the sport for our grandchildren. Thanks to each of you for stopping by.
--Pastor Dan
Click any picture on this site for a larger rendition.