NSIP
We have enrolled Drewry Club Lambs into the NSIP program, (National Sheep Improvement Program). This program allows breeders to identify sheep with greater potential to produce offspring with certain measurable traits.  There are a variety of the EBV (estimated breeding values) available with NSIP. We will use predominantly P EMD (effectively loin eye), PFAT (Fat depth), PWWt (post weaning weight) and WWt (Weaning wt).  These are expressed in an index, carcass+, that combines all into one number.
Our goal is to sell terminal sires that have excellent loin eyes, while being lean and growing relatively fast while being a moderate mature size.  In this selection criteria we will put the greatest emphasis on loin eyes but still select for above average growth rates.  To create the genetic evaluation the computer relies on comparing the performance of close relatives in different flocks. Thus, it is important to have some genetics from currently enrolled flocks.
Our goal is to combine attributes of the current wether style sheep, (moderate frame size, thick, clean front ends) with a genetic evaluation to produce high quality terminal sire rams.
Initial seed stock and data on our sires: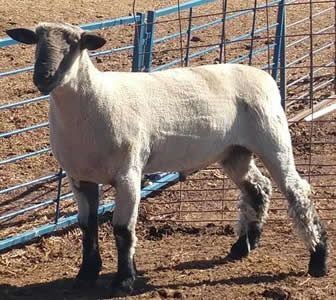 Ramse
Ebert 7478
Miller "King Tut" x Ebert 6404 (Kleinert 4830 daughter)
Born 4/3/2017
Registered Hampshire
RR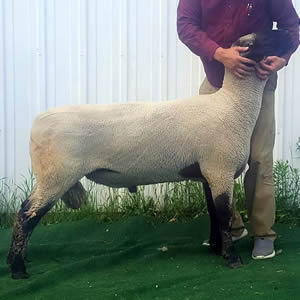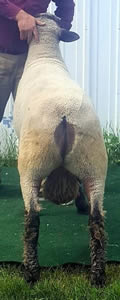 3-Down Buck
A 3-down football back gets to play every down because he can run, catch and block. 3-Down Buck is also an "every down" player. Bought from Houghton Hamps, he has excellent growth, a big loin, good eye appeal, and very prolific for a terminal sire. His 135 lb adjusted loin eye area is 3.58 sq inches. He was 168 lbs at 127 days for a 1.32 lbs/day growth. He will be one of the rams we use on the most ewes in the next few weeks. This ram is solid Houghton breeding, all 30-sheep listed on his pedigree were bred by Houghton. While we don't select for high number of born in our terminal sires we do like twins. He was born and raised as a twin and all but 5 of the sheep listed on his pedigree are multiple births. As pictured he was pulled off of the pasture that Dean keeps his yearling rams on.
We would like to give Houghton Hampshire's a big thanks for letting us have a chance to purchase 3-Down Buck.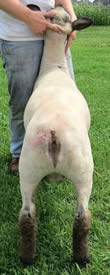 Cyclone
ISU 14118
QR.
His key EPDS are, WWT 1.1, PWWT 1.4, FD -1.7, P EMD 1.9. Carcass + 136.3. Cyclone was the highest carcass indexing ram at the 2014 Center of the Nation NSIP Sale.  His pedigree includes Greiners Polo ram and Bell & Lenard blood lines.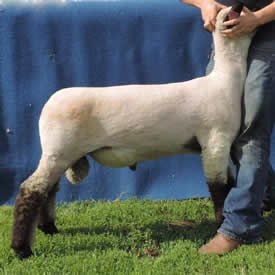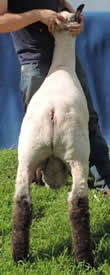 StrykeForce
Drewry 14247
Actual loin eye 3.81 sq", fat depth 0.18", weight 165 lbs, loin depth 1.40"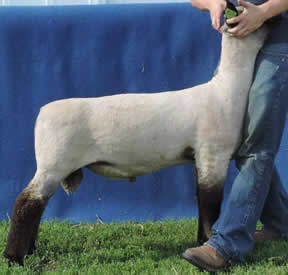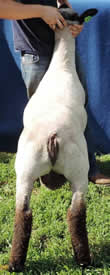 Hellfire
Drewry 14720
Actual loin eye 3.79 sq", fat depth 0.13, weight 158 lbs, loin depth 1.37"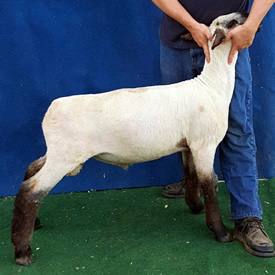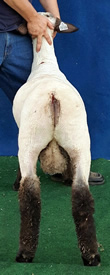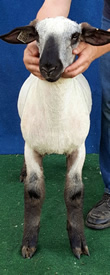 Sabermatic
He is Cyclone (ISU 693005-2014-014118) x (U of W 693003-2014-014022).
His initial raw data is very good for a lamb out of a ewe lamb. His EBVs suggest he has some of the highest data of any Hamp ram in the breed.
Sabermetric's June 2015 EBVs:
• WWT: 2.6 64%
• PWWT: 5.1 66%
• PEMD: 1.8 60%
• Lamb2020: 107.5
• Carcass+: 155.7
Actual data at 82 days age, dam was 13.5 months age:
• Weight 99 lbs
• Loin eye 2.99
We also purchased at the Center of the Nation NSIP sale the highest indexing Hampshire ewe.  Her carcass+ index is 129.34, putting her in the top 5% of the ewes in the breed. Her pedigree is Miller and Double F blood lines.