2021 Sires

Big Deal
Sired by Big Chill
RRNNFF
Bred by Wheaton
Adjusted loin eye 3.55"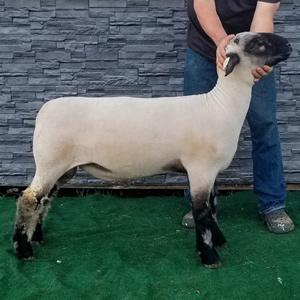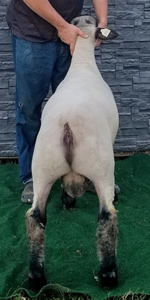 Rocketman
Roc-E x JSF ewe
2020 A.I. Sires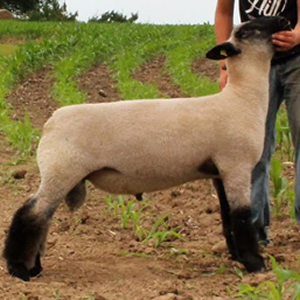 Bulldozer
Williams Show Lambs
Son of Bullseye
Sired many champions including 2019 Houston Champion and Reserve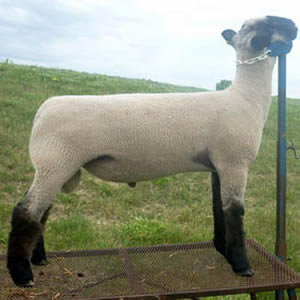 Fictitious Clone
Pony x Stud Duck
Fictitious sired champions al lover including NAILE and OYE
Owned by Williams Show Lambs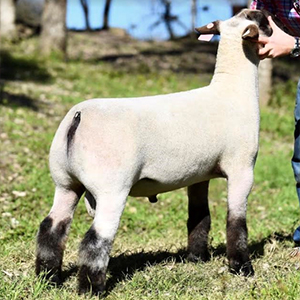 Roc-E
Owned by Haws Club Lambs
E-Roc x Strike Zone
QRNN
We used him last year, loved his lambs, ordered even more semen this year.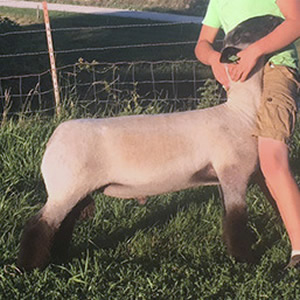 Cheeto
Sired by Bullseye
Owned by Williams Show Lambs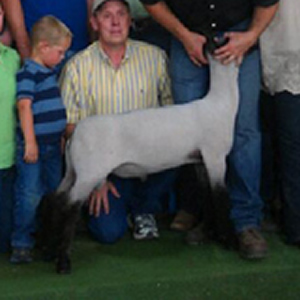 Powercat
This double bred 4D Large son is the record selling ($60,000) Hampshire ram from the 2012 Midwest Stud Ram Sale. Raised by Power Cat Club Lambs, bought by Wheaton & Miller.
Current Sires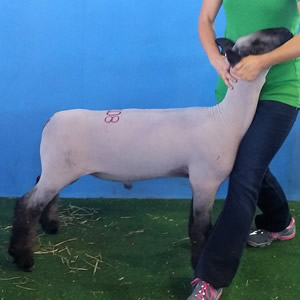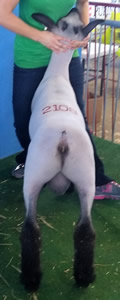 RamsEye
Sired by William's Bull's Eye
Bred by and purchased from Ellerbrock at Sedelia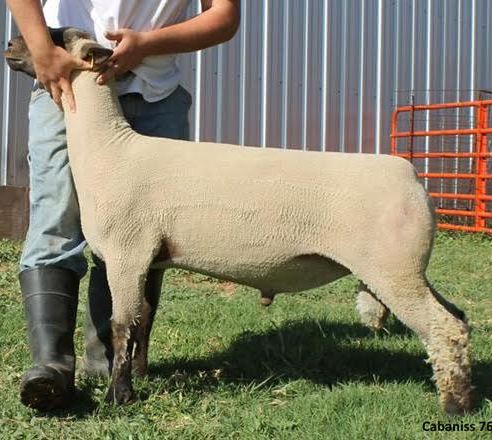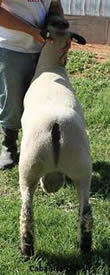 Annuity
Cabaniss 748-14
Haze X Cabaniss 401-06
RRNN
We wanted another ram with a big top and deep thick twist with the "show look." It didn't hurt at all that his great-grandsire, Game Face, was on our list of favorite rams several years ago at Sedalia.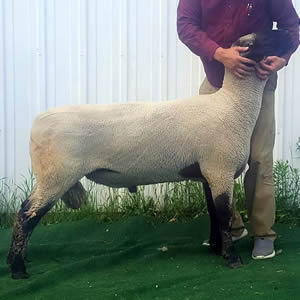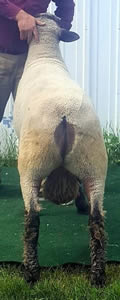 3-Down Buck
A 3-down football back gets to play every down because he can run, catch and block. 3-Down Buck is also an "every down" player. Bought from Houghton Hamps, he has excellent growth, a big loin, good eye appeal, and very prolific for a terminal sire. His 135 lb adjusted loin eye area is 3.58 sq inches. He was 168 lbs at 127 days for a 1.32 lbs/day growth. He will be one of the rams we use on the most ewes in the next few weeks. This ram is solid Houghton breeding, all 30-sheep listed on his pedigree were bred by Houghton. While we don't select for high number of born in our terminal sires we do like twins. He was born and raised as a twin and all but 5 of the sheep listed on his pedigree are multiple births. As pictured he was pulled off of the pasture that Dean keeps his yearling rams on.
We would like to give Houghton Hampshire's a big thanks for letting us have a chance to purchase 3-Down Buck.
Reference Sires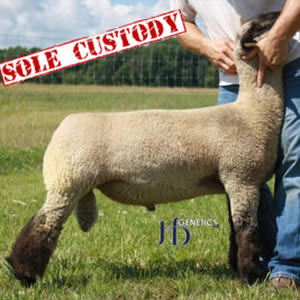 Sole Custody
Owned by Northern Star Livestock
Joint Custody x AWTR 2209 (Rack City x Tundra)
RRNN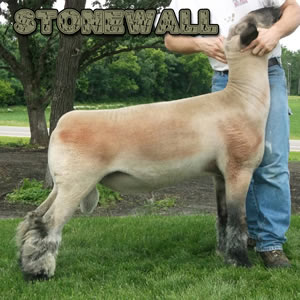 Stonewall
DB 3245
Raised by Dee Brothers, LLC
Grizz x DB 137 (C.O.D. x Marcantel 43)
RRNN
Breeder: Ellerbrock Sire: Williams Bull's Eye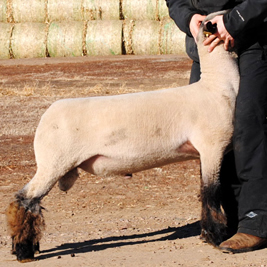 Point Blank
Arms Race x Honey Badger
RRNN
Point Blank is a young buck with really exciting pedigree. Arms Race is "Maker" x 964 (Masterpiece Son). He's dead level from the profile with a huge rack. We lined up Point Blank with several of our top ewes.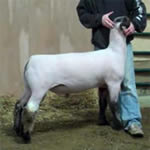 Arms Race, sire of Point Blank
Cadillac
Log Dog x Leo (Desert Mule's Mother)
RRNN
Cadillac is from the well known Log Dog blood line. He's already sired winners including 2013 MWSRS Champion ram. From NHG site: "$30,000 Private Treaty Purchase from Simpson Livestock. Extra width and extra shape come out of this shaggy lined-up Leo son from Simpson. With a pedigree that you couldn't ask anymore to be stacked in it!"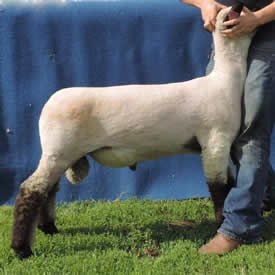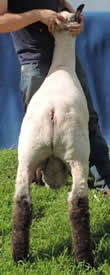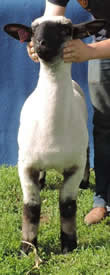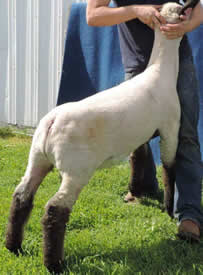 StrykeForce
Stryker X Pretty Caesar (Mapmaker's dam)
Sired by Stryker, StrykeForce is a deeper twisted, shaggy version of our "pretty ram".  His dam is Ellerbrock 4687 (Eva).  Her first lamb was Mapmaker, sire of several MN State fair winners for us and our first grand champion market lambs at county fairs.   Stryker has produced several carcass contest winners has his lambs consistently have big loins while being lean.  StrykeForce scanned a 3.85 loin eye at 165 lbs. We have 3 full sisters and 2 maternal half sisters to StrykeForce in the flock.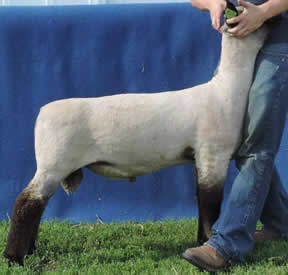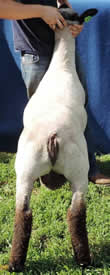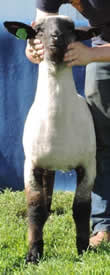 Hellfire
Pedator X Trunk
Hellfire is the product of two of our Elliot bloodlines purchases of 2013.  He is a linebred Trunk son. His sire is Predator (Consensus, who is Immortal x Trunk) on Elliot 2071 (Trunk x Composure).  He has a huge top, very wide hip that continues down with a deep thick twist.  Predator gave us the best set of lambs of any ram we've bought.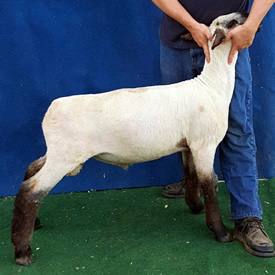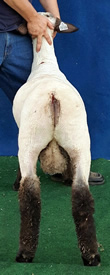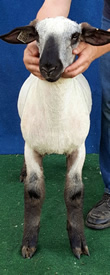 Sabermatic
He is Cyclone (ISU 693005-2014-014118) x (U of W 693003-2014-014022)
His initial raw data is very good for a lamb out of a ewe lamb. His EBVs suggest he has some of the highest data of any Hamp ram in the breed.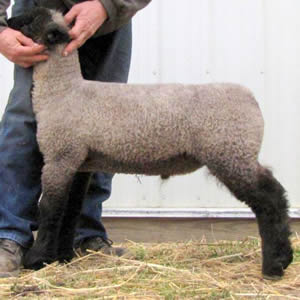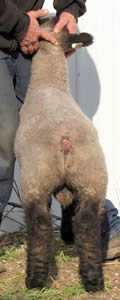 Gomez
4D-3 X Big Al
RRNN
Registered Hampshire ram, owned with Rick Adams. Gomez kept his shag and shape through breeding season.  A moderate framed ram that is trendy.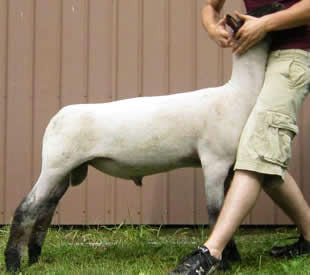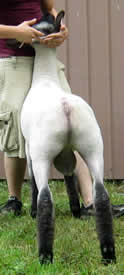 Stryker
Prestige x 38 Special
RRNN
Bred By Rule Sheep Co.
1st Place Feb Hamp Ram Lamb - Sedalia
We wanted a ram that had excellent top line, clean front end, good rib shape and structure.  After that we wanted as much power as we good get.  Just like the Army's Stryker, our Stryker packs a punch but is built to move!  Styker's sired by Prestige, the $30,000 Alred/Elliot ram purchased at Sedalia by Begalka, Rule and Simpson.  Prestige's lambs have been winning several shows including  2010 Junior Champion Reno ewe, Grand Champion crossbred ram at 2011 Reno, and Reserve Grand Champion at 2010 Nebraska State Fair FFA show. At 2011 MWSRS Prestige lambs including 1st place yearling Hamp ram, 2nd place January Hamp ram, 1st Place Feb Hamp ram (Stryker), Reserve Grand Champion Hamp ewe.  Prestige has several other sons in service including MGM (Schminke and Stewart) and Mr. Chubby (Lambright and Langemeier).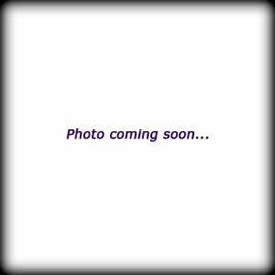 INH
Sired by Obssession (Authentic)
INH is a thick, big hipped, medium framed Ellerbrock ram.  INH is used primarily on ewes with Authentic genetics.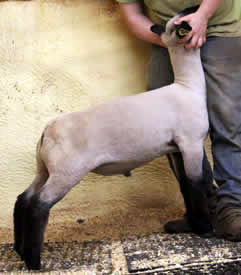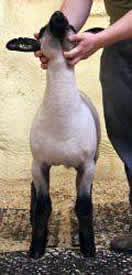 Predator
Elliot 3038
Consensus x Advantage (Consensus is Immortal x Trunk)
RRNN

Goals for 2013 ram:
Genetics - Trunk, 28, Composure blood lines - CHECK
Phenotype - Big topped, up headed, deep twisted ram, very correct structure - CHECK
Breed - Registered Hampshire, desire wool cap and the trendy shaggy legs - ALMOST CHECK (not registered but boy does  he look like a pure Hamp)
We bought Predator on-line but we'd "checked him out in person".  He will be our lead ram for 2014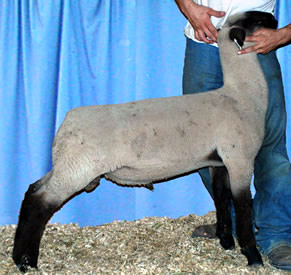 Dagger
Swagger x Money
QRNN
Bred by and owned with MacLennan
We have to give credit where it's due and thank Paulson's for finding Dagger for us. He's got the kind of pedigree we were looking for to increase our line breeding. He shares a grandsire with Burch (Road Hogg), and Composure, Stryker's grandsire, also shows up in Dagger's pedigree. We wanted a big hipped, big topped, big boned, correct ribbed, wide pinned set ram that still had a clean front-end and a straight top.   
Hot just doesn't describe Swagger's lambs this year.  From the half interest in a Swagger son selling for $52K, to wethers selling for $12K, his lambs have led the way in the wildest year of prices for club lambs. Swagger's lambs have won several majors and state fairs. MacLennan's January Swagger lambs were spoken for, so we "settled" for choice out of the February pen.  Dagger is exactly what we had in mind to breed both Burch and Stryker ewes to!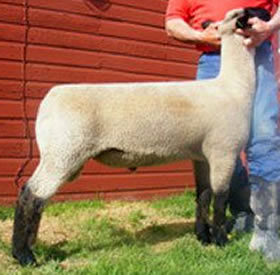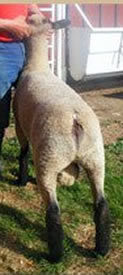 Burch
Burch 1205
Boss Hog x Toxic
RRNN
Bred By Burch Livestock
Co Owned with Mein Club Lambs, and Chad Stocks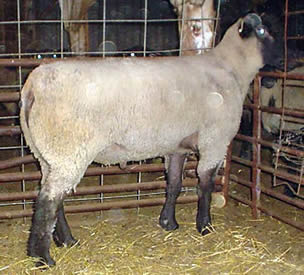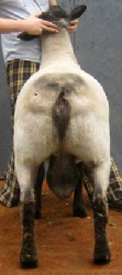 Buckwheat

Miller 938 (Masterpiece son) x Miller 2004 Sedalia Champion Ewe
Bred by Wheaton Hamps
RRNN
Buckwheat's dam was Champion Hamp ewe at Sedalia in 2004
Buckwheat's sire is one of Masterpiece's first sons.
Buckwheat was sort of hidden away for his first few years.  We found him in 2009 and got some late lambs out of him last year.  This year we learned the rest of his pedigree and we were thrilled to learn he's sired by the Miller's first Masterpiece keeper son that they loaned to Wheaton's for a year.  When Buckwheat's first lambs hit the ground in mid Feb 2010 we thought they were pretty cool, a different style from the others in the barn. As the summer went along the Judges started to agree, with every whether out him that we showed placed 5th or better at our State FFA show  including a pair of twins that one won it's class and the other placed 2nd and was reserve champion in it's division.  His girls kept pace giving a popular purple at 4H, purple at Ak Sar Ben, and 8th in class at Denver in his first season. And that's with only 21 lambs on the ground!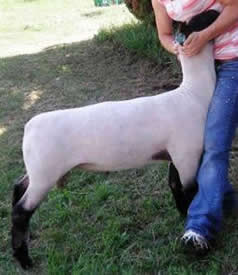 Mapmaker
Pretty Caesar x Blue Cabaniss
Bred by Ellerbrock
Dam was purchased in the 2006 Bred Ewe Sale 
If we were ever asked what buck has defined your program over the years, look no further than Mapmaker. Out of our original Ellerbrock bred ewe from 2006, he put it all together for us: keeping the power of H Bomb and Turnaround, while adding a new sense of style, tremendous shag, a signature hip in his lambs and meshing well with everything we bred him to. Over the three years we used him he produced the 4th overall lamb in MN 4H 2008, Reserve Lightweight in FFA 2008, and numerous jackpot champions. His daughters are the most electrifying females we've bred and we retained every one we could for production in the future.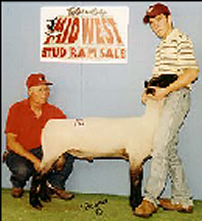 Turnaround
 Bred by Turner Rust
Purchased from Berry Club Lambs
Sold to TNT Club Lambs
When Nate told us we had to see this ram that Keith Berry was selling we might have been a little skeptical. But when we realized he worked well enough for Keith to be a stud from 2003-2005 and that his daughters were some of his best ewes, we joined in. Turnaround produced immediately with a slew of late born lambs all ending up in the top 3 at MN FFA 2007. In 2008 he continued his good work and gave us the Reserve Heavyweight and Reserve overall Lamb at MN FFA. We realized that with Mapmaker coming sure and strong in 2008 that we didn't have the females to do both rams justice, and TNT bought out our share of Turnaround. Good Luck TNT!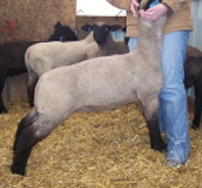 H-Bomb
H Factor X 2nd
Bred by Fairley Farms
Sold
Realizing that we loved the profiles we got out of Amadeus in 2005, we decided that it was time to add some oomph to the next generation. We found it in H Bomb who blew us away as a lamb, and gave us what we wanted with 2006 lambs having a lot more pop in their twist, table top loins, and wide tops. His lambs added another step to where we are now, with 3 of his daughters earning purples in 2007 as yearlings at MN 4H. His lambs didn't do so shabby either, placing top three in state FFA classes too many times to count.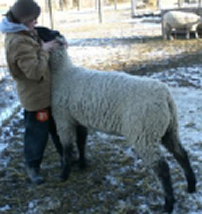 Amadeus
Pipeline X Wheaton
Bred by Wheaton
Sold
Amadeus provided our ewe base with a new level of consistency, with every one of them being dead level over their top and square set on the dock as well. They haven't disappointed as they have quite easily clicked with our new layers of more powerful, big hipped rams, by keeping them stylish and jack fronted.