Learning about whole foods and how to use and prepare them can be overwhelming. All Things Food offers a variety of opportunities to help. We provide guidance while you shop, reference materials for you to use (both in-store and to purchase for home use), and information via our email newsletter and website. We also provide classes and demonstrations with experienced community educators. And we strive to keep you informed about opportunities in the community that support this effort as well.
Some of our demonstrations will be during store hours while you shop at no additional cost. Some classes will involve a guest speaker and/or video presentation at a specified date and time. Other classes or demonstrations will be a separate course requiring pre-registration and a fee.
Select our calendar to see what is scheduled for this month.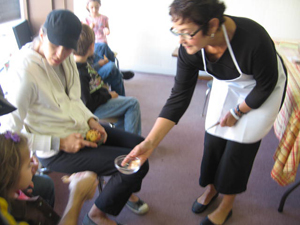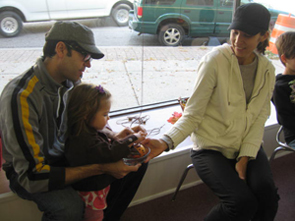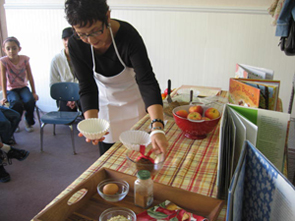 Here is a brief description of the variety of classes and demonstrations we offer:
Classes:
Food Education Classes that will include guest speakers and video presentations
Food Instruction Classes that will focus on a specific concept or idea and elaborate on a variety of levels
Food Instruction Series that will offer more than one class on a more in depth study of specific topics
Nosh kNowledge: Sit down for lunch and nosh some knowledge then return to work. Classes will be on specified dates at a time you are available. Meals can also be available for carryout ~ bring your own container! Different guest chefs and themes will be presented. Watch for our next scheduled event. $15 per person.
Demonstrations:
Healthy Eating For Children Demonstrations that will include hands-on activities such as preparing a simple snack, listening to stories, and participating in conversation about healthy eating.
Food Preparation and Cooking Demonstrations that will include hands-on activities on selecting, preparing and using whole foods.
We are continuously working hard to schedule a variety of classes, demonstrations, and special events. See our calendar as well as In-Store for what's happening at All Things Food.
Share Your Food Knowledge!
Are you interested in giving a class or other type of food demonstration?
We'd love to hear your ideas.
Fill out our Instructor Form below to apply for the opportunity to share your food knowledge.