All Things Food desires to be a community where local food production reflects a responsible way of life. Responsible food considers the impact food production has on the air, water, land and animals. It considers a fair wage for the Farmer. And it considers the nutritional value of the food for the health and well-being of the consumer. When we consider these impacts, we ensure that our children and their children are considered as well.
We ask our Producers to review, complete and sign the Producer Agreement & Guidelines as well as the Producer Application as an agreement to our customers to produce responsible food products that consider these impacts. Yet, these documents are simply a framework from which to build. It in everyone's best interest for all of us to continually seek the best practices to meet this agreement.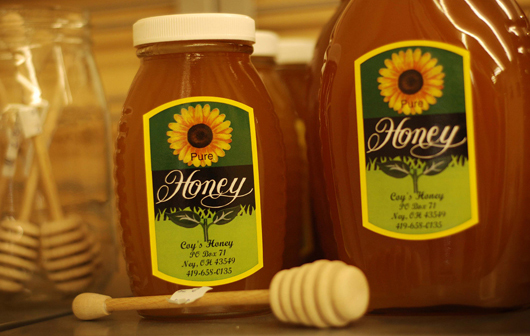 Here are a few other resources for ways to produce more sustainable, responsible foods as well as connect you with those who want to purchase them:
The Organic Materials Review Institute (OMRI) is a national non-profit organization that determines which input products are allowed for use in organic production and processing. You can learn more about OMRI at www.omri.org.
The Ohio Ecological Food & Farm Association (OEFFA) was formed in 1979 and is a membership-based, grassroots organization, dedicated to promoting and supporting sustainable, ecological, and healthful food systems. You can learn more about OEFFA at www.oeffa.org.
Certified Naturally Grown is a Grassroots Alternative to the USDA's National Organic Program. It is meant primarily for small farmers distributing through local channels - farmer's markets, roadside stands, local restaurants, community supported agriculture (CSA) programs and small local grocery stores - the farmers that make up your local landscape! You can learn more about CNG at www.naturallygrown.org.
The Farm-to-Consumer Legal Defense Fund (FTCLDF) is a non-profit "social welfare" organization that protects the rights of the nation's family farms, artisan food producers, consumers and affiliate communities to engage in direct commerce free of harassment by federal, state and local government interference. It protects the rights of farmers and artisanal producers to make their products available and the rights of consumers to access the foods of their choice from the source of their choice. You can learn more abot FTCLDF at farmtoconsumer.org
Ohio MarketMaker is a platform that seeks to foster business relationships between producers and consumers of food industry products and services. Learn more at oh.marketmaker.uiuc.edu
Ohio Farm-to-school programs are sprouting up throughout Ohio. With support from parents, teachers, farmers, students, non-profits, and many other community members, Ohio schools are starting to take full advantage of the state's rich agriculture offerings. Learn more about Ohio's Farm-to-School programs at www.farmtoschool.org/OH/
The Whole Grains Council helps consumers find whole grain foods and understand their health benefits. It also helps manufacturers and restaurants create delicious whole grain foods and helps the media write accurate, compelling stories about whole grains. Learn more at wholegrainscouncil.org