MANUSCRIPT OF
HARRINGTON FAMILY GENEALOGICAL GAZETTEER
BY
GEORGE H. HARRINGTON, AUSTIN, TEXAS
JUNE 14, 1941
Mimeographic stencils filed in
Texas State Library at Austin, Texas
(Note: The mimeographic stencils have long since crumbled and been discarded by the library.)
Copyrighted by George H. Harrington, 1941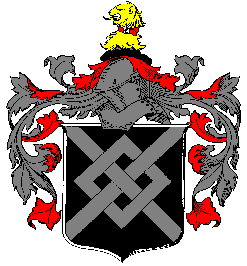 The above crest is represented as having been used by Clark Willits Harrington whose wife was Addie Kimball and who resided at Knob Fork, Mo., in 1895. He was a descendant of Benjamin Hernden, (Harrington) and wife, Elizabeth White who were in Providence, R.I., in 1650. A crest very similar to this one, if not identical, is thought to have been used by nearly all the crest bearing Harrington families in America, and by many of those in England. Such a crest was published with newspaper article under title "A Corner In Ancestors" Copyright, 1917 by McClure Newspaper Syndicate.
The ancient family derived it's name from their estates, "Haverington", a Manor in Cumberland County, England, in which County, recent maps show a village named, Harrington, on the shore of the Irish Sea.
During the Norman Conquest of England, after the Battle of Hastings, the victor, King William I confiscated the landed estates of all those Englishmen who had fought against him and settled thereon his officers and soldiers, both English and Norman, and thereafter for many years the English and French languages were confused throughout the whole of England.
About the year 1190 A.D. a Norman by name, Oswolf, then residing on a subdivision of the Haverington manor, had born to him a son whom he named Robert de Haverington. Through the process of evolution, down through the years, the French proposition was dropped, and in the year 1220 A.D. the name was shortened. It became the custom for persons to have two names, a Christian name and a Sir name. Robert de Haverington became Robert Harrington.
Perhaps the greatest single contribution of genealogical material herein was made by Mr. Grant W. Harrington of Kansas City, Kansas. There are many other contributors including, Miss Rachel C. Wilkins of Troy, New York, Miss Eunice E. Lyons of Bennington, Vermont, Mr. Frank B. Lamb of Westfield, New York, Mr. Hubert Bowen, Ogdon, Utah, and Mr. Chas. B. Herendon of Newark, New York.
A number of persons, men and women, had played Harrington Genealogy as a hobby for a considerable part of their lives, and who were overtaken by death while they were still at labor and while their desks were still heaped with genealogical material. Some of these persons had forseen such a termination of their work, and had turned over to the compiler of these records, large volumes of material, always with the ardent hope that the fruits of their labor might be preserved to posterity. There is a thrill in digging out an answer to prayer.
*********************
IN MEMORIUM
CHARLES B. HERENDEEN, of Newark, New York
F. M. STEELE, of Los Angeles, California
DR. PEREZ M. BRECHIM, Boston, Massachusetts
MRS. ELIZABETH MARCH, Warrensburg, New York
MR. JAMES HENRY HARRINGTON, Titusville, Pennsylvania
MR. ORIN DOUBLEDAY HARRINGTON, Pittsburg, Pennsylvania







Listed herein are persons of the name, Harrington, with variations thereof including Errington, Harrington, Herrington, Herendon and Herendeen.




The material herein is arranged in five separate and numbered sections, each on paper of a distinctive color and such that not two consecutive sections are printed on paper of the same color.


SEC. I
SEC.II

Scattered Harringtons whose lineage has not been determined.


SEC. III

Index to Harringtons only, and guide to ancestry, and referring not to pages, but to family sheet of male parents in Sec. I.


SEC. IV

Index to other persons who have married Harringtons, arranged in the alphabetical order of the Sir name, and referring not to page but to the Harrington mate as shown in Sec. III.


SEC. V

Appendix, preceded by an outline of it's contents.




*********************
LIST OF ABREVIATIONS AND SYMBOLS USED HEREIN
b. means born
d. do died
dau. do daughter of,
w. do wife
a. do approximately or about
Year followed by + as 1872+ means after 1872.
Year followed by minus sign, as 1872- means before 1872.
p. means perhaps or probably; or that the relationship
indicated has not yet been conclusively proven.
SECTION I
HARRINGTON FAMILIES ARRANGED IN THE ALPHABETICAL ORDER OF THE CHRISTIAN NAMES OF THE MALE PARENTS.
Family lists of the name Harrington only, and the variations thereof, arranged in the alphabetical order of the Christian names of the male parents. Harringtons of same Christian name are arranged in the alphabetical order of the sir name of their mates, (husbands or wives). the same system is followed in the first three sections of this volume.