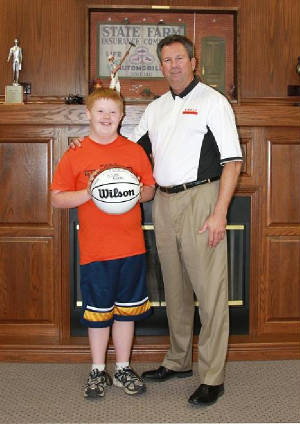 Giving 110 Percent
By AARON KENNEDY
Sports Editor
Paris Beacon News
Published: Friday, August 1, 2008 11:53 AM CDT
In the game of basketball it is not always the number of points scored that makes a player standout to a coach. For many coaches it is more about the effort the player gives, whether in practice or in a game situation.

Paris High School Varsity Coach Terry Elston couldn't agree more with that philosophy of coaching and that is why he presented John Marrs with the MTXE (Mental Toughness and Extra Effort) award following this summer's junior high basketball clinic.

As the recipient of the MTXE award, Marrs has been invited to join the Paris basketball team for one of their pre-game team dinners, where the varsity players and coaches will sign his MTXE award basketball. Marrs will also shoot around with the varsity players prior to that evening's game.

"John always gave 110 percent and we are looking forward to having him at our game," said Coach Elston. Marrs won the award after showing the most improvement over the five-week period.

The basketball clinic Marrs attended was for players entering grades sixth through eighth and held every Sunday throughout the month of June.

Marrs will be attending Crestwood this year as an eighth grader.