Abundance Soaps
Karen McGilvery
Henry County
9815 Henry Lucas Rd
Liberty Center, OH 43532
419-875-5124
5 acre farm. 2 acres under production. No fragrance oils or parabens. Only the best food grade oils used. No synthetic dyes or chemical additives used. Organic flowers & herbs from our micro farm. Handcrafted in small batches. Family run business. Cold Process Soap retains glycerine- a natural moisturizer. No "film" is left on your skin despite Dove TV commercial claims. The only thing left on your skin is a natural moisturizing glycerine barrier (that is removed from their soaps to sell as a byproduct). Handmade soap is different from soap that you buy from the grocery. It's much better! We love making pure "good for our family" products that you can use to bless your family!
Like us on Facebook for Recipes & Specials
Visit our Blog or Website for more info
Basswood Farms
David and Tom Traxler
Williams County
14-410 Williams Co Rd N-65
Pioneer, OH 43554
419-485-3894
Email: traxler@williams-net.com
Farms grains and livestock. 100 acres organic/300 acres conventional
We produce hay, corn, bean, and wheat conventional and organic. Beef cow calf with rotational grazing and finished on grain.
Bryan Golden Bear Honey
John and Helen Johnson
Williams County
12748 State Route 34
Bryan, OH 43506
416-636-6240
Second generation bee keeper. Sustainable bee keeping with the ability to build our own equipment and raise our own bees. 10-15 hive and 10 or so starter hives on a 2 acre farm. Provides a variety of sizes of locally produced honey. All hives are state registered and inspected. We focus on sustainable bee management, raising our own strain of bee that works well with local conditions and climate. We also have equipment to build our own hives and components. Our honey is extracted by hand one frame at a time, filtered and bottled the same day preserving natural color and goodness. My name and number are on every container. Bee keeping is a lifelong learning hobby that I encourage everyone to experience.
Calico Bakeries
Jon Keller
Williams County
209 Lakeview Drive
Bryan, OH 43506
419-636-0989
email: jonkeller1978@gmail.com
Value-added/Cottage Foods
Calico bakeries is aimed at producing the freshest baked goods free of chemicals and preservatives.
Casa del Suri
Mark Skupinski
Hillsdale County
4056 Chadam Lane
Jonesville, MI 49250
5 acres - 8 Alpacas
Non-Food Merchandise: Hand painted and natural mill and hand spun yarns. Casa del Suri was established in 2005 on 5 acres in Jonesville, MI. Originally begun as a breeding venture for suri alpacas, the focus of our farm is now on the beautiful fiber provided by our animals. We believe strongly in the importance of the best feed, hay and clean fresh water to keep our herd healthy and happy. Our animals are very peaceful and healing. We love to have farm visits and have found our animals are always drawn to those with any special need. In the future, we plan to share these lovely creatures as therapy animals. For now, please enjoy their beautiful, soft, warm fiber.
Cheryl's Creations
Cheryl Garza
Williams County
611 Louisiana Ave
Bryan, OH 43506
567-239-1960
email: chergarza@yahoo.com
Value Added/Cottage Foods: Chocolate Chia Cookies
Non-Food/Merchandise: Gratitude Crystals
Coy's Honey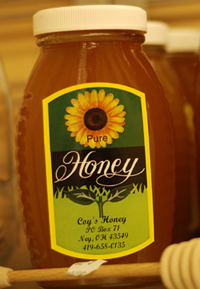 Melanie and Adam Coy
Defiance County
P.O. Box 71
Ney, OH 43549
419-658-0135
email: coyshoney08@hotmail.com
Honey production & sales. 4-12 hives (varies from year to year). Small scale. In our business, health is important to us. We specialize in raw honey. Our honey does not go through a pasteurization process. We do not use chemicals in our hives. We believe that by not using chemicals, we are protecting the health of our family, our customers, the bees, and the environment. We bottle our honey in glass jars in an effort to stay away from BPA toxins released.
Custom Sewing
Bertha Faunce
Williams County
104 Greenfield Drive #5
Bryan, OH 43506
419-636-6101
Non-Food/Merchandise: Crochet handled hand towels. 100% cotton
Terri Dawson (Urban Homesteader)
Williams County
PO Box 346
Bryan, OH 43506
419-636-2659
Email: terridawson22@yahoo.com
Large lot in town. My goal is to obtain, produce, share and educate about perennial and native food sources which today includes many little known plants, herbs, bushes and trees that can be grown in NW Ohio on small acreage.
Divine Creation
Sarah Christine Sellgren
Williams County
11213 County Road C
Bryan, OH 43506
419-633-9232
Email: sarachristines@yahoo.com
Value-Added/Cottage Foods: Raw Food Snack Bars. Ingredients sources from ATF.
I am interested mainly in whole, living, organic foods including but not limited to raw foods. I believe the Lord gave us a plan and guidelines for our diet and lifestyle. Choosing to follow these guidelines is one step towards becoming good stewards of the life He has entrusted us with.
Dick Farms
Jeff Dick
Williams County
12494 State Route 15
Montpelier, OH 43543
419-485-3734
Maple products. 500-700 taps. 450 total acres.
Earthways Farms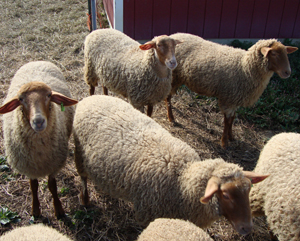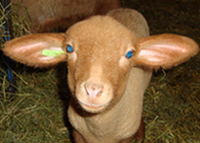 Amy and Tom Crow
Hillsdale County
4321 E Camden Road
Osseo, MI 49226
517-254-4374
email: eways@frontiernet.net
Earthways Farm has 35 acres with approximately 20 under production as pastures and hay fields. We are interested in preserving heritage breeds and have Tunis Sheep & Suffolk-Punch draft hoses, both listed on the ALBC's preservation list (American Livestock Breed Conservancy). Tunis sheep are known to have delicious meat, no matter the age of the animal, and are listed on the "Arc of Taste" list compiled by "SlowFood USA". They were plentiful in the early years of this country mostly in the southern states, but were nearly wiped out during the Civil War. Since that time, their numbers have been increasing on many farms across the United States. We also hope to start a flock of heritage breed poultry soon. We sell Tunis lamb meat (individual cuts or whole animals for butchering), Tunis breeding stock, wool and eggs from a variety of free range hens. We also offer longarm-quilting services.
Fort LOG (For the Love of God)
Joe and Diane Hammon
Defiance County
10607 Wonderly Road
Mark Center, OH 43536
419-542-8936
419-438-5646
email: hammonorganic@gmail.com
Farming: grain, dairy, hay and livestock; Products: Freezer Beef, Canned Beef and Organic Vally Milk; 403 acres - 350 under production
We've been certified organic since 1998. We went organic because it seemed better to work with the land and animals rather than stong-arm them with chemicals. In farming this way, we are assured that we are not part of society's health problems. For The Love of God, The Hammons
NOTE: This is an Organic Valley farmer. For more information, please visit: www.organicvalley.coop
Golden Glow Farm
Gretchen Tedrow
Fulton County
4237 Fulton Co Rd 9
Delta, OH 43515
419-335-9112
Email: tgtedrow@embarqmail.com
Grain and Livestock; 350 acres
We raise Boer goats that we sell for breeding stock and 4-H projects. We also raise rabbits for meat that is sold right from the farm. We sew hand-made aprons, table cloths and napkins for sale in-store.
Grandma's Garden
Williams County
Logan Hatcher and Sydney Lougheed
5417 Co Rd 20-50
Stryker, OH 43557
419-906-1848 (Logan's Cell)
419-906-1849 (Sydney's Cell)
Email: loganhatcher@rocketmail.com
6 1/2 acres farm. 3 acres plantable. 1/2 acre under production. Strawberries, sweetcorn, tomatoes, green peppers, zucchini, cucumbers, acorn squash, and butternut squash.
Grandma's Garden was named after our great grandmother, Iva Schelling. This year will be our first year producing fruits and vegetables, We believe in producing fruits and vegetables that are chemical free the way it was meant to be. Our philosophy is a little work goes along way. We look forward to producing fruits and vegetables for everyone to enjoy.
Happy Sappy Syrup
Chauncey Henricks
Williams County
09104 Co Rd G
Bryan, OH 43506
419-212-4969
Maple syrup. 20 acres of woods. No inputs used. I produce maple syrup as a hobby. I enjoy the outdoors and producing syrup for others to enjoy.
Andrew Hurst Farm
Andrew Hurst
Fulton County
5700 Co Rd 22
Archbold, OH 43502
419-572-1759
15 acre farm. Livestock moved to 80 acre Williams County farm in the summer. Not certified organic but using OMRI approved inputs. We have a grass fed cattle operation. We have about 20 cows. They all have calves from March through May. We also have 30 sheep. All animals are on pasture from April to November. The animals are then brought to the barn for winter. All our cattle are Longhorn and Angus Beef and grass fed. No Corn.
Tom Johnson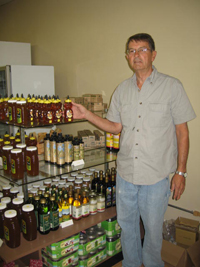 Defiance County
17236 Lockwood Road
Defiance, OH
419-899-2408
Honey producer. 5 acre farm. Bee keeping for 12 years. Provides a darker variety of wild flower honey.
Mark Lorntz
Williams County
816 W Bryan Street
Bryan, OH 43560
email: lorntz@cityofbryan.net
5 acres. 8000 square feet in production.
Catherine Mack
Williams County
22754 Co Rd B-50
Stryker, OH 43557
657-337-9073 (cell)
email: massageforwholeness@gmail.com
Non-Food/Merchandise Products: Collodial Silver
I am a massage therapist licensed by the Ohio State Medical Board in my 17th year of practice. I am always trying to help my clients in anyway I can and have found colloidal silver to be an asset in their lives. Product is available in 2 sizes and should be stored in a dark place at room temperature.
Maple Lane Farm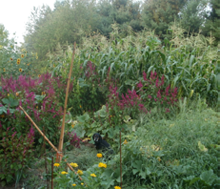 Sue Oskey and family
419-658-2740
slo1220@gmail.com
Sr. Rita Wienken
419-934-5144
rwienken@tiffinfranciscans.org
Defiance County near Farmer, OH
09440 Beerbower Road
Edgerton, OH 43517
225 acres in hay and pasture. Approximately 3 acres in garden and fruit production. Small family farm raising naturally-grown produce, herbs, fruit and flowers. Contact us if you would like to purchase herbs, swiss chard, kale, kohlrabi, okra, edamame, flowers and more - fresh from the farm! Campfire bundles and frozen beef sold from the farm. Maple syrup also available in season. CSA shares are available for 2014 - contact us for information!
Menagerie Farm
Duane Rupp
Williams County
18386 County Road M
West Unity, OH 43570
419-924-2857
100 acres. 80 acres under production. Grain, livestock and eggs. Not certified organic but using OMRI approved inputs. Menagerie Farm produces grass-fed beef and free-range eggs. It has practiced organic farming methods since 1987. While the meat and eggs are not certified organic, the animals receive no drugs or hormones and are fed organically grown pasture hay and grains. Meat is available by side or quarter or in smaller individual quantities of whole ground packages sold at All Things Food.
Note: Whole ground includes all cuts such as steaks and roasts.
MJ Designs
Mary Jo Andres
Lucas County
1050 Markham
Toledo, OH 43615
419-868-9003 (residence)
419-277-3394
maryjoandres@gmail.com
Non-Food/Merchandise. Sewing and crochet.
MJ Designs specializes in handmade products for the home. The dishrags are hand crocheted using only 100% USA grown cotton yarn. The cotton reusable sandwich bags have a waterproof nylon lining and are washable/dryable. I am a retired teacher who now has the time to sew, crochet, and create to my heart's desire.
Natural Goodness Garden
Gail Dick
Justin Enetnman
Williams County
12494 State Route 15
Montpelier, OH 43543
419-485-3690 (Gail)
419-902-1152 (Justin)
Facebook
Farm Products: Produce, herbs and other specialty items
Justin and Gail would like to introduce you to their Natural Goodness Garden. Currently the garden is in a growth stage. Under a new partnership the re-birth looks to be very promising. Our goal is to cater to the community around us by bringing chemical free and non GMO fruits and vegetables to as many families as the garden will allow. We have 16 raised beds along with a greenhouse, many crates and use various other innovative gardening techniques. We would like to grow the specific needs of clients through CSA shares, All Things Foods, and WIC while giving back to the community by donating to local food banks. We have a winter growing plan set in place using hotbeds and our greenhouse in order to be able to bring you the goodness of summer all year long.
Justin has many years of gardening, homesteading and self sustaining experience while Gail is constantly researching new ideas. Together we plan to bring healthy foods directly to your tables. Christian based and family oriented we always encourage visitors to bring their families to the garden. Like us on Facebook for updates or feel free to contact either of us for a tour or to learn more about the growth of the garden.
Larry J Noirot, Home Gardener
Williams County
11675 County Road 9
Montpelier, OH 43543
419-485-5805
Produce Items such as Red, Black and Golden Raspberries and Blackberries. Not certified organic but using OMRI approved inputs. Home gardening operation with berries. We at times have extra and want to share with others.
Oh Mi Farms
Adam and Nedene Monforton
Hillsdale County
Hillsdale, MI
Eco Friendly Home Goods. Non-food/Merchandise such as reusable glass jars for spices and hand crafted adult and children sized aprons.
We are a small family farm. We enjoy growing our own meat and produce in a natural, organic way and sharing what we love with others.
Peaceful Pastures Farm
Kevin Cooley
Williams County
13571 County Road I
Bryan, OH 43506
419-636-1341
email: kpcolley@yahoo.com
150 acres. 100-120 acres under production. Grain and livestock. I farm organically because that is how I believe it should be done. I determine what to grow based on a crop rotation, not the price of grain. Worming of animals is based on their need. I try to grow what people want if it is not against my beliefs. Meat is available by side or quarter or in smaller individual packages sold at All Things Food.
Pendleton Family Farms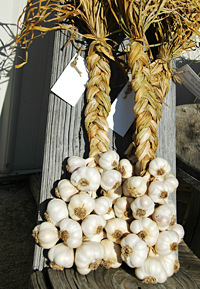 Lou Pendleton
Williams County
10684 Co Rd C
Bryan, OH 43506
419-819-0019

email: pendletonfamilyfarms@gmail.com

website: www.pendletonfamilyfarms.com
40 acres of alfalfa, 30 acres native prairie grasses. 1 acre fruits & vegetables. We offer naturally-grown produce from our family farm in Northwest Ohio. We currently specialize in hardneck garlic and shallot onions. This is truly an artisan effort; the crop is hand-crafted with care. Quantities are limited.
People Works: Developers of Human Resources, LLC
John A. Murray
Williams County
03440 Co Rd 9
Bryan, OH 43506
419-636-4637
72 acres. Currently our vegetable garden is slightly less than one acre. 48 acres. Row Crops: wheat and soybeans currently. People Works, a department of developmental disabilities-certified habilitation site, employs a group of individuals in a variety of farm-based activities that include vegetable, herb and flower gardening and raising 12-16 pigs and 4 beef steers each year. Our products augment our lunch program throughout the year and we offer the surplus for sale to the public. Animals receive antibiotic upon delivery to prevent shipping fever and pneumonia. Pigs eat ground corn with swine pre-mix that includes protein, vitamins, and minerals. Steers eat whole shelled corn with pelletized cattle supplement. Soybean base and corn gluten to finish.
Phyllis's Produce
Phyllis Patrick
Williams County
03228 State Route 49
Edgerton, OH 43517
419-212-0076 (cell)
I always love taking good care of my family and fruits and working outside being close to nature every year in my big garden. I've grown many varieties of yummy vegetables. Good wholesome chemical free food is priority in my house I am also famous for my baking and especially my pies.
Ravens Roost
Bill Miller and Cheryl Daniel
Williams County
09610 US Hwy 6
Bryan, OH 43506
419-636-2560
email: ravensroost@williams-net.com
2 ½ acre farm. 1 1/3 acre pasture and 1/3 acre garden. Uses organic growing practices. We have free range chickens, ducks, and geese supplemented with grain and non-medicated commercial feed. I want to be kind to the earth so it can take care of us. That leads to many things. Eating and using locally produced items decreases oil consumption. Local production is more likely to be responsible to the consumer and earth. I want to decrease the herbicide and pesticide consumption. I want an opportunity to nurture.
Sandy Acres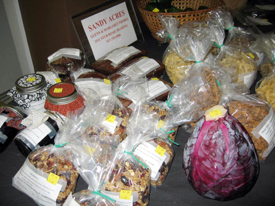 Glenn and Margaret Frobel
Hillsdale County
3511 Stub Road
Reading, MI 49274
517-755-0984
email: marglenn@dmcibb.net
6 acres/1 acre under production. Sandy Acres is owned and operated by Glenn & Margaret Frobel. We live in Reading, MI on 6 acres of land. We raise chickens for eggs and meat and have a large garden that provides vegetables for our own use. The surplus vegetables we sell at our local farm market and other outlets. We make homemade laundry detergent that sells at a very reasonable price that does an excellent job of cleaning clothes as well as dishes (dishwasher safe). At home we also use it for cleaning the toilets and scrubbing the shower. We make and sell many different kinds of baked goods. We use our own eggs and grind our own whole wheat, quinoa, millet, spelt, and other flours. We use a local farmer's goat's milk and our own homegrown vegetables as called for in the recipes. I make cookies of all kinds, granola, noodles, and quick breads such as zucchini, pumpkin, and banana. I also make whole grain yeast breads from scratch. I do not use a bread machine. I also will do special orders. I just started making gluten-free and sugar-free products. I have taken the Food Safety course that is offered by the Michigan State Extension. If you have any questions or special requests you can contact us!
Nancy & Jeff Shepler, Garden Homesteaders
Defiance County
01420 Graber Road
Edgerton, OH 43517
419-298-2490
email: thesheps@frontier.com
2.5 acres; Garden Produce: Ground Cherries
We grow everything without chemicals. We always grow lots of greens such as chard and kale, tomatoes, peppers and cabbage. Each year we try to grow something new to us.
A Simple Plenty
Annie Crowder Reynolds
Defiance County
633 Jefferson Avenue
Defiance, OH
419-782-7196
419-980-8160
email: asimpleplenty@yahoo.com
Value-Added/Cottage Foods
A Simple Plenty offers hand-crafted jams jellies and fruit butters made from the freshest, locally-sourced produce. A variety of single flavors are offered, as well as many artisinal varieties and blends. Special orders will be accommodated as possible.
Sonshine Valley Beef
Gary and Sandy Stuckey
Williams County
7862 State Route 191
Stryker, OH 43557
419-682-2916
email: garysandy@williams-net.com
100 acres. 40 cows. Sonshine Valley Beef Farm, owned and operated by Gary and Sandy Stuckey, has been a grass based farm for over 20 years. This farm first provided luscious grasses and clover for dairy cows for over 15 years and has now transistioned into raising Red Angus beef cattle. During the winter the cattle are fed excellent quality alfalfa silage bales. In the spring the cattle begin grazing on the pastures at which time many of the calves are born in the open air. Rotational grazing with choice grasses, clover, and alfalfa using no herbicides or pesticides makes for a beef that is high in Omega fatty acids which is very important in the health of the human body. Our grass fed beef is all natural, lean, and free of hormones, making it a high quality and nutritious product to serve your familiy.
Three Sevens Naturals
Lri Hanna
Williams County
2777 CR 25
Stryker, OH 43557
419-267-5672
email: threesevensnaturals@hotmail.com
Non-Food/Merchandise: Salves and inhalers
Our journey into the all natural market began several years ago when I realized I couldn't pronounce a lot of the ingredients in the products I was using. When I began to look them up I learned that most of the things I could not pronounce were chemicals that my body probably did not appreciate. I began to make products for my own family, began learning about essential oils and natural products, and when I decided I wanted to share these products, Three Sevens Naturals was born! I personally make all of the all natural products we offer. They are handcrafted in small batches and before we offer a product for sale, it is something my own family has used, and something we believe in.
Wild Vitality and Wild Vitality Homestead
Heather Luttrell
Paulding County
Cecil, OH
720-323-7319
email: WildVitality@gmail.com
Websites: Wild Vitality Blog, Wild Vitality Homestead Blog
Heather Luttrell is a Certified Clinical Herbalist, Nutritionist and Reiki Practitioner, also trained in Maya Spiritual Bathing. Heather weaves the path of a Healer into her Adventures in Self-Sufficiency as she practices mindful, compassionate animal husbandry and land stewardship. Heather raises rabbits and chickens on her Homestead, in addition to tending a large market garden which provides All Things Food with fresh produce such as greens, herbs, root vegetables, melons and squash. Heather is pleased to offer private consultations as well as CSA share opportunities for the 2013 season.
Wayward Wind
Ted and Sherry Fleming
Williams County
15550 County Road F
Bryan, OH 43506
419-636-1864
email: sher_52@yahoo.com
5 acre farm. ½ acre under production. Not certified organic but using OMRI approved inputs. Wayward Wind is a homestead using organic methods. Garlic and other seasonal produce.
Thaddeus Welker and Sharissa Beatty
Williams County
6529 County Road A
Edgerton, OH 43517
419-298-2106
Small Homestead, 2 1/2 acres. Farm & Wild/Foraged. Not certified organic but using OMRI approved inputs. Provides: Mulberries, grapes, blueberries, etc