Anna Williams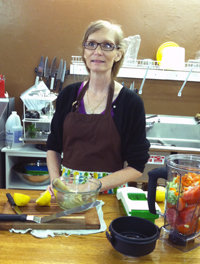 Anna Williams was born and raised in Montpelier. After graduating high school she spent seven years in the military. After returning to Ohio she became interested in better health through fresh food. She enjoys cooking with fresh, organic ingredients. She also enjoys reading, camping, nature walks, swimming and traveling.
Denise Hoff
Denise Hoff, Raw Chef Certified and Holistic Health Coach, has joined our staff once again to help us create nutritionally dense meals for you to enjoy prepared in the cafe as well as to take these simple recipes home to incorporate into your life. She is excited to share her true passion of whole food nutrition and can be contacted for private consultation and/or to arrange a group event.
Come share her deliciously healthy dishes with us because "Food Is Our Best Medicine!" A Recipe For Change (www.arecipeforchange.com)
Karmen Brooks
Originally from Indiana, now Archbold with her husband, Karmin has been a vegetarian for many of her formative years for health and ethical reasons. Always reading about nutrition and health, she recently decided to try to incorporate grass-fed, organic meat into her diet. As she learns more everyday about using fresh veggies and new recipes, she hopes to provide our community with a place to eat where customers know they will not be sacrificing their health. And she hopes to inspire all of us to discover new flavors and recipes to cook healthy meals at home.
Kristin Bauer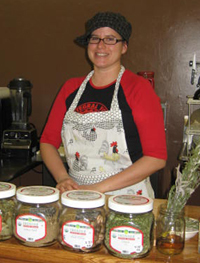 Kristin Bauer is an organic farmer with her partner Levi Houston. They have been farming organically for more than 5 years in Hawaii and recently returned to Ohio to be near family and begin organic farming here. Kristin has worked in cafes in New York and Hawaii and always enjoyed cooking using fresh LOCAL, whole ingredients. Watch our calendar and sign up to receive our emails so you can enjoy her creations in our cafe.
Sherry Fleming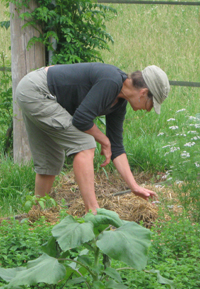 Sherry and her husband, Ted, live on a small homestead north of Bryan, with their critters. They have two grown children, Colt and Chelsea. Sherry is coordinator for the Bryan Co-op, serves on the board of the the Williams County Alliance and the board of an all volunteer statewide coalition, the Ohio Alliance for People and Environment. She enjoys hugging trees and joining in activist causes which promote a meaningful voice for people at the grassroots level to advocate for healthy, just communities and respect for nature.