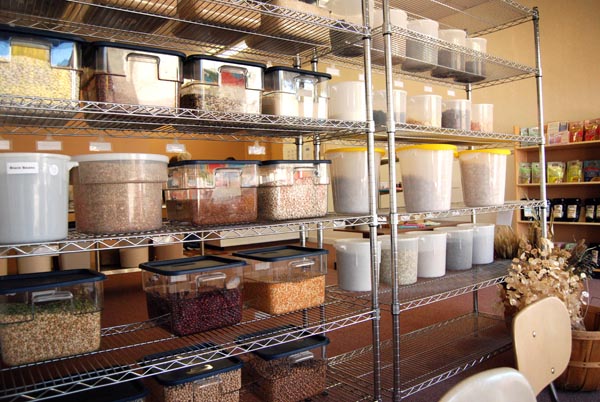 Bulk Food
At All Things Food, many of our food items are offered in bulk. Bulk foods have several economical and environmental benefits.
When you buy in bulk, you are able to select the amount you desire. This reduces waist and saves you money.
Bulk foods are sold at a reduced price because there is no cost for labeling and packaging. And reusing a container brought from home reduces the environmental impact.
Bulk foods are replenished often so ingredients are fresher.
And bulk foods keep it simple, as they provide just one "brand": organic.
They can also be purchased in larger quantities such as 1 lb. bags for spices and teas and 10, 15, or 20 lbs. and more for beans, rice, and grains which can save even more!
Also, keep in mind, with our local producers, when an item is purchased at seasonal peak, larger quantities are available at a greater savings and can be preserved in a variety of ways such as canning, freezing, and fermenting.
Bulk meats can also be purcahsed from local meat producers, saving you money.
Bulk, locally produced food items can be purcahsed directly from the producer. Watch our bulliten board in the store or select Events for when these items are available.
Contact Staci and/or Mo for larger quantities of bulk foods such as teas, spices, grains, beans, flours, berries, etc.